North Carolina Democrat Hits Burr On "Bullseye" Comment In New Ad
The digital ad from Deborah Ross' campaign, first shared with BuzzFeed News, ties Republican Sen. Richard Burr's joke about gun owners shooting Hillary Clinton to one Donald Trump made this summer.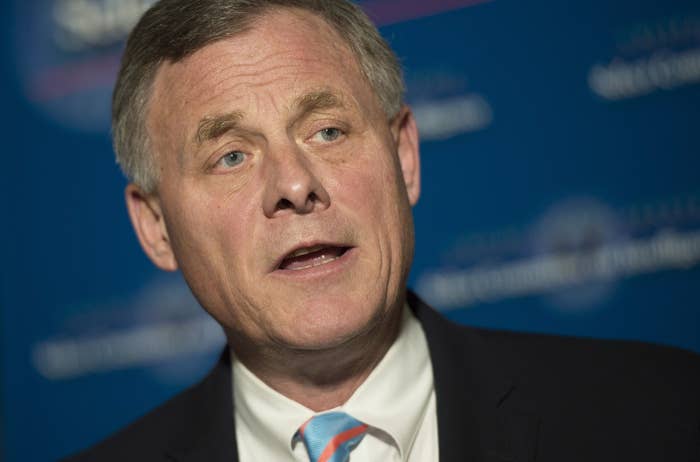 WASHINGTON — Sen. Richard Burr's Democratic opponent is up with a new digital ad, hitting the North Carolina Republican for joking about gun owners putting a "bullseye" on Hillary Clinton.
The digital ad from Deborah Ross' campaign, first shared with BuzzFeed News, puts together several news clips with anchors talking about Burr's "bullseye" comment and comparing it one Donald Trump made a few weeks ago. The ad also flashes words — including "tasteless," "despicable," "hateful," and "violent"— that were used by different news outlets in bold letters.
"Nothing made me feel any better than, I walked into a gun shop, I think yesterday in Oxford," Burr said behind closed doors, according to audio obtained by CNN earlier this week. "There was a copy of a rifle magazine on the counter. It's got a picture of Hillary Clinton on the front of it. I was a little bit shocked at that — it didn't have a bullseye on it."
Burr has since apologized for his comment.
Back in August, Trump made remarks — in North Carolina as well — that Democrats interpreted as a call for violence against Clinton.
"If she gets to pick her judges, nothing you can do, folks," Trump said in Wilmington, N.C. "Although the Second Amendment people — maybe there is, I don't know."

Trump and his campaign said that the remark was simply encouraging the pro-gun voting bloc to cast their ballots for him.
Ross' ad will start airing Wednesday on digital platforms including Facebook and Twitter. Her campaign declined to disclose how much money they are putting behind the ad. Polls show the Senate race in North Carolina as a pure toss-up.
The 30-second spot comes on the same day as President Obama's visit to North Carolina, where he slammed Burr.
"He actually joked about violence against Hillary," Obama said during an event at the University of North Carolina at Chapel Hill. "That's not something we do. That's not something -- I tell you if I heard a Democrat saying that, I would condemn them in a hot second."
"You don't talk about violence against public officials -- even in a joke. And you know I want to acknowledge, he apologized. But the problem is that this is becoming normal. They're the red meat they're throwing their audiences. And it's not normal. And it's not who North Carolina is."