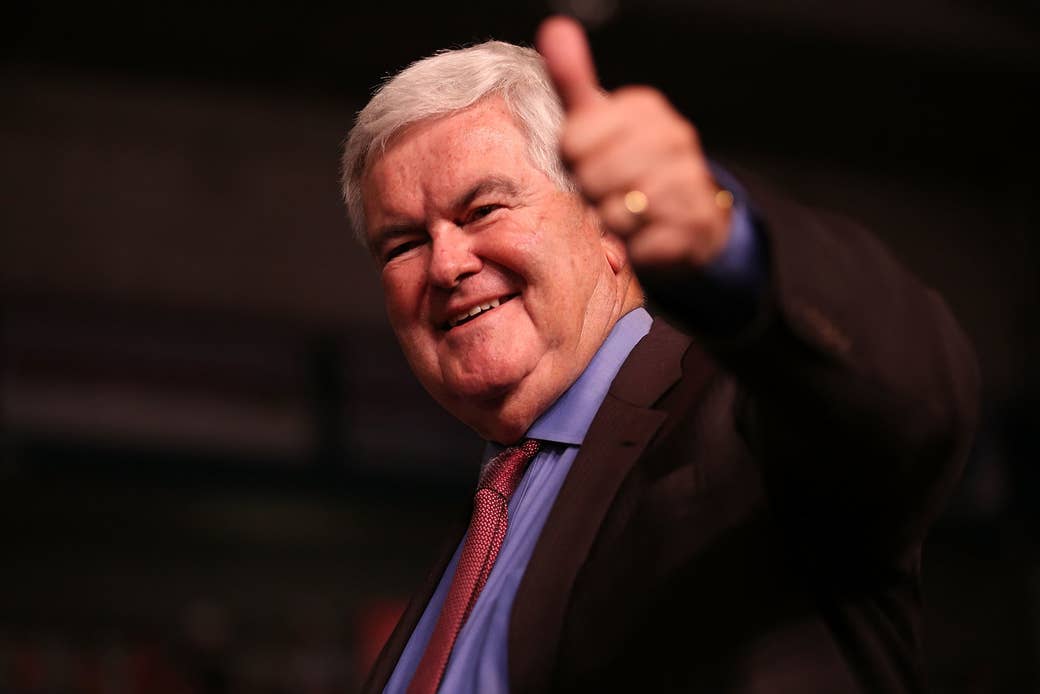 Five years ago, Newt Gingrich dropped out of the 2012 GOP presidential primary, saddled with $5 million in campaign debt and on the verge of bankruptcy proceedings for his private ventures. His campaign had been dogged by reports showing he owed jeweler Tiffany as much as $500,000, and his political and financial future looked dim.
But these days, thanks to Donald Trump — and to Gingrich's ability to quickly capitalize on Trump's unexpected win — the former House speaker is flying first class around the country giving speeches and promoting his books, earning hundreds of thousands of dollars along the way.
Newt Inc. is thriving once again.
And the turn in his fortunes is based on one self-professed qualification: Gingrich gets Donald Trump.
In his "Fundamentals of Trumpism" lecture, Gingrich workshops flattering analogies into reliable sound bites. Perhaps you've heard him compare Trump to Andrew Jackson. Or to Theodore Roosevelt. Or to Abraham Lincoln. Or to the grizzly bear in The Revenant. ("If you get his attention," Gingrich explains, "he'll be awake, bite your face off, and sit on you.")
But Gingrich's help in understanding Trump comes with a heavy price tag: $60,000 and first-class travel for two if the speech is on the East Coast; $75,000 if it's west of Chicago. Understanding Trump also happens to be the title of his latest book, which he name-dropped three times in the first 30 minutes of one of these speeches at Cornell University — three months before the book's June release. (The third time even he laughed.)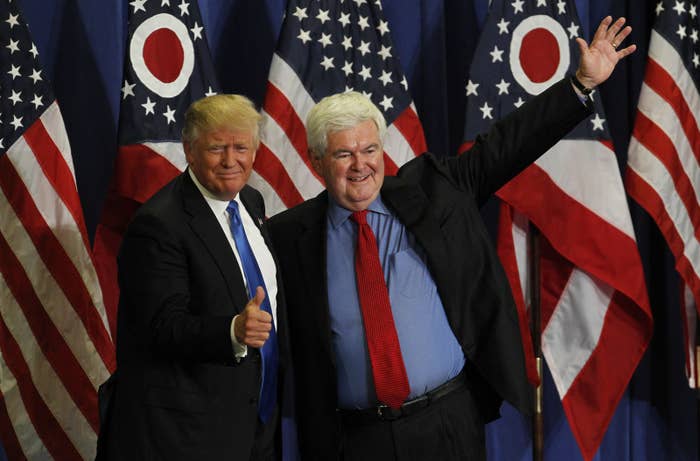 Gingrich, who was an early Trump supporter in a 2016 presidential primary featuring 16 other well-known Republicans, has go-to anecdotes explaining why he chose Trump. There was that breakfast meeting with Trump at the Marriott in downtown Des Moines, and that chapter in Trump's Art of the Deal about fixing Central Park's iconic skating rink after the city failed to do so — a sign, Gingrich thought, of how Trump would bring a businessman's approach to the White House.
The former political flameout, whose presidential campaign committee still owes $4.6 million years on from his bid, hasn't wasted much time rebranding himself as the ultimate explainer of Trumpism and defender of the president since Trump's unexpected win in November — even if it means occasionally dabbling in conspiracy theories on national TV.
It's not just the pricey speeches, described by his speaking agency, Worldwide Speakers Group, as "unique and unparalleled insights" from the Trump era's "primary thought leader." Gingrich has now written two books since the election — and sold thousands of copies. The first is an e-book called Electing Trump, which is mostly just excerpts of speeches and interviews by Gingrich. (That hasn't stopped him promoting it, though: In a lecture at the Heritage Foundation days after the release of the e-book, he name-dropped it a few times.) The other, out last month, is Understanding Trump — already a New York Times bestseller — which sold more than 60,000 hardcover copies in its first two weeks, according to Nielsen BookScan.
"It's filling what I thought was a huge gap because no one in the media takes the time to understand what [Trump] does right and the principles and practices of what he does right," Gingrich told BuzzFeed News of his new book in a brief phone interview. "I find that there is a big hunger for that. I think that Trump is a phenomenon, and he deserves someone understanding him in his own right."
As for his pricey speeches, Gingrich said, they delve deeper into Trumpism. For example, a speech he will be giving to state legislators in Colorado later this month will explain how those lawmakers can "apply Trumpism" to their roles by providing a "framework of thought," he said.
This new role fits Gingrich because he combines his "practical knowledge" with "being a good political scientist," said Lee Edwards of the Heritage Foundation. Asked if this Trump chapter for Gingrich is the start of Newt Inc. 2.0 — a new collection of nonprofits and business ventures tied to the former speaker — Edwards said, "It could very well...This is what he's good at. I think he's found this is a comfortable place to be, and at the same time, he's making a pretty good living out of it."
(Gingrich himself joked in the interview that it was "probably more like Newt 6.0 or 7.0.")
"I think he's found this is a comfortable place to be, and at the same time, he's making a pretty good living out of it."
In explaining Trump all over the world, Gingrich has the crucial seal of approval from the administration and from Trump's family. One of the president's sons, Eric Trump, contributed the foreword for Gingrich's latest book, blessing it with Trumpian hyperbole as "an inside look into possibly the greatest campaign of all time."
"Many books will be written by the very people who got it wrong and, quite frankly, who continue to get it wrong," Eric Trump writes, "but this book will stand apart because Newt was one of the very few who got it right — he is a friend and he was there from the beginning."
But outside observers are less charitable.
"For lack of a better word, he's become a Trump fanboy," said Nick Everhart, a national Republican media consultant who in 2012 worked for a firm that worked on Gingrich's failed White House campaign. "It's like he's living vicariously. He sees him as hitting the mountaintop that he wanted to but wasn't able to."
There are undercurrents of that in Understanding Trump — a bit of an I-was-Trump-before-it-was-cool vibe. Gingrich draws parallels between the "Contract With America" insurgency he led in Congress, and Trump's anti-establishment campaign for president. (The Contract With America itself largely focused on a transparent legislative agenda in the mid-1990s.) At one point in the book, Gingrich even suggests that his own 2012 presidential bid might have softened the ground for Trump.
Trump's "open defiance of the established media elite cemented him as the standard-bearer for middle Americans, who had been left behind by the country's cultural elite," Gingrich writes. "I tapped into this during my 2012 presidential campaign, but it apparently took another four years of propaganda on behalf of the Obama administration before the public reached its boiling point."
Gingrich's devotion to Trump has also provided some moments of political absurdity and pliability. He was, for example, among those promoting the conspiracy theory that Seth Rich, a former Democratic National Committee staffer, was killed in a cover-up scheme. During the campaign he praised Trump as "a gentleman" for not bringing up Bill Clinton's extramarital affairs and the allegations of sexual misconduct by the former president during a debate with Hillary Clinton — a roundabout way of reintroducing the topic to the public. More recently, in a matter of weeks, Gingrich went from calling Robert Mueller a "superb choice" to be the special counsel investigating Russia's influence in the 2016 election to labeling Republicans who trusted Mueller's fairness as "delusional."
As for the money-making opportunities that come with grafting his brand onto Trump's, "I buy that's part of it," said Everhart, who noted that Trump recently nominated Gingrich's wife, Callista, to be US ambassador to the Vatican. "Callista got the Vatican thing, right? So certainly that doesn't do anything to hurt their profitability as a Gingrich brand."
Gingrich, however, isn't bothered by any criticism or suggestion that he's in it for the money. "I don't worry about my critics," he said. "I ran for Congress twice and lost. I spent 16 years trying to create a majority and failed for the first 14."
"Fine, if you think I'm not doing it right, you do it."
The former speaker also sits on the board of a pro-Trump group called Great America Alliance, the nonprofit arm of a super PAC that raised nearly $30 million on behalf of Trump last year. A source close to the group said Gingrich is very involved in the new nonprofit, which will be doing more than just airing ads this year. Gingrich, the source said, is helping the group push "aggressive policy position papers" with input from think tanks like the Heritage Foundation — where Gingrich held a five-part lecture on Trumpism — and the American Enterprise Institute. Officials involved with the group did not respond to questions about Gingrich's salary for serving on the board.
And Gingrich Productions, Newt and Callista Gingrich's "performance and production company," is also benefiting from other Republicans' campaign committees now that the Gingriches are back in demand. During the 2016 election cycle, the Republican National Committee wrote two checks — each for $45,000 — to Gingrich Productions for "fundraising." That total amount was almost 10 times as much as Gingrich Productions got from the RNC in the previous cycle for "media services."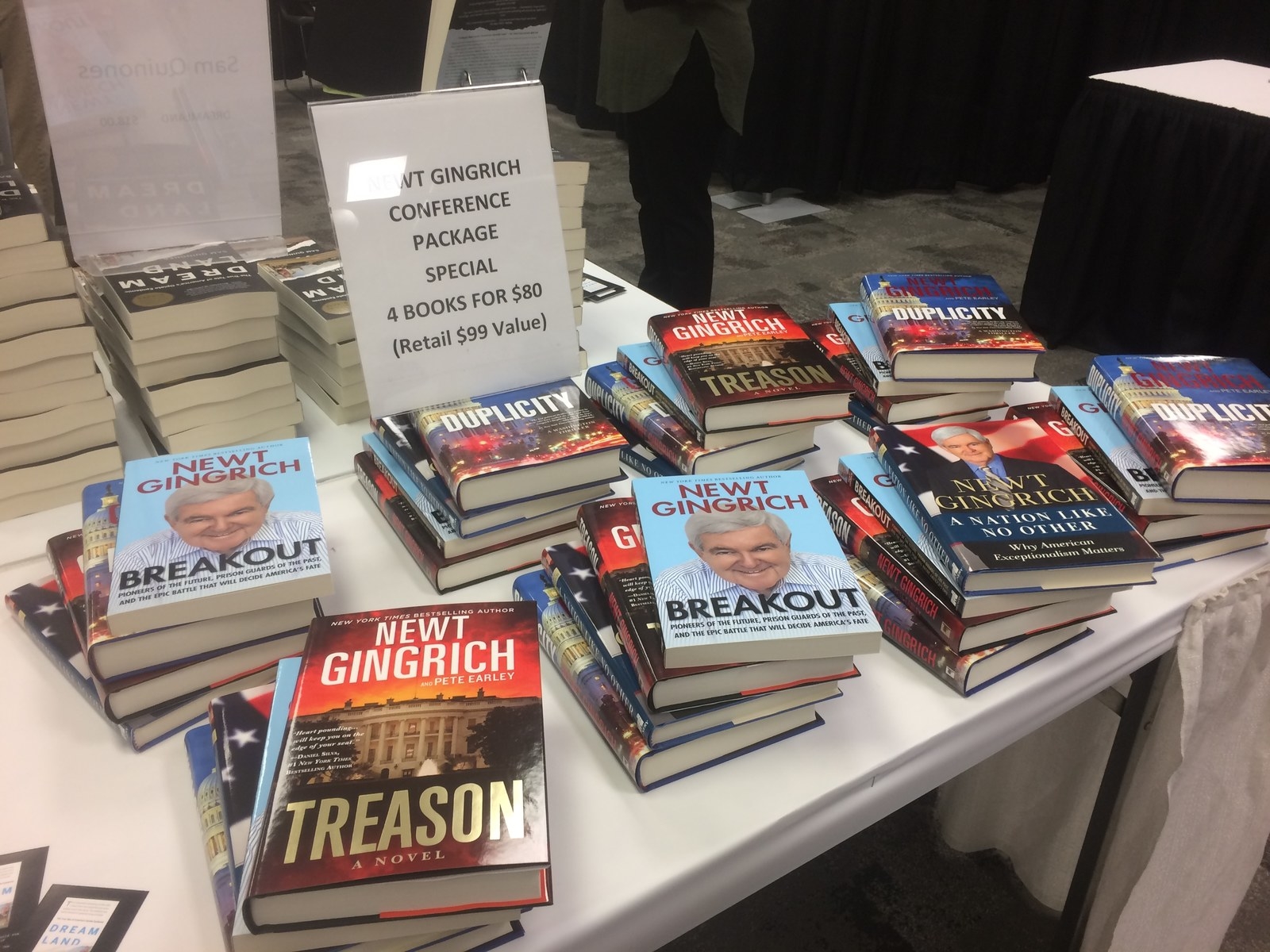 Gingrich's portfolio also includes serving as a paid adviser to a group called Advocates for Opioid Recovery, which is reportedly being funded in part by the major pharmaceutical company Braeburn, which sells medication to treat opioid addiction. (At an anti-drug abuse summit — funded in part by the same company — "the conference package special" was four of Gingrich's older books for $80.)
Building a profitable brand isn't new for Gingrich.
Instead of taking a lucrative lobbying gig when he retired from Congress, Gingrich built a network of for-profit groups that earned $100 million in revenue over a decade, according to the Washington Post. A significant portion of that amount came from a health care think tank Gingrich founded, which got millions from the industry in exchange for access to the former speaker. When he ran for president and severed ties, the think tank lost its clients and filed for bankruptcy in 2012.
But this time around, Gingrich's businesses aren't tied to a particular policy area, or dependent on any specific industry. They are tied to a movement — Trumpism — which even influential people all over the world are still trying to decipher.
Gingrich's allies don't see him so much as building a business empire around Trump, but rather indulging his historian's spirit. They cheer how financially rewarding this can be — "Opening at No. 1 tells you something. That's a big deal," Randy Evans, an RNC committeeman and longtime Gingrich ally, said of Gingrich's new book — while downplaying money as his motivation.
"You have to look at it in terms of how Newt looks at things," said David Winston, a Republican pollster who has worked with Gingrich. "He looks at Trump as being something of a transformational figure. For where he's at in his career, the dollar sign is not as big a deal. It's the sense of history."
Evans, who Gingrich credits in the Understanding Trump acknowledgements for coming up with the concept of the book, said his friend sees Trump as "an extension" of the political revolution that propelled Gingrich to the House speakership 23 years ago.
When Evans first raised the possibility of the book, Gingrich brushed off the idea. "He was like, 'No way,' because he had no time," Evans recalled. "I said, 'No, you have to write the book, because who else is going to understand him?'"
Gingrich seems glad to have found the time.
"P.S.," he wrote at the end of a 4th of July email he sent to his Gingrich Productions subscribers. "I am very excited to announce that my new book, Understanding Trump is a #1 New York Times, Publishers Weekly, and Wall Street Journal Best Seller! Thank you to everyone who helped make this possible."
An "Order Understanding Trump here" link was included.