New Hampshire Voters Grill John Kasich On Ohio Lead Water Case
"But have you apologized to the families?"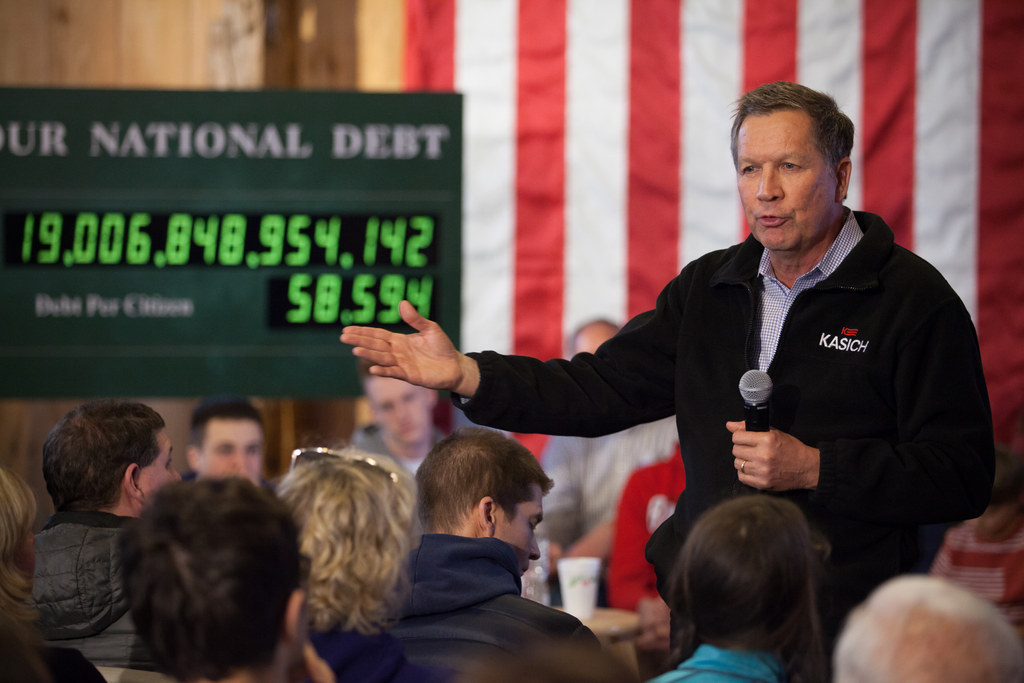 BEDFORD, New Hampshire — At his 100th townhall in the Granite State, Gov. John Kasich celebrated with cake and confetti. He also faced some heat from voters over a crisis back home in Ohio.

The Department of Justice is investigating why authorities in Ohio waited months before notifying residents of Sebring — a village in the northeastern part of the state — about elevated levels of lead in their water. Kasich has previously defended his response to the crisis when asked by reporters on the campaign trail, denying that the situation in Sebring is similar to that in Flint, Michigan, where the lead level found in water was much higher.
But on Friday evening — just days before New Hampshire's presidential primary — Kasich got back-to-back questions about the crisis from crowd.
"I was wondering if you'd had the chance to personally apologize to those families?" one of the attendees asked.
Kasich, who spent several minutes answering the previous questions on social security and college affordability, gave a quick response.
"First of all, our top administration in the EPA went immediately to the village," he said. "We have warned the village to tell everybody that there was a risk. We have sent tests out. We've had controllers in there working to make sure the chemicals are right, because the water coming in, sir, is clean. At the same time that we've done that, we took the operator and got rid of him. And the federal EPA came in and said Ohio did more than what was even required of them."
"The water coming in is clean. And we're working to make sure the water is safe."
The man who asked the question continued to press Kasich — "But have you apologized to the families?"
Kasich moved on to the next question, but he couldn't escape the topic.
A woman seated a few seats away asked: "It concerns me when you put the 800-pound donkey on stage — Hillary. So my question to you is: I watched the debate last night; I watched Hillary address Flint and Hillary wasn't remotely nice about what went on Flint."
She continued: "And I understand… Sebring is a lot smaller than Flint. But she will I'm sure bring it up. It's the Clinton machine... She will look at you and say, 'You hired [Director of the Ohio Environmental Protection Agency Craig] Butler. He even got on television and said he was a little slow in responding to the situation there.' How will you stand up to Hillary in a debate?"
Kasich once again defended his administration's response, but then quickly pivoted to highlighting his electability and his "positive campaign."
"Our guys acted immediately, and that's the way we handle all of our crises — whether it's a weather crisis where the temperature gets above 100 degrees and our seniors are stuck without power, whether it is a potential ebola crisis, whether it was a problem we had in Toledo with water," he said. "We handled them immediately. And we don't ignore anything. We get on top of it, and we work together as a team."
"In regard to Hillary or anybody else, look the situation is that case is this: With my history, especially in running for re-election as governor, there's a county called Cuyahoga County which is were Cleveland is. Barack Obama won Cuyahoga County by 40 points. I won Cuyahoga County, ok? I received 60% of the women vote, 26 percent of the African-American vote and 51% of union households. You see I'm running the most positive campaign that people have seen here."
Kasich then went on to tell a story about how he had once complained to his friend former California Gov. Arnold Schwarzenegger about political opponents spending millions against him.
"He looked at me and said 'John, love the beatings,'" he told the crowd, imitating Schwarzenegger's accent,
"What I will tell you is part of the campaign is not just about how you trash somebody else. The way you win a campaign is with what you're for. Your heart and your brain. That's what it's really about."