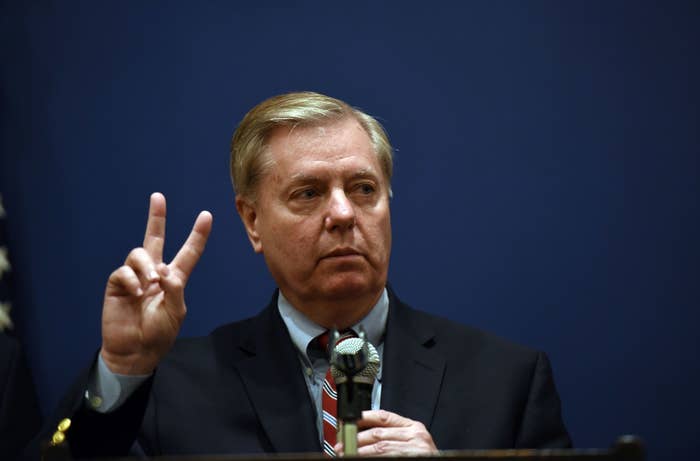 WASHINGTON — Soon after Donald Trump's unexpected win last week, Arizona Sen. Jeff Flake — one of Trump's loudest critics from within the Republican Party — said he looked forward to working with the president-elect, but in the meantime, he would continue "eating crow."
Flake wasn't the only Republican on Capitol Hill doubting and criticizing Trump during the presidential election. A surprise Washington sweep by the GOP means these so-called "Never Trump" Republicans in Congress now have to carefully figure out how to navigate the next four years under a Trump presidency.
Here's the line they have to walk: they can't completely give in to Trump's agenda after spending months criticizing him, but they also can't alienate their own party and bash the president's every move.
The Never Trump Republicans are quickly trying to identify areas where they can work with Trump — namely infrastructure, and taxes. Don't expect the criticism to go away entirely, but they may keep quiet on smaller differences, holding their fire for bigger battles.
"I assume the best, look for the good," Flake said. "That's where I am."
South Carolina Sen. Lindsey Graham, who has been a key negotiator for Republicans for years, had a detailed list of issues he would be willing to work with Trump on when he returned to the Senate. They include infrastructure, Supreme Court appointments and building up the military.
"You want to know how the Senate is going to function, where people like me — who didn't support Trump — are going to be?" he told reporters. "Here's where I'm going to be: I'm going to try to help President-elect Trump when he becomes president to be successful and there are areas of agreement, and there will be some areas where I won't agree, and my job then will to represent a co-equal branch of government and speak my mind and do my job in terms of how the Constitution was set up...But I want to focus on common areas of interest."
On issues like immigration, which Graham — one of the co-sponsors of comprehensive immigration bill that passed the Senate — criticized Trump the most on, he said he's going to take a wait-and-see approach.
"I don't know what he wants to do. I'll tell you what I won't do. I will not vote for a bill that quite frankly treats a grandmother and a drug dealer the same," he said
Graham said he hasn't spoken with Trump or the transition team since the election, but he doesn't expect to be frozen out entirely.
"I haven't had any conversations," he said. "I look forward to working with him. Last time I looked, they've got to come through Congress. My name is in the book. I'm ready to talk. I'm ready to work with him. And if I can't work them, I'm not going to blindside anybody. I'm just going to be Lindsey Graham."
Nebraska Sen. Ben Sasse, who campaigned against Trump and said he would rather watch a dumpster fire than attend the Republican National Convention, got some heat from his home state for going up against Trump during the election. He wrote an op-ed in the Omaha World-Herald this week addressing a question he had been getting after the election: "...are you going to oppose him now, or will you get on the Trump train?"

"I get why folks are asking but, humbly, this shouldn't be an either-or question," Sasse wrote, adding he was going to look for common ground with Trump.

"We are not North Koreans, swearing a loyalty oath to the 'Dear Leader.' Nor are we the French Resistance, plotting against the new regime from day one. Rather, we should hope for his personal flourishing and his wisdom, and we should simultaneously vigorously debate his ideas."

Sasse's office declined to comment further.
Maine Sen. Susan Collins said she's still figuring out how she will work under the new administration.
"He was elected a little over a week ago. I think It's too early to talk about agenda. But I was pleased that he's mentioned both infrastructure and tax reform," she said.
On the House side, where leadership has been stressing unity within the party after years of intra-party divisions, Pennsylvania Rep. Charlie Dent, another Never Trump Republican, said Trump's victory speech has made him hopeful that he will run the country differently than how he campaigned.
"I think President-elect Trump has certainly struck a proper and measured tone since the election," Dent said. "I think he's for the most seems to be magnanimous and gracious. That's encouraging."
"Look, on infrastructure and tax reform, I think there are a lot of areas for potential agreement...there are some differences on opinion on trade and obviously we're all watching where he's moving on foreign policy and his appointments will be very important in that regard."
Asked if the GOP unity can last in world with Never Trump Republicans and the usual rabble-rousers in the House, Dent responded: "Call me an optimist."