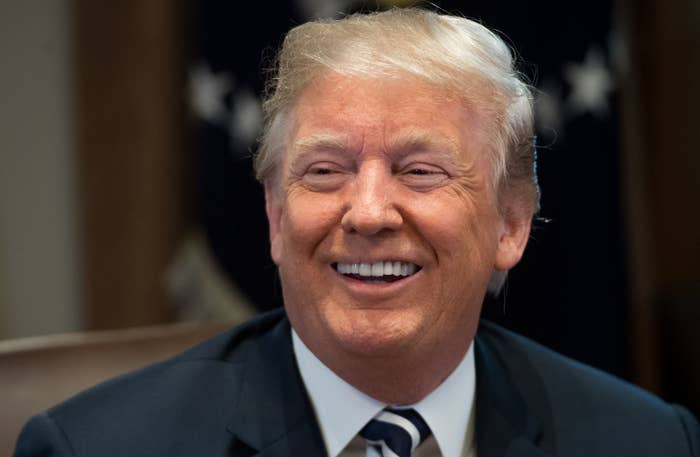 At least two of President Donald Trump's close allies made use of a relatively new way of influence peddling that's arguably swampier than traditional lobbying, with little to no disclosures and regulations — and watchdog groups believe others in his orbit could be operating under the radar using similar tactics.
Trump's allies are advising clients on the administration in exchange for lucrative contracts using limited liability corporations, without ever registering as lobbyists. Both have worked for a president who ran on a "drain the swamp" message and repeatedly bashed lobbyists and wealthy donors.
Trump's former lawyer Michael Cohen received payments totaling $4.4 million from various companies to Essential Consultants, LLC, which he created less than a month before the 2016 election and used to pay off adult film actor Stormy Daniels, whose real name is Stephanie Clifford, according to detailed allegations made by Daniels' lawyer Tuesday evening.
Two of those companies, AT&T and Novartis, have confirmed the payments. "Essential Consultants was one of several firms we engaged in early 2017 to provide insights into understanding the new administration," AT&T said in a statement. "They did no legal or lobbying work for us, and the contract ended in December 2017."
Brendan Fischer, who works on ethics and campaign finance laws for Campaign Legal Center, said it's hard to know how many of these LLCs exist because of lack of disclosures and to assess the kind of work Cohen was doing without the companies disclosing the contracts.
"In some ways this is a snapshot into a dark area of influence peddling," Fischer said.
Asked about allegations of Cohen selling access and how that aligns with Trump's campaign promises, White House press secretary Sarah Huckabee Sanders repeatedly referred questions Wednesday afternoon to outside counsel, saying they had "nothing to do with the White House."
But Cohen's LLC isn't the only one operating in the murky waters of political intelligence that critics believe could be equivalent to unregistered lobbying.
Corey Lewandowski, Trump's former campaign manager, is the president and CEO of Lewandowski Strategic Advisors, LLC, which is described as "a government and public affairs consulting firm." Lewandowski has insisted to several publications that he's not a lobbyist.
Both Cohen's and Lewandowski's firms were incorporated in Delaware, which has lower standards than other states for disclosures for companies.
And in general, the number of unregistered lobbyists, working as consultants or advisers, has been on the rise. If someone spends at least 20% of their time lobbying for a single client, under federal law, the person has to register as a lobbyist. But given the increased negative connotations associated with lobbyists, reports show that fewer people are registering. Major lobbying firms and companies in recent years have also been hiring former members of Congress, who have to abide by a "cooling-off" period and can't immediately lobby, as advisers.
A government watchdog group, Public Citizen, is now calling on the companies who have confirmed payments to Cohen's LLC to disclose the details of the services they received and asking congressional committees to investigate.
"In addition to questions about the legality of these payments, there is one other huge category of questions that is presumably beyond the purview of Novartis and AT&T: Did other large companies make similar payments to Cohen, his shell companies or others in the Trump orbit?" the group says in a press release.
Lisa Gilbert, vice president of legislative affairs for Public Citizen, told BuzzFeed News that given the high turnover within the administration, more of these types of shell companies could be operating under the radar by former White House officials.
"It really shows that surrogates or allies of Trump think it makes sense to set up these shell companies and people know that they exist and can buy access," she said.
The Trump administration announced new proposals — including a ban on registered lobbyists from working in the administration — after the election to keep up its campaign promise to "drain the swamp," but it has hardly enforced them. Some believe the policies could have had the opposite effect of increasing the number of unregistered lobbyists among Trump allies who might want to work in the administration in the future.
Besides LLCs being used for advice on Trump world, another well-funded LLC has also been operating in the president's orbit and helping the administration. But little is known about it other than an address for a virtual office.
The company, BH Group, LLC, was created in August 2016 and gave $1 million to the president's inaugural committee.
It also received a payment for $750,000 for "public relations" work from a nonprofit group called Wellspring Committee that gave the bulk of its grants to another group called Judicial Crisis Network that pushed for the confirmation of Neil Gorsuch, now a Supreme Court justice, according to tax documents and reporting by the Center for Responsive Politics.
"The BH group is just a black hole," said CRP's Robert Maguire, who has been looking into the organization. "I don't know of any precedent for that."