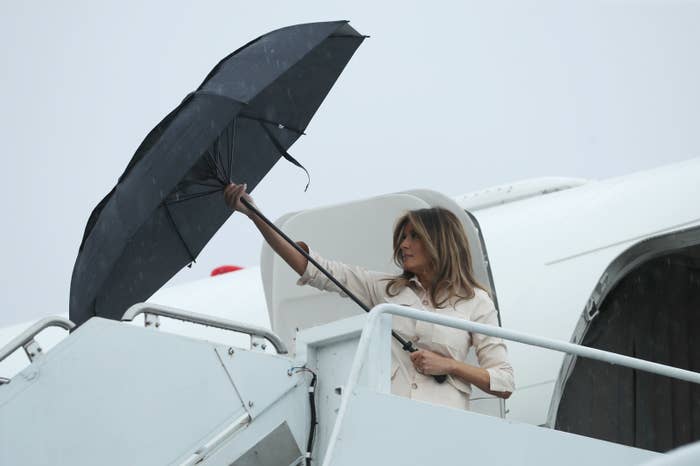 First lady Melania Trump is increasingly doing what her husband is known for: acting independently based on instinct — even if it goes against the administration's messaging.

Melania Trump made an unannounced visit to the border Thursday to tour two facilities, including one that houses 60 immigrant children — six of whom were separated from their parents. After days of her husband's administration doubling down on its immigration policies, casting doubt on reporting about the facilities, and insisting the children were being housed with "high standards," the first lady decided to make an official visit Tuesday to "see what's real," according to her staff.

"This was 100% her idea," Stephanie Grisham, Trump's communications director, told reporters, adding that the "images struck her, as a mother, as a human being. She absolutely wanted to come."
Unlike the president's aides in the West Wing, the first lady has a small group of tight-lipped staffers who are able to make calculated decisions based on when she wants to engage and were able to keep the trip a secret once she had made up her mind.

She is taking on a more visible role in the immigration debate after choosing to stay out of the public eye for nearly a month, resulting in conspiracy theories about her health and marriage. The sudden visibility hasn't been entirely smooth, and as is often the case for her husband, her decision-making resulted in an error that the press quickly focused on — she wore a jacket for her trip to see separated children with the message "I really don't care. Do U?" written on it.

Her break before this point, which included five days at Walter Reed National Military Medical Center, was unprecedented for someone in her role, according to historians.
The first lady is now entering the spotlight on her own accord, taking a more sympathetic approach to immigration than the administration has. "[The president] is supportive of it, but she told him, 'I'm headed down to Texas,' and he supported it," Grisham said, stressing that he did not ask her to make the trip.

Trump, an immigrant herself, walked around the facilities, grilling officials about whether the minors could make phone calls to relatives, about children's physical and mental states when they arrive, and how long it takes for them to be reunited with family members. She also shook hands and posed for photos with border patrol agents and local law enforcement.
As she spent time in Texas Thursday to get a "realistic view" of the separation issue, the president said in a cabinet meeting that the detention facilities were "the nicest that people have seen."

Her visit Thursday came after she released a statement last weekend cautiously distancing herself from her husband's "zero tolerance" policy, which resulted in immigrant children being separated from their parents while they faced prosecution.
"Mrs. Trump hates to see children separated from their families and hopes both sides of the aisle can finally come together to achieve successful immigration reform," the statement said. "She believes we need to be a country that follows all laws, but also a country that governs with heart."

All of the living former first ladies came out strongly against the president's policy of separating families, putting them at odds with the administration. Former first lady Laura Bush's searing op-ed in the Washington Post in particular angered those close to Trump. Grisham told reporters Thursday that Melania Trump did not coordinate her message with other first ladies.

After administration officials insisted that the issue of separating children from their families could only be resolved through legislative action, the president signed an executive order Wednesday that attempts to alter the policy without Congress. The first lady had urged the president, who had been blaming Congress and Democrats, to take action.

"My wife feels very strongly about it. I feel very strongly about it," the president said Wednesday during the signing of the order. "I think anybody with a heart would feel very strongly about it. We don't like to see families separated. At the same time, we don't want people coming into our country illegally. This takes care of the problem."
Before the immigrant crisis, Melania Trump used a Trumpian tweet to responded to questions about her prolonged absence and did not travel with the president to Canada for the G7 or to Singapore for his meeting with North Korean leader Kim Jong Un.
And when she arrived back in Washington Thursday evening — after her press team had to put out a statement defending her jacket choice, and with the weather hovering around 80 degrees — Trump walked out with the message still on her back.