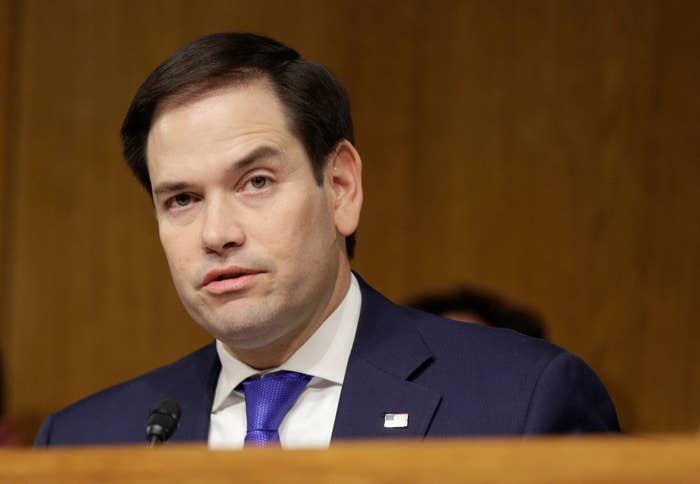 WASHINGTON — Florida GOP Sen. Marco Rubio, who has expressed concerns about President-elect Donald Trump's nominee for secretary of state Rex Tillerson and is a must-get vote for the nominee, wasted no time in grilling the former Exxon Mobil chief about his views on Russia Wednesday.

Rubio asked Tillerson about the Russian hacking of the Democratic National Committees emails during the 2016 election, sanctions against the country, his views on Russian President Vladimir Putin, and human rights abuses by foreign countries, expressing dissatisfaction repeatedly with the responses he was getting from Tillerson. Members of both parties have been particularly uncomfortable with the nominee's close ties to Putin.
Rubio, whose support is crucial because Republicans have only a one-seat advantage on the committee, has been a vocal critic of Tillerson's relationship with the Russian president, and it wasn't clear if Trump's nominee had eased or aggravated the senator's concerns by the end of the hearing.
"I'm prepared to do what's right," he told reporters after the hearing. "I'm not analyzing it from a partisan perspective...My view is that the president deserves wide latitude in his nominations. But the more important the position is, the less latitude they have."
During Wednesdays nine-hour hearing, Tillerson, who didn't use any notes throughout the day, acknowledged that the report on Russian hacking was "clearly troubling." But when asked if he believed Putin directed the hacking, Tillerson began dodging. "I'm not in a position to be able to make that determination," he told the Senate Foreign Relations Committee before admitting that it was a "fair assumption."
Rubio then pushed Tillerson on whether he would advise Trump to keep the sanctions against Russia that the Obama administration ordered in response to the hacking.
"The president-elect has indicated what's really required is a comprehensive assessment of cybersecurity policies," he responded.
The former GOP presidential candidate continued his line of questioning, asking if Tillerson believed Putin to be a war criminal. "I would not use that term," he said, adding he hasn't had access to classified briefings to make that determination.
Rubio also delved into the atrocities in Aleppo that have been widely reported, and then asked if Tillerson thought Putin was responsible for countless murders of dissidents.
"I do not have sufficient information to make that claim," Tillerson responded.
Rubio later questioned Tillerson on the incoming administration's position on Cuba and human rights violations in countries like the Philippines and Saudi Arabia.
Tillerson responded to some of the questions by saying he needed more information, which frustrated the senator and led the secretary of state nominee to try to ensure him he was on his side. "Our interests are not different senator," Tillerson said. "There seems to be some misunderstanding ... I share the same values as you."
After each round of tough questioning, Tennessee GOP Sen. Bob Corker, chairman of the Senate Foreign Relations Committee, tried to clean up Tillerson's statements. Other than Rubio, Democratic senators including Sen. Bob Menendez, Tim Kaine and Chris Murphy asked the toughest questions of Tillerson. Exxon Mobile's lobbying on Russian sanctions in particular was a Democratic line of questioning that Tillerson didn't seem to answer clearly.
But in the end, Rubio's vote will be most notable. In his final remarks, the Florida senator commended Tillerson for putting himself through the tough confirmation process, explained his tough questioning was "in pursuit of realism" and didn't quite give a clear indication of how he will vote after the hearing.
"He's been nominated to what I think is the second most visible American on the planet from a government perspective, so I intend to take this very seriously," Rubio told reporters after the hearing.
"I'm going to go back and go through this and this is a very important decision, and I recognize the partisan split on the committee and what it would all mean. I would have to make sure I'm 100 percent behind whatever decision I make."