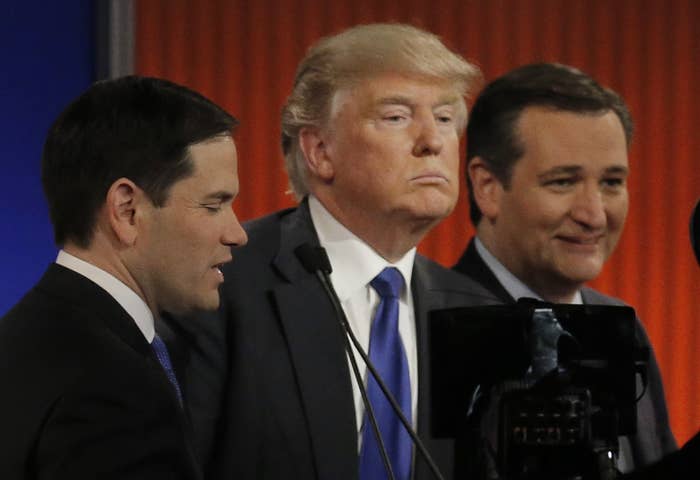 WASHINGTON — Major GOP donors praying for anyone but Donald Trump to emerge as their party's standard bearer have started to turn their hopes toward a contested convention, a wonky political dream that could finally come true.

As donors come to the realization that their non-Trump candidates have little chance of winning the nomination in the upcoming contests, chatter of a contested GOP convention has been dominating fundraising circles in recent days, and donors are beginning to re-evaluate how they can best spend their resources to increase the chances of a contested convention.
David Beightol, a former major Romney bundler and Bush backer, recently attended a briefing session Sen. Marco Rubio's campaign manager Terry Sullivan held in Washington, D.C. Although some donors were disappointed that Sullivan didn't make the case for Rubio to actually win primaries in upcoming states, Beightol said he and other donors, who realize that a contested convention at this point is the only way to stop Trump, were won over.
"It's inevitable that there's going to be a brokered convention at this point," Beightol said, adding that he might soon start donating and fundraising for Rubio's campaign because it's been doing the math and preparing for the scenario.
There were a number of former Bush bundlers at the meeting who hadn't decided on their next choice in the crowd.
Beightol also praised former GOP presidential nominee Mitt Romney's anti-Trump speech on Thursday as a "wake-up call" to voters. In his speech, Romney largely called for a contested convention. "Given the current delegate selection process, that means that I'd vote for Marco Rubio in Florida and for John Kasich in Ohio and for Ted Cruz or whichever one of the other two contenders has the best chance of beating Mr. Trump in a given state," Romney said.

Minnesota billionaire Stan Hubbard has given the maximum contribution to various GOP presidential candidates in the past few months, but he said he has been so disappointed by the tone of the primaries on both sides that until recently he hadn't made a bigger donation to a candidate-specific outside group since contributing to the pro-Scott Walker super PAC.
"Harry Truman and Ronald Reagan would be rolling over in their graves," Hubbard said, adding that with Trump in particular, "it's a question of ethics."
Hubbard said he still likes John Kasich of the candidates remaining, but decided to give $10,000 to the anti-Trump group Our Principles PAC in an effort to keep Trump from getting the delegates he needs because the chances of any of the other candidates winning outright are low.
"My hope is that no one is able to win the delegates and then it goes to a convention," Hubbard said, admitting, however, that as much as some donors would like to see one, chances of a contested convention actually happening were "fair to slim."
After months of not taking Trump seriously, a few major GOP donors other than Hubbard, including hedge-fund billionaire Paul Singer are now contributing to the anti-Trump super PAC to keep him below the 1,237 delegates he needs to secure the GOP nomination.
Even as some prominent Republicans including Sen. Lindsey Graham — one of the most vocal critics of Trump — have said it would be unfair to deny the billionaire the nomination after he wins two-thirds of the delegates needed, many donors are not convinced.
"A contested convention is emerging as the hope of increasing number of donors who would like to see an experienced and electable nominee, i.e. not Trump," said Fred Malek, a major GOP fundraiser.
Even in the late phase of the primary, some bundlers are still signing up with campaigns that they see as most capable of challenging Trump's delegate total.
A major fundraiser recently decided to start bundling for Sen. Ted Cruz as the best hope to keep Trump from winning any more states. Cruz has defeated Trump in four states — a fact he and his supporters like to point out to show he is strongest alternative to Trump.
"Ted has won important states and can appeal to Trump voters who want an outsider but become convinced that Ted is the more reliable conservative," the bundler said.
Others are now figuring out how best to respond, said Charlie Spies, a Republican lawyer who works with major super PACs and donors.
"Some donors are still trying to get a good grasp of what the situation is because the race reset itself," he said.

Spies said talk of a contested convention has become more common since Super Tuesday, when, although Trump won several states, many Republican were somewhat relieved he underperformed in terms of delegate counts.
"In general, there's a recognition that a contested convention is becoming more likely," he added. "There's absolutely chatter among the donors and consultants about the twists and turns this election is taking."