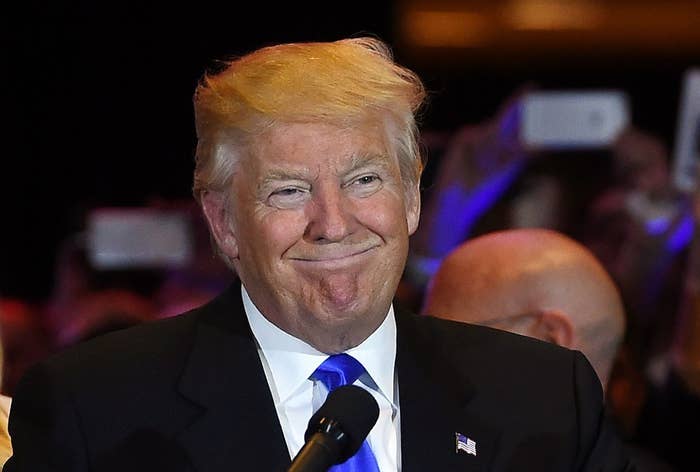 WASHINGTON — With Donald Trump now expected to be anointed the GOP's presidential nominee at the party's convention in Cleveland, activists are pushing major companies to reconsider sponsoring the event.
A big target for activists this week is Google, which is serving as the official livestream partner for the Republican National Convention. Liberal groups including ColorOfChange, CREDO, and Bend the Arc Jewish Action delivered a petition with 500,000 signatures to the company's head of policy, as a plane flew over Google headquarters with a banner that read: "Google: Don't be evil. #DumpTrump."
And progressive group CREDO Action on Thursday released a new video — shared first with BuzzFeed News — which shows people googling terms like "scapegoating immigrants," "sexism," and "racism" and being directed to clips of some of Trump's offensive statements. The video ends by telling viewers that Google is giving Trump "a platform" with text that reads: "It isn't too late for Google to do the right thing. Tell Google: Don't sponsor hate. #DumpTrump."
The video, which will be promoted by Facebook ads, will target about 10,000 Google employees in D.C. and at its headquarters in Mountain View, Calif. Activists are also be making phone calls to Google staffers in D.C., urging them to change their mind about sponsoring the event.
"Our main goal is to put corporations on notice that if they support the RNC, they're buying Trump's whole platform," said Heidi Hess, senior campaign manager for CREDO Action.
The efforts haven't changed the company's decision yet. Google is moving forward with its plans for the convention and views its sponsorship as nonpartisan, and its role at the RNC as more of a media partner.
Since Trump's announcement last year, companies have been wary of associating their brand with the billionaire, creating a problem for party committees who have to raise millions for the conventions. Many companies don't want to come off as partisan and give equally to both parties for their conventions. If they cut back on giving to Republicans, they will likely also have to reduce their giving to the DNC.
Activists have also targeted Coca-Cola, Microsoft, and Wal-Mart.
Microsoft announced last week it would provide only technical support instead of a cash donation to the RNC this year, and Coca-Cola has indicated it is scaling back, giving $75,000 to the convention. The company contributed more than $660,000 in 2012 to the RNC.
Despite the pressure on companies to distance themselves from Trump, Emily Lauer, a spokeswoman for the convention's host committee, said "fundraising is moving forward."
"We've raised $56 million, which is 88% percent of our $64 million goal and is more money raised than any other Convention in history," Lauer said in an email. "The Host Committee has 80 percent of its cash donations in hand already, and we're looking forward to welcoming all of our sponsors to Cleveland this summer to help us host a successful convention for the Republican Party."