Lewandowski Has Been Pitching Donors On His Own Pro-Trump Super PAC
But so far, the reaction from donors has been mostly skeptical, the sources said. In an email, Lewandowski said he has "nothing to do with any Superpacs."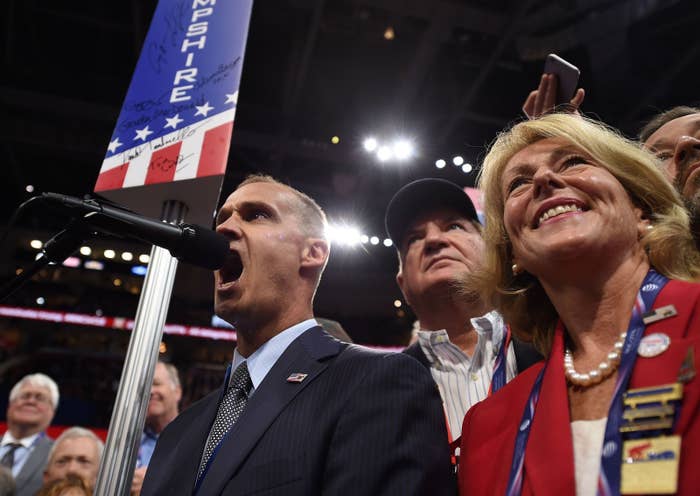 CLEVELAND — Donald Trump's former campaign manager Corey Lewandowski has been pitching his own super PAC to donors after trashing other groups working on behalf of the GOP presidential nominee, six sources with knowledge of those conversations told BuzzFeed News.

Here for the Republican National Convention as a New Hampshire delegate and CNN commentator, Lewandowski has criticized the groups trying to boost Trump, especially one called Rebuilding America Now, which is run by the allies of Trump's now campaign manager Paul Manafort. Among the donors he has pitched are operatives close to casino mogul Sheldon Adelson and coal billionaire Joe Craft and his wife Kelly Craft, former backers of Sen. Marco Rubio who are now supporting Trump.
Asked for comment, Lewandowski said in an email to BuzzFeed News, "I have nothing to do with any Superpacs." He also denied talking to donors about a potential group.
Donors have so far been mostly skeptical of his pitch, the sources said, especially since he suggested on CNN that Manafort should resign following Melania Trump's plagiarized convention speech. There are also concerns about what his contract with CNN would allow him to do — issues those involved with competing super PACs are stressing as they respond to donors who have been approached.

"He was pitching donors in the suites the last two nights," said a GOP fundraiser who deals with major donors. "I don't know how it's going, but he's basically attacking the other two super pacs and saying that they don't know what they're doing. It's a pretty aggressive pitch."
Lewandowski, who was fired from the campaign last month, also has a 120-day "cooling off" period before he can legally become fully part of an outside group supporting a campaign he was once running. However, because of the murkiness of coordination laws governing super PACs, he can fundraise, hire staff, build up operations, among other activities if he were to start his own.
But he can't be directly involved with ads that specifically tell viewers to vote for Trump.
"I just don't readily see how he can be effective starting his own new group... The market is shifting more to doing stuff than talking about doing stuff," said an operative involved in the Trump super PAC world.
There are already several groups competing for money to help elect Trump. The two main groups — Rebuilding America Now and Great America PAC — got off to a slow start, especially compared to the pro-Hillary Clinton group, Priorities USA Action, which has already raised more than $75 million this election cycle.
"He's pitching the same people we are," said another operative involved with Trump super PACs. "I just can't imagine anyone bringing that guy on. He's a walking drama waiting to happen. I guess it's all about money at this point for him."
But those groups have been hosting fundraisers and courting donors this week on the sidelines of the convention.
UPDATE
After his denial to BuzzFeed News, Lewandowski acknowledged to The Hill that he's advising a new effort to create a pro-Trump super PAC. "I'm not involved in it. I don't get paid, don't consult, just told people HOW to do it."