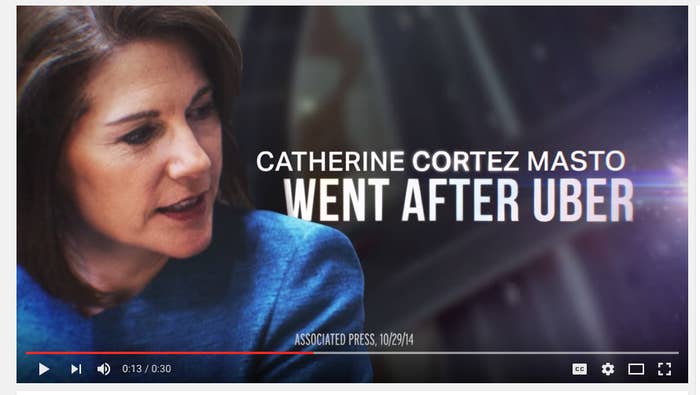 WASHINGTON — The super PAC affiliated with the Koch network is up with a new ad in Nevada, attacking Democratic Senate candidate Catharine Cortez Masto for driving Uber out of the state.
The ad, which is backed by $1.2 million, points to campaign contributions Cortez Masto received from the taxi industry as attorney general. "In a tough economy, a paycheck can mean everything to you and your family," a narrator says in the ad, which was shared in advance with BuzzFeed News.
"Many Nevadans turned to Uber. But, after accepting more than $70,000 from taxi companies, Catherine Cortez Masto went after Uber — once, twice, three times — until she drove them out of town, along with all their jobs. She put campaign donors ahead of Nevadans and protected special interests instead of us."
Cortez Masto is facing Republican Rep. Joe Heck to replace retiring Minority Leader Harry Reid.
The same super PAC, Freedom Partners Action Fund, is also going up with another ad in Ohio, where it is targeting Democrat Ted Strickland for "not understanding what it's like to be a small business owner." The group is spending $2.7 million on the ad on behalf of GOP Sen. Rob Portman.
"When times were tough, Ted Strickland made our lives harder," says Tricia, an Ohio small business owner in the 30-second spot, of Strickland's tenure as governor. "He drained our billion-dollar rainy-day fund to eighty-nine cents. And raised our taxes to pay for his mistakes. . . . Why would we make him our Senator?"
Both Senate races are considered toss-ups.
Overall, the political network led by billionaire industrialists Charles and David Koch has now spent nearly $20 million on ads backing Republicans in Senate races. It has reserved an additional $30 million in airtime for the fall.