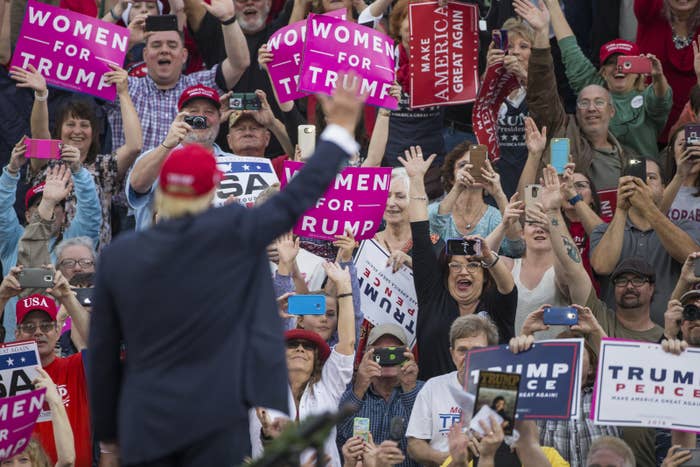 INDIAN WELLS, Calif — In closed-door sessions this weekend, major GOP donors affiliated with billionaires Charles and David Koch's political network went through a case study.

The subject? The defeat last year of former Republican senator Kelly Ayotte, who the Kochs did not back.
Her defeat, the session held, offers a guide for the network's efforts to hold elected officials accountable under the Trump administration. In Indian Wells, the failing of Ayotte, who lost by a slim margin, was one of principle based on her voting record. And as a result, support was withheld.
The session was just one of several focused on dissecting the 2016 election — and better understanding Trump voters — as the Koch network figures out life under President Trump, who they did not support, and making sure the GOP-controlled Washington doesn't drift to a more populist agenda.
"We thought she didn't stick to free-market principles," said Frayda Levin, one of the 550 donors attending the Koch network's winter retreat, of Ayotte. "And we feel she's a good example of someone who would have won had she stuck to those principles. She would have had our support. She would have had the support of the activists."
Pointing to Ayotte, several donors said the accountability conversations had been a key focus, as Trump's first full week in office wraps up. Most attending the confab said they had a "mixed" view of Trump's early actions. "Even the worst marriages make it through the first week," one of them said.
The network is making it clear it won't go along with all of the new administration's policies. A top Koch network official came out against the president's executive order barring travel from seven Muslim-majority countries and donors repeatedly said they oppose a border-adjustment tax plan that House Republicans and the Trump administration are pushing.
Without naming Trump, Charles Koch himself told donors in a presentation that the country could either "go the authoritarian route ... or we can move toward a free and open society. So this is our opportunity."
But 2018, when a slate of favorable seats will be up for re-election, presents a major opportunity — or what could prove to be a bitter affirmation of 2016's deviation from conservative, and especially libertarian, ideology. The Koch network is still figuring out more specifically how their accountability efforts will shape the minimum $300 million they plan to spend on policy and politics in the next two years. "We're not there yet," Levin said. "Right now we're looking at holding them accountable. We're not talking about who we're going to primary. That's premature."
Liz Wright, another donor attending the retreat from Colorado, added: "Anyone who stands for freedom, we will support. And those who are more populist, not so much. We'll stay true to our principles."
Throughout the weekend, in different sessions for donors, there was an effort to explain the 2016 election and to show donors the frustration working-class voters who supported Trump are feeling. Network officials argued that during this time of change, they are in a prime position to offer up their policy priorities to the voters.
In a presentation to donors, Brian Hooks, co-chairman of the network in a presentation later added: "We see great opportunity to spend the bulk of our time helping this administration pass policies that really improve people's lives."
"This is a tremendous opportunity and we cannot squander it. It's our time to lead right in front of us."
Koch network officials showed testimonials from rust-belt voters who voted for Obama and then flipped to Trump. They presented clips of focus groups from Richmond, Va., and Tampa, Fla., conducted during the election in which middle-class voters talk about their struggles making ends meet.
One session during lunch on Sunday with libertarian political scientist Charles Murray and economist Tyler Cowen was aimed specifically at "improv[ing] (donors') understanding of the frustration the American people are feeling rooted in decline of key institutions."
It was followed by another panel discussion that included Mike Rowe from the Discovery Channel show Dirty Jobs. (Unlike past Koch gatherings where donors had to give up their cell phones before entering, attendees this time could keep their phones with them after putting them in a green pouch that staff locked and unlocked after the session.)
"They're looking for answers to economic insecurity and this feeling that things are still not fair," Hooks said.
"So this is not a partisan message. But the message is very, very clear: The American people are hurting and they need for things to get better," he continued. "And if things don't get better, then we should expect history to repeat itself. Not only will millions of Americans dreams be dashed, but we should expect that the political pendulum will swing with even more force in the other direction next time — even further to the left than Bernie Sanders or Liz Warren."
The network is hosting 550 donors — the most to ever attend such a gathering — at a luxury resort in the Palm Springs area this weekend. These donors, who attend these events known as "seminars" twice a year, make a minimum annual donation of $100,000.
BuzzFeed News was invited to cover the gathering after agreeing to set of ground rules, which include not naming donors without their permission.
In interviews, many of them said understanding the mindset and challenges of Trump voters was helpful as they look to future elections. They also pointed to statistics shared with them that showed the significant number of Obama voters who voted for Trump.
"Those of us who think about politics a lot think that's crazy," said Chart Wescott, a donor from Texas. "But most Americans aren't like the people in this room — or the media for that matter. They're just working types who wanted something different. All they wanted was something different."
Looking ahead to the next election, where 10 Democratic senators are up for re-election in states that Trump won, Wescott said it's important to understand these voters better. "We're gunning for the super majority [in the Senate]," he said. "We can use the current situation to really turn up the heat on Democratic senators.