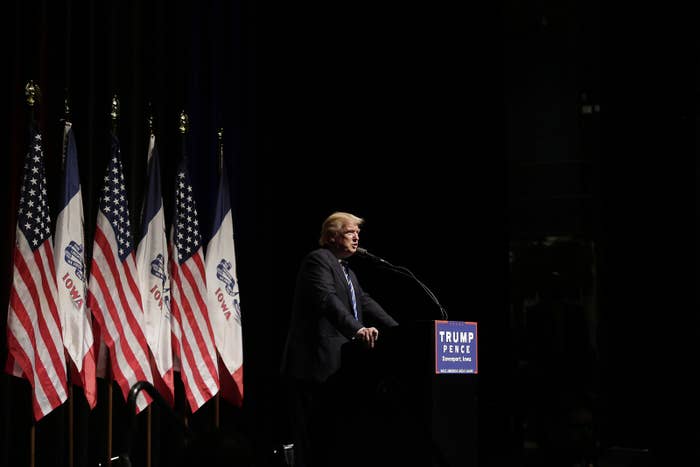 COLORADO SPRINGS, Colo. — The pitch to donors was optimistic: a discussion about "a brighter future for the country," hosted by Charles and David Koch's expansive political network, at a scenic mountain resort.

But, like everything else, part of the weekend ended up being about Donald Trump.
In his remarks to donors, Charles Koch repeatedly said this weekend that the network will back neither the Republican nominee, nor Hillary Clinton, disappointing a small but vocal minority of the 400 donors who hoped Koch — and the brothers' political network — would ultimately back Trump.
In response, network officials and Charles Koch gave a presentation to donors Saturday morning in a private meeting on why the group wasn't backing Trump, according to several donors. They also made the case for their decision to focus on Senate races instead of playing in the presidential — a dramatic change from the 2012 presidential election when the network spent millions on behalf of Mitt Romney.
"They made a very good presentation about why it would not make sense for them to get involved," said Stan Hubbard, a major donor who is involved with a pro-Trump super PAC, in an interview with BuzzFeed News. "They don't want to take away from (the Senate) effort. That was reasonable. They did a lot of careful analysis. They sold me."
Hubbard said despite the divisions within the network, the donors who are supporting Trump are satisfied with group's approach and won't leave the network based on the decision to stay out of the presidential — a concern that some have expressed. "Everybody was satisfied," he said. "I don't see anybody complaining about anything."
Doug Deason, another pro-Trump donor from Texas, said he's not upset about the network's decision to sit out but still wants Charles Koch to meet with Trump to share his policy positions. "We just want Charles and Trump to meet," he said. "If (Koch) can just introduce a little bit of his policy, that would be great."
Koch's aides have previously met with the Trump team, but there has not been a follow up.
Fred Klipsh, an Indiana donor who is close to the GOP vice presidential nominee Mike Pence, said he didn't make any personal pitches to donors to get on board with the ticket, but he thinks some could change their minds in the coming weeks.
"(Pence) is loved by this organization and is highly respected… Between now and the election, the more they talk about policy and a positive campaign, there's every opportunity for (donors) to change their minds," he said in an interview.
Many donors also made the point that those who wanted to get more involved on the presidential level could give to other groups instead of pushing the Koch network. "I compare it to a shoe store — you don't try to buy a dress there," said Frayda Levin, another donor who is active in some of the network groups.
BuzzFeed News was one of 11 news organizations to accept an invitation to cover the event after agreeing to a set of ground rules proposed by the Kochs' political network, including not identifying the donors attending unless they agreed to an interview.
In their explanation, network officials told donors they were making the best use of the group's resources by shifting the focus down to the Senate level because it was the logical choice, looking at the policy positions of the candidates and Trump's chances of winning.
"They talked to us today about their reasoning and it was impeccable," said Jim Von Ehr, a Texas donor and founder and chairman of Zyvex Technologies. "They made the point that we have to agree on some principles and candidates who support those principles, and if they lose their principles, they lose our support."
Donors met at the Broadmoor on the foothills of the Rocky Mountains, as Trump continued to make controversial statements about the parents of a Muslim-American soldier who died in the Iraq War.
"It absolutely makes it harder" to back Trump, said Chart Wescott, a Texas donor, referring to those comments. Wescott said he will make a "gametime decision" on who he decides to vote for, but didn't think the comments were a nonstarter for others. "On the contrary, many donors are willing to look past that."
Barry Farah, a Colorado donor who said he will vote for Trump but not support him financially — a position many network donors have taken — also brought up those comments. But he said at the end of the day, Hillary Clinton "would be a worse candidate than somebody who tweets in the way that isn't always dignified."
Some donors also brought up Libertarian Party nominee Gary Johnson as a candidate they were considering supporting.
One of those donors Chris Wright of Colorado, who is CEO of an energy company, called Johnson the most freedom-oriented presidential candidate running this election. Although his son has contributed to Johnson, he's not fully sold yet. "I'm not sure. At the end of the day in politics, it's a very practical game."
"But we want to help grow the cause of freedom."