Koch Network Announces Layoffs, New Firm, And Upcoming Policy Battles
As part of a post-election merger, the network will lay off about 80 staffers and start a new communications firm. It's also gearing up for policy battles on the state level and looking at which Senate races it will be active in during the 2018 midterm elections.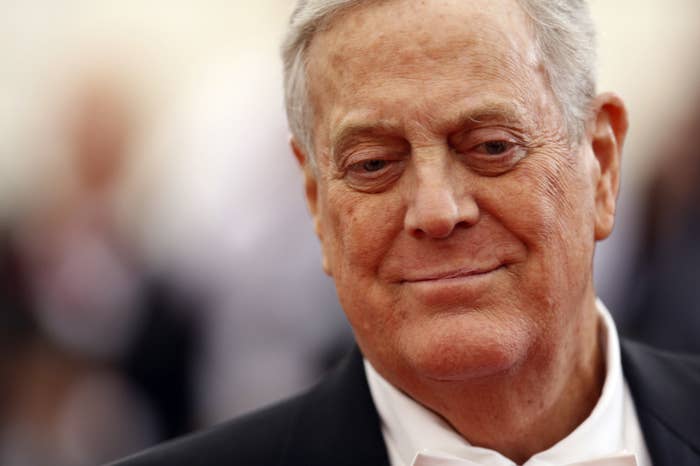 WASHINGTON — The political network affiliated with billionaires Charles and David Koch is laying off about 80 of its 1,700 staffers and starting a new full-service communications firm as part of a post-election reorganization, officials told BuzzFeed News. The network is also laying the groundwork for the 2018 races it will get involved in, along with state-level policy fights.
The layoffs come as the Koch network groups that work on Latino, millennial and veteran outreach are merging with Americans for Prosperity, the network's lead grassroots group, which has a presence in 35 states and 2.5 million members across the country.
Network officials have maintained that the merger is a way to streamline operations and allow groups to more quickly expand into more states, despite reports that network is retrenching.

The layoffs, meanwhile, are not from any one particular group or department.
"They're from areas where there were duplications," said James Davis, spokesman for the network. "The leadership team is still in place."
The Koch network is made up of hundreds of top Republican donors who meet twice a year and give millions to fund a handful of groups — including the Libre Initiative, Generation Opportunity, and Concerned Veterans for America — that push for candidates and policies in line with the Kochs' agenda. The network had a budget of about $750 million for the 2016 election cycle.
The Koch network did not spend money on the presidential race, but they did spend millions on ads and grassroots efforts that ultimately helped Republicans maintain control of the Senate.
Gearing up for policy and electoral battles in the next two years, the network is also setting up a new for-profit communications firm called In Pursuit Of that will operate similarly to the network's data company i360.
Davis will be heading up the new firm while maintaining his current role. In Pursuit Of will primarily work with all the network groups and has not decided if it will work with candidates and campaigns as well.
The newly reorganized Koch network will kick off participating in policy battles on the state level on Jan. 1, with its grassroots groups pushing for right to work legislation in Kentucky and Missouri and occupational licensing and tax issues in a handful of other states.
The network is also in the process of determining which races it will invest in during the 2018 midterm elections. "We could be actively engaged in 10 or more Senate seats," Davis said. "No rest for the weary."