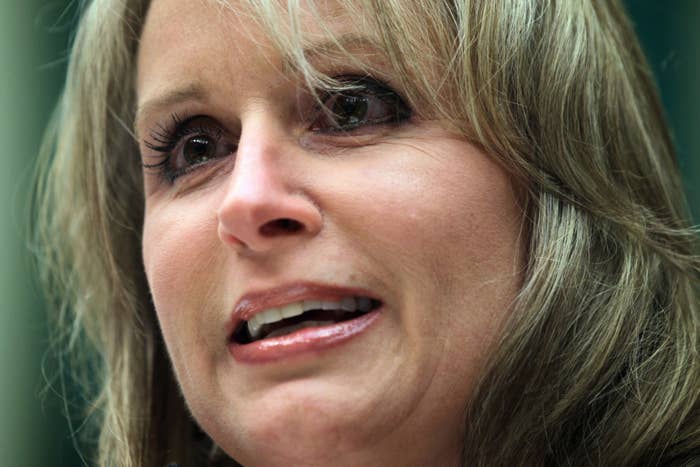 RALEIGH, N.C. — When Republican Rep. Renee Ellmers first ran for her House seat in 2009 as a fresh face for the conservative movement, she brought a new wave of activists to the army of volunteers affiliated with the billionaire Koch brothers' political operation.
That year, Americans for Prosperity, the largest Koch-funded group, saw its first major growth spurt in North Carolina — one that eventually led to its current roster of more than 200,000 engaged activists across the state.
Seven years later, the same activists Ellmers energized are now working against her.
The network's six-figure digital and direct mail campaign against Ellmers marks the first time the group created by billionaire industrialists Charles and David Koch has openly jumped into a primary with the express intent of defeating a Republican member of Congress.
"It's a warning shot to Washington that we don't care if there's an 'R' after your name," said Donald Bryson, state-director of AFP-NC, before a round of door-knocking Tuesday morning.
Bryson was knocking on doors in the newly created congressional district that has pitted two GOP incumbents — Ellmers and Rep. George Holding — against each other in a special election next week. The complaint against Ellmers? That "conservatives can't trust her" based on her votes on government spending. The group was ahead of schedule, having already hit 12,000 doors a week out from the election.
AFP's involvement in the primary comes as the influential network of wealthy donors largely sits out of the presidential race and pushes back on reports that the Kochs are scaling back their role in national politics. Questions about their level of involvement emerged after a lack of change in policy from the GOP-controlled Senate they helped elect and a sustained liberal campaign attacking the brothers and their company for their political contributions.
But through a multi-million dollar ad campaign focused mainly on Senate races, a voter data platform used by most Republicans in tough races, and a well-trained army of more than 2 million activists, the Koch's political operation plans to remain engaged in the 2016 election — albeit in a more subtle way compared to past election cycles.
The network has spent about $15 million on ads in Senate races — mainly through its super PAC Freedom Partners Action Fund and AFP — and has reserved $30 million in airtime for the fall in five key states so far: Wisconsin, Ohio, Pennsylvania, Nevada, and Florida. The amount is lower than past election cycles, but sources involved maintain that the infrastructure they have created overtime can move numbers without spending hundreds of millions on ads, as it believes it has done in North Carolina against Ellmers.
"TV is still important — we are clear about that," said Tim Phillips, president of AFP. "But it has shown diminishing returns."
AFP regularly tracks the effectiveness of its ads and grassroots efforts in deciding how best to use its resources. In Ohio, where one of its biggest state chapters is gearing up for a tight Senate and presidential race, the group found a negative 5% swing in Democrat Ted Strickland's favorability over two days last month, according to data shared with BuzzFeed News.
The drop came after the group's staff and volunteers made more than 660,000 door knocks and direct phone calls against Strickland's record.
"We're committed long-term to building a robust infrastructure that can change policy," Phillips said. "The tactics we use in any given year may change."
After reportedly spending $125 million in 2014 election cycle, the group reviewed its spending in different states and found that the impact from ads was not consistent.
In Iowa, AFP found that a high percentage of viewers remembered an ad they ran in August, but it didn't move numbers against Democrat Bruce Braley and actually ended up hurting now Republican Sen. Joni Ernst's favorability slightly.
During the same month, in Louisiana, two different ads — one focused on environmental regulation and another on veterans criticizing the Affordable Care Act — had varying results. The environmental ad, which claimed the Environmental Protection Agency's regulations were killing jobs in Louisiana, barely moved numbers while the veterans ad did.
Despite the group's findings, some within the network continued to push for more ad spending this election cycle to boost certain Republicans on the federal level, making the case that although not all ads move numbers, many help set the narrative for races, as the themes in the ads were later echoed by the media and campaigns. Many of those donors were also disappointed when the network passed up on the opportunity to take on Donald Trump.
But impressed with the wins on the state level in recent years, the network's leadership and more policy-focused donors have been more willing to invest resources into improving that infrastructure, which can also be used to get out the vote for Senate and presidential races.
Based on a review of Federal Election Commission reports and sources affiliated with the campaigns, at least 16 Senate campaigns — including those of Sens. John McCain, Ron Johnson, Mark Kirk, Kelly Ayotte, Richard Burr, Rob Portman and Pat Toomey — are using the data platform called i360 created by the Koch's political operation.
With an increasing focus on grassroots activity this cycle, Phillips declined to give an estimate of how much AFP would end up spending, adding that it would be "significant," as the group continues to identify potential races it could still get involved in. The group is also debating the nature of the involvement in each of the races — sticking to issue advocacy or expressly calling for the victory or defeat of a candidate in ads. "We are continually reassessing," he said. "This has been such an unpredictable last 15 months."
Beyond AFP's involvement in Senate races, Phillips named North Carolina Gov. Pat McCrory and Indiana Gov. Mike Pence as two "courageous" governors on policy who are in tough re-election races, but he did not indicate if the group's approval of the two will translate to financial support. AFP ran ads thanking McCrory last year, and its state chapter is doing some issue advocacy against the governor's Democratic challenger Roy Cooper. A recent door hanger AFP sent out called out Cooper, the state's attorney general, for supporting "President Obama's harmful new EPA rules."
AFP has also sent mailers thanking Republican Reps. Tim Huelskamp of Kansas and Rod Blum of Iowa — both are facing primary challengers.
Overall, the network was expected to spend $889 million in two-year 2016 election cycle. By the end of last year, it had spent nearly half. Asked about the budget now six months into 2016, James Davis, a spokesman for Freedom Partners, the umbrella group for the network, wrote in an email: "The budget was a projection two years out that covered a broad range of activities we would consider. However we make investment decisions on an evolving basis and we are comfortable we'll raise enough to fully fund all of our network priorities."
Although only a tiny portion of the network's budget, jumping into the Ellmers primary was also a way for the Koch network to continue to build its voter data and experiment with its grassroots capabilities ahead of the November election, where it will try to boost Republicans in at least five states.
"The special election aspect of the primary provided a unique opportunity for us to test and experiment," Bryson said while knocking on doors. "We know the one thing that moves people the most is this — that personal contact makes all the difference."