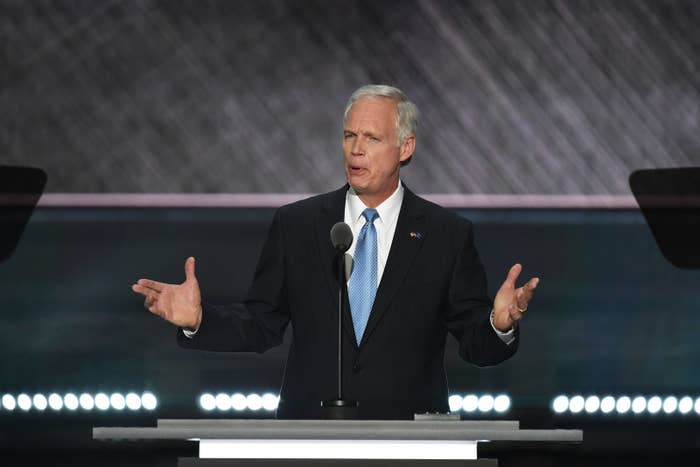 WASHINGTON — After canceling its media buy in the Wisconsin Senate race, the super PAC affiliated with Charles and David Koch's political network is going back up on TV, citing changes in internal polling.
Freedom Partners Action Fund will spend $1 million on digital and TV ads on behalf of Republican Sen. Ron Johnson. It previously canceled a $2.2 million buy last month.
"We've seen some changes in the polls that we are aligning our media strategy around," James Davis, spokesman for the group, told BuzzFeed News.
Real Clear Politics' polling average still shows Democrat Russ Feingold up by nine points. Wisconsin is one of six states with competitive Senate races where the Koch network will be spending millions.
At the network's summer meeting in Colorado Springs last weekend, officials repeatedly told reporters that they still planned to remain active in Wisconsin and not to read too much into the canceled ad buy.
The new contrast ad attacks Feingold for not doing enough for veterans when he was in the Senate.
"For veterans like Marlyn, it starts with fixing our broken VA system," a narrator says in the ad.
"For years the Tomah VA put veterans like Marlyn at risk. Over-prescribed him dangerous medicines. Russ Feingold did nothing to help. Then we elected Ron Johnson. As Chairman of the Government Affairs Committee, he listened – and acted."
Michael Tyler, a spokesman for Feingold's campaign, called the ad a "smear campaign." "Negligence at the Tomah VA has been a tragedy for Wisconsin's veterans and their families, but in a desperate attempt to distract from his own failed record of inaction as chairman of the Homeland Security committee, Sen. Johnson has decided to instead abuse his chairmanship for political gain and hide behind millions of dollars in attack ads from the Koch brothers," he said in a statement.