Koch Continues To Push Criminal Justice Bill As Momentum Fades On Hill
At a winter meeting of the Koch brothers' sprawling political network, Charles Koch continued to press for rolling back tough-on-crime laws, despite the decreasing odds of movement on Capitol Hill this year and new fissures in the bipartisan coalition of criminal justice groups.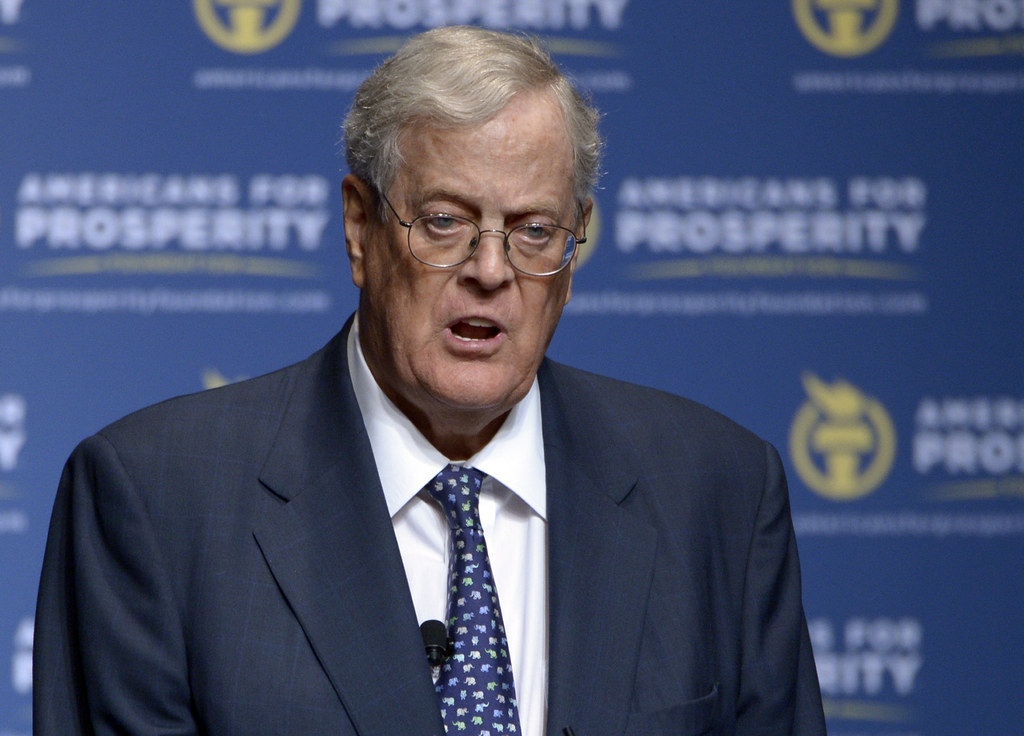 INDIAN WELLS, Calif. — The momentum for criminal justice legislation is slowing down on Capitol Hill, but hundreds of miles away, Charles Koch — one of its biggest supporters — continued to aggressively make the case for it to pass this year, even as the billionaire becomes the face of one of the sticking points.
"The issue we've been working hard on is criminal justice reform, so if somebody makes one mistake, non-violent, it starts with this question: Do you have right to run your own life as long as you don't violate the rights of others and you're not bothering anybody?" Koch said to donors on Sunday at the winter meeting of the political network affiliated with the industrialist brothers, which drew about 500 attendees.
Koch's comments on the issue were part of an hour-long presentation on what he calls "Framework for Free Society," which the billionaire believes will put the country back on the right track. He views changes to the criminal justice system as a crucial component of the framework.
"You smoke a joint or violate some regulation ... get arrested, put in prison and then come out, can't get a job, so this destroys opportunities and makes the community less safe because you go in — and weren't really criminals — and you are trying to get a job, so you steal if you can't," he said.
In addition to Koch himself advocating for looser sentencing laws, attendees also received a closed-door briefing on the issue Sunday morning, according to a schedule provided to donors.
BuzzFeed News was one of six news organizations to accept an invitation to cover parts of the network's meeting after agreeing to certain ground rules.
The largest-ever gathering of the Koch brothers' political network this past weekend came as the path forward for criminal justice legislation — a high priority for the network's donors — becomes increasingly uncertain in a presidential election year.
The Senate Judiciary Committee voted in October to advance the Sentencing Reform and Corrections Act of 2015, a measure which would loosen some mandatory minimum sentences, among other provisions. The bill is endorsed by President Obama, along with a coalition of conservative and liberal groups. But in recent weeks, some Senate Republicans have come out against the legislation.
"It would be very dangerous and unwise to proceed with the Senate Judiciary bill, which would lead to the release of thousands of violent felons," Arkansas GOP Sen. Tom Cotton recently said in an interview with Politico.

Adding to the uncertainty is the inclusion of a more divisive provision that would change white-collar prosecutions, requiring prosecutors to prove that certain suspects intended to break the law. The legal term for the requirement is mens rea, or "guilty mind."
The provision was added to related legislation approved by a House committee, and was opposed by the Justice Department, the White House, and left-leaning groups like the Center For American Progress. Koch Industries supports it, creating an opening for those on the left who have long argued that the Koch brothers' political activism is primarily about their bottom line.

In an interview with BuzzFeed News, Mark Holden, Koch Industries' general counsel, offered a defense of Koch's role in advocating for criminal justice reform, particularly the controversial provision.
"I've been at Koch 20-plus years," Holden said. "I've spent the last five or six years dealing with all this political, media type stuff. These attacks and whatever else, my feelings don't get hurt anymore. Here's my point of view: It doesn't bother me that they say that. It's just not true."
"We're not pushing the mens rea issue. We think it's important as a fundamental part of any effective and just criminal justice system," Holden continued. "People should not be charged with crimes unless they had the intent to commit a crime ... We are supportive of the bill without it. We are supportive of the bill with it. We want to see something pass."
Holden said the idea that Koch is advocating for the provision for his personal benefit is far from accurate.
"It's not about Charles Koch. It's not about Koch Industries," he said. "At Koch Industries, we'll always be able to defend ourselves. Whatever the laws are, whatever the charge is — hopefully, it won't be anything — but if issues come up, we have great compliance programs and we can always afford to hire the best outside help we need. This isn't about us. The criminal justice reform movement isn't about us. We are one of many players."
The Koch network was especially surprised when Texas Sen. Ted Cruz, who has received coveted invitations to speak at past network gatherings, came out against the Senate version of the bill last year.
Holden said Cruz used to be "by far one of the most articulate and best advocates for criminal justice reform," but now seems to have changed his mind with a White House bid underway.
"Sen. Cruz said what he did in the markup about why he opposed it, but I don't think — with all due respect to him, and I have a lot of respect for him — that's necessarily what is in the bill and what it would do. That was unfortunate that he did that."
But whether Cruz ends up winning the GOP nomination or not, the concern among Koch and other allies of reform, Holden said, is that the presidential year has made it sort of a now-or-possibly-never moment for criminal justice reform.
"No one ever lost an election being tough on crime," Holden said. "So whoever the Republican nominee is, whoever the Democratic nominee is. I don't know who it's going to be, but who's to say they're going to embrace it, and who's to say the Republicans in the next Congress feel like they tried very hard and they got left at the altar — I just don't know the answers to that, so why would you risk it?"