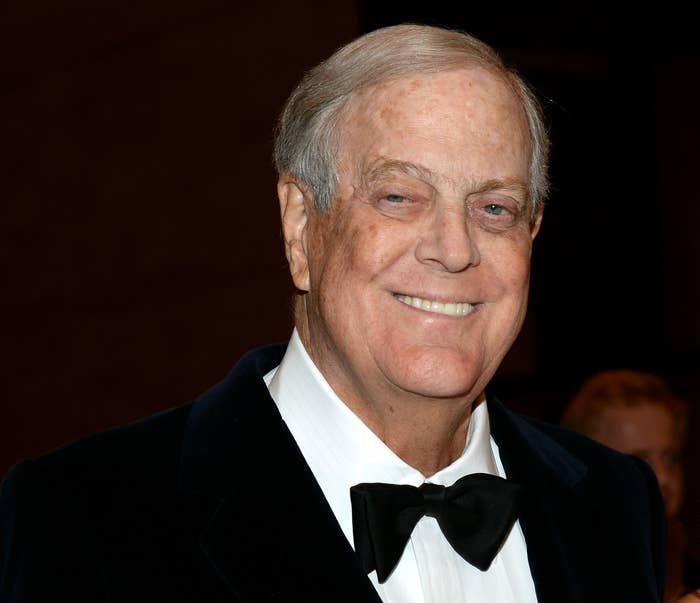 Billionaire industrialist David Koch is stepping down from his political and corporate roles for health reasons, his brother Charles Koch announced Tuesday morning.
"In October 2016, David announced that, 'Over the summer I was hospitalized and I am now suffering from declining health…' Unfortunately, these issues have not been resolved and his health has continued to deteriorate. As a result, he is unable to be involved in business and other organizational activities. Because of this, David will be retiring from his responsibilities at Koch and other organizations," Charles Koch said in a note to Koch Industries staff.
"David has always been a fighter and is dealing with this challenge in the same way," Koch said.
David and Charles Koch have given millions to Republican candidates, committees, and causes over the years, radically changing the political system by injecting more money into elections at all levels. Together, the brothers have been vilified for their political activity by Democrats on the Senate floor and in campaign ads, as they try to use the billionaires to rally their base.
The brothers also created a sprawling political network of groups to promote their causes, inviting hundreds of donors twice a year to weekend gatherings known as "seminars," where they would promote their libertarian strain of political ideology and philanthropic causes.
David Koch had been serving as chair of one of those groups, Americans for Prosperity Foundation. He will be resigning from that role as well.
"We greatly appreciate his vital role on the board and all that he has done to help us build a strong foundation for our future success. We wish him and his family well," said Mark Holden, cochair of the Koch network.
The brothers' influence on the Republican Party has been repeatedly tested under the Trump administration. The Koch network did not support the president during the 2016 campaign, and since his election, have strongly supported him on issues like tax reform and challenged him on trade and immigration.
David Koch is stepping down at a time when the president's populist ideology does not align with the free-markets conservatism that he and his brother have long pushed for.
Although the brothers gained intense attention for their contributions in the last decade, they were politically active long before. David Koch, now 78, ran for vice president in 1980 on the Libertarian Party ticket.
Besides his political contributions, David Koch also donated $1.3 billion to cancer research and medical, educational, and cultural institutions, according to numbers provided by Koch network officials. A chunk of his giving went toward finding a cure for prostate cancer after he was diagnosed with it 25 years ago.