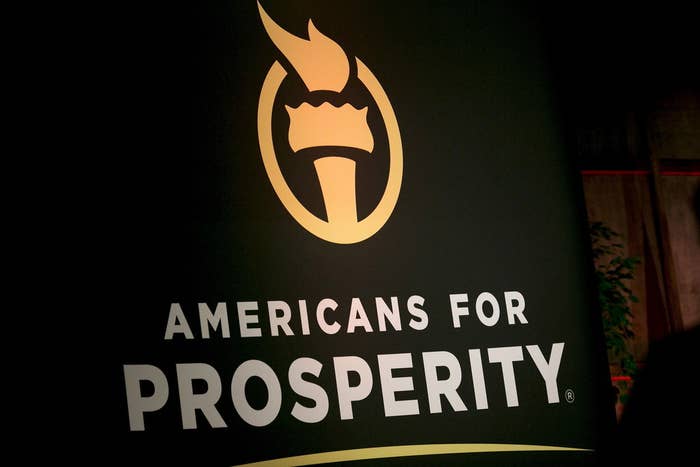 AIKEN, S.C. — With a month to go before the GOP presidential primary here, a group of activists in the basement of a local pizzeria called voters Tuesday evening to remind them of "corrupt politicians" and "special interests" hijacking their government.
Although the frustrated, anti-establishment tone is similar to rhetoric coming from some of the presidential campaigns, these volunteers weren't working on behalf of any White House hopeful looking for a victory in this early state.
Dressed in bright green T-shirts, with their iPads and flip-phones in hand, these activists are part of the largest grassroots operation on the right: the Koch-backed conservative group Americans for Prosperity.
Known over the years for its army of volunteers and its barrage of issue ads hitting Democrats, AFP has more recently been laying the groundwork in ruby red states take on what many might consider one of its own: the Republican Party.
The group is spending significant resources — even in a crucial presidential election year — in states like South Carolina, Tennessee, Utah and Indiana to push GOP-controlled legislatures and governors toward its conservative principles. AFP's investment in these states comes as national Republicans grow wary of the increasing influence of the constellation of groups affiliated with billionaires Charles and David Koch.
"Republicans in some states, where they have super majorities and governors, sometimes pursue big government policies," Tim Phillips, president of AFP, told BuzzFeed News. "Our goal is to genuinely hold both parties accountable."
The group, which now has 35 state chapters, has spent tens of millions in recent years — as Republicans have picked up majorities and super-majorities in state legislatures under the Obama administration — on building an infrastructure in red states to advocate against a range of issues including the expansion of Medicaid and different forms of tax hikes.
Phillips declined to discuss the details of the group's investment, but said: "The actual breakdown is difficult, but it is significant. It takes a sustained effort over a long period of time. We're never in a state for just window dressing."
Overall, the political network affiliated with the Kochs plans to spend $889 million on conservative causes and candidates in the run-up to the 2016 election.
In South Carolina, AFP has zeroed in on the GOP-controlled legislature and Gov. Nikki Haley's push for a 10-cent increase in the gas tax to pay for transportation projects. Haley, a rising star in the Republican Party and potential vice presidential candidate, has said she will veto a hike if it doesn't include reforming the Department of Transportation and income tax.
"I will not sign any piece of legislation that does not include real reform to the Department of Transportation – the days of horse-trading South Carolina roads have to end," she reiterated at her annual State of the State on Wednesday. "And I will not buy into the idea that we somehow cannot afford to cut income taxes for our people."
Some conservative leaders and groups — including the state chapter of Club for Growth, former Sen. Jim DeMint and Grover Norquist's group Americans for Tax Reform — have endorsed Haley's plan. But that hasn't been enough for AFP, which wants her to veto any measure with a gas tax increase.
Other than weekly phone banks all over the state against the gas tax, the group is using Facebook ads and routine robocalls to update voters on any incremental move in the legislature on the issue. In its effort to portray a vote in favor of the hike as political suicide for these Republican lawmakers, AFP also hasn't ruled out airing TV ads.
There are already several contenders looking to primary their legislators, and the debate over the gas tax has only encouraged them, activists say.
"The country club Republican atmosphere is very pervasive here, and in that atmosphere, politicians were unchallenged," Dave Schwartz, executive director of AFP's South Carolina chapter, told BuzzFeed News. "There was no way to hold them accountable. But we have to get out of thinking, 'Oh but they're Republicans.' I don't care what letter is behind your name — whether it's D or R — I'm going to hold you accountable."
"I've talked to folks who are contemplating primary challenges saying thank you for educating us on the gas tax," he said. "I expect a lot of primary challenges this year, regardless of whether this gas tax goes through."
At first, Republicans in the state were shocked and enraged by the group spending resources against them rather than Democrats, Schwartz said. "The line we got a lot from them last year was 'There's much bigger fish to fry.'"
"They might be beyond that now," he added with a big smile.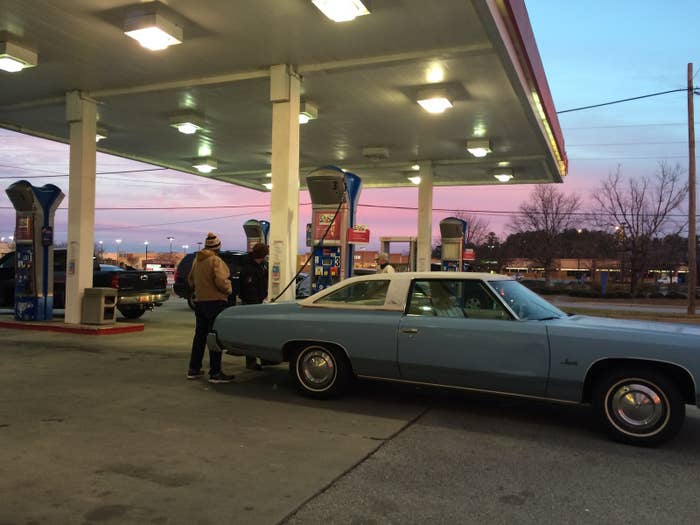 To draw voters' attention to the gas tax proposal, AFP paid for the state and federal gas tax along with the proposed hike, which works out to be 45 cents per gallon, at an Exxon Mobile just outside the state capital in Lexington for the first 2,000 gallons of gas on a cold Wednesday morning. While drivers pumped the discounted gas ($1.10 per gallon), the group's volunteers explained the issue to drivers and passed out handouts asking them to call Haley to "tell her to VETO ANY GAS TAX HIKES!!"
"Transportation in SC is a MESS," the handout read. "We are wasting millions of taxpayer dollars on a broken, corrupt system that works for the lobbyists and politicians, but not for us."
One of AFP's volunteers, Lee Canaday, who took time off work Wednesday morning to talk to drivers about the gas tax hike, said those who stopped by were outraged when they heard about it. The issue, he says, exemplifies the concerns conservatives have about the Republican Party in South Carolina.
"They're not really Republicans. Here in South Carolina, we don't have Republicans or Democrats because they're both big spenders," said Canday, a Lexington resident who works in irrigation. "It's all a dog and pony show and the only way you can change it is by causing them pain when they start to look bad before the election."
Despite AFP's battle with the Republican Party in red states on issues, the group's investment does have some advantages for the party.
For example, if drivers gave their email addresses and other contact information to volunteers at the gas station in Lexington, the group was able to fire off a drafted email against the gas tax to their respective state legislators on their iPads in seconds. But they also added the voter's information to their records.
Like other Koch-backed groups, AFP uses a platform called i360 for voter data. State-level campaigns, such as the gas tax hike in South Carolina, have helped build out the i360 platform that can later be used by various different groups and candidates on the national level.
Last year, the Republican National Committee's data firm and i360 signed a file sharing agreement, meaning the eventual GOP presidential nominee could use the data AFP is collecting to turn out the vote in red and battleground states.
Besides the voter data, AFP has also at times provided air cover to Republicans in red states if they support issues in line with the group. So whether the group's investments in red states can complement or hurt the GOP is really up to the lawmakers, activists repeatedly pointed out.
"It's not always about stopping Republicans from doing bad things. It's also thanking them," Philips said. "We want them to know that if you do the right thing, there's going to be an organization out there that's going to have your back in a substantial way."