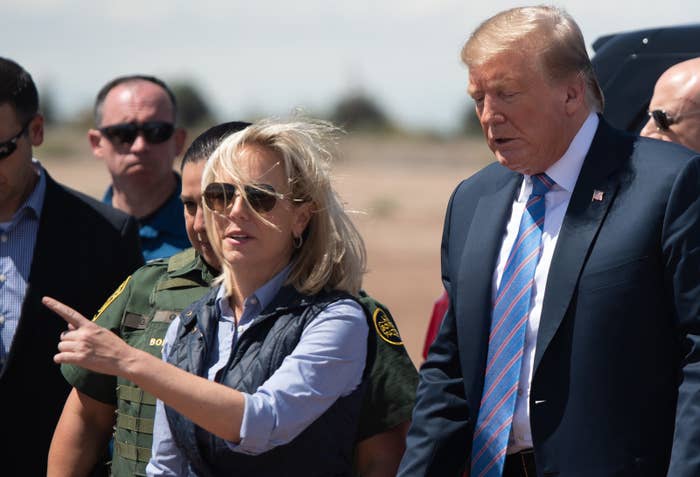 Kirstjen Nielsen, the secretary of Homeland Security who played a major role in implementing the Trump administration's key policy priority, immigration enforcement, resigned Sunday.
In a letter to President Donald Trump, Nielsen said that her resignation was effective immediately.

"It has been my great honor to lead the men and women of the Department as its sixth secretary. I could not be prouder of and more humbled by their service, dedication, and commitment to keep our country safe from all threats and hazards," she wrote.
In the days leading up to Nielsen's exit, Trump had taken an even more aggressive tone on his administration's immigration agenda, showing his frustration with the increasing number of families trying to cross the US–Mexico border.
"Our country is full," he said Friday, after threatening to completely close the border earlier in the week.

In a tweet Sunday night, Nielsen stated she would stay on as secretary until Wednesday "to assist with an orderly transition and ensure that key DHS missions are not impacted."

Nielsen will be replaced by Kevin McAleenan, the commissioner of Customs and Border Protection, who will become acting secretary, the president said in a tweet.
McAleenan, a longtime CBP official who served in the George W. Bush, Barack Obama, and Trump administrations, is known as an apolitical career official. The University of Chicago Law–educated official's CBP career has spanned many leadership positions, including the port director of the Los Angeles International Airport and the acting assistant commissioner of field operations, as well as appointments by the Obama administration as deputy commissioner and, later, under the Trump administration, acting commissioner.
"He is one of the most competent guys I know. He is very bright. He is a man of substance. He is very knowledgeable about border security," said John Sandweg, a former DHS counsel and ICE director under the Obama administration who worked closely with McAleenan. "I would have zero concerns from a Homeland Security perspective. He's well prepared."
Sandweg said his promotion, however, was eye-opening: "This is a surprise in the sense that this administration likes bluster. That isn't McAleenan. He is a man of substance."
A senior Senate Democratic aide told BuzzFeed News that McAleenan "has never given off the impression as a Stephen Miller–type true believer. And he doesn't give me the impression of someone who wants to destroy his reputation." McAleenan, the aide said, always gave "far less partisan" testimony. "This is a career person who from what I could tell got the CBP job because he knew his way around," the aide said.

In his late 2017 announcement naming Nielsen his DHS nominee, President Trump called her "tremendously qualified."

But Nielsen was often the target of Trump's frustrations with the increasing rates of migrant border crossings. That issue appeared to come to a head in the first few months of 2019, when the number of families crossing the border reached all-time monthly highs. On Thursday, Trump suddenly withdrew the nomination of his acting Immigration and Customs Enforcement director, Ronald Vitiello.
The president often told advisers he didn't think Nielsen was doing enough to fulfill his biggest campaign promise, curbing illegal immigration. But toward the end of 2018, Nielsen spearheaded multiple attempts at dissuading would-be asylum-seekers from crossing the border, first by implementing a ban on asylum for those who crossed the border without authorization, and then by keeping immigrants in Mexico as their asylum cases proceeded in the US.

"Kirstjen had an impossible job and it finally caught up with her," a former senior DHS official told BuzzFeed News. "She deserves credit for persevering as long as she did in very difficult circumstances. But it remains to be seen how a personnel shakeup is going to have any meaningful impact on the current border crisis."

Nielsen's efforts appeared to win Trump's approval for a period following reports in the fall of her impending departure. It appears those moves were not enough to keep her on strong footing with Trump in the end.
Jessica Vaughan, director of policy for the Center for Immigration Studies, an organization that advocates for a restrictive immigration policy, said that it was time for Nielsen to go.

"The president was more than generous in giving her a chance, but she was not qualified for the job to begin with, and certainly not up for the challenges facing that agency. She should consider herself lucky to have lasted that long. I am hearing that her failure to cope with the border crisis was the problem."

More than anything during her tenure, the 46-year-old Nielsen became the face of a controversial policy enforced at the border last year that separated families from their children under a "zero tolerance" process in which all individuals who crossed the border were to be criminally charged.
Nielsen sparred with media over the policy at a press conference on June 18. At one point, a reporter asked Nielsen if she was "intending for this to play out as this is playing out? Are you intending for parents to be separated from their children? Are you intending to send a message?"
Nielsen shot back: "I find that offensive. No. Because why would I ever create a policy that ever does that." When the reporter asked if it was perhaps a deterrence, Nielsen said "No." The day before, Nielsen tweeted that the administration did not have a policy of separating families at the border.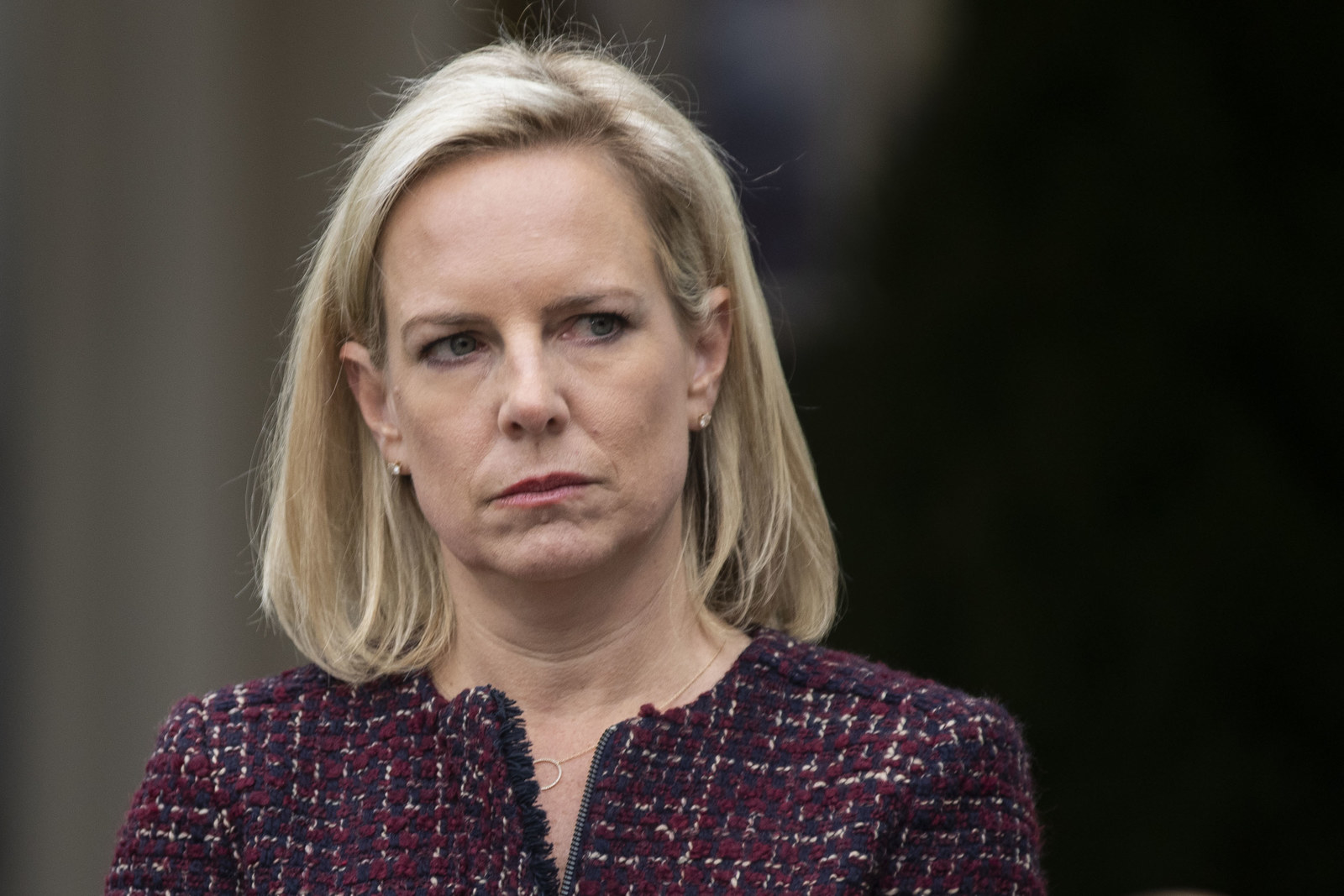 But Nielsen's press conference was a hit within the White House. Namely with Trump, who lauded her on Twitter the next day, saying that she had done a "fabulous" job "explaining security at the border and for our country, while at the same time recommending changes to obsolete & nasty laws, which force family separation. We want 'heart' and security in America!" Trump later told her "great job" during the signing of an order turning back the separations policy.
Nielsen's connection to the policy also made her the target and ire of many, including protesters, who yelled "Shame!" at her while she was eating at a Mexican restaurant in Washington, DC, in June. High-profile Democratic senators, such as Kamala Harris and Dick Durbin, called on Nielsen to resign following the family separations at the border, arguing that there needed to be responsibility for the policy.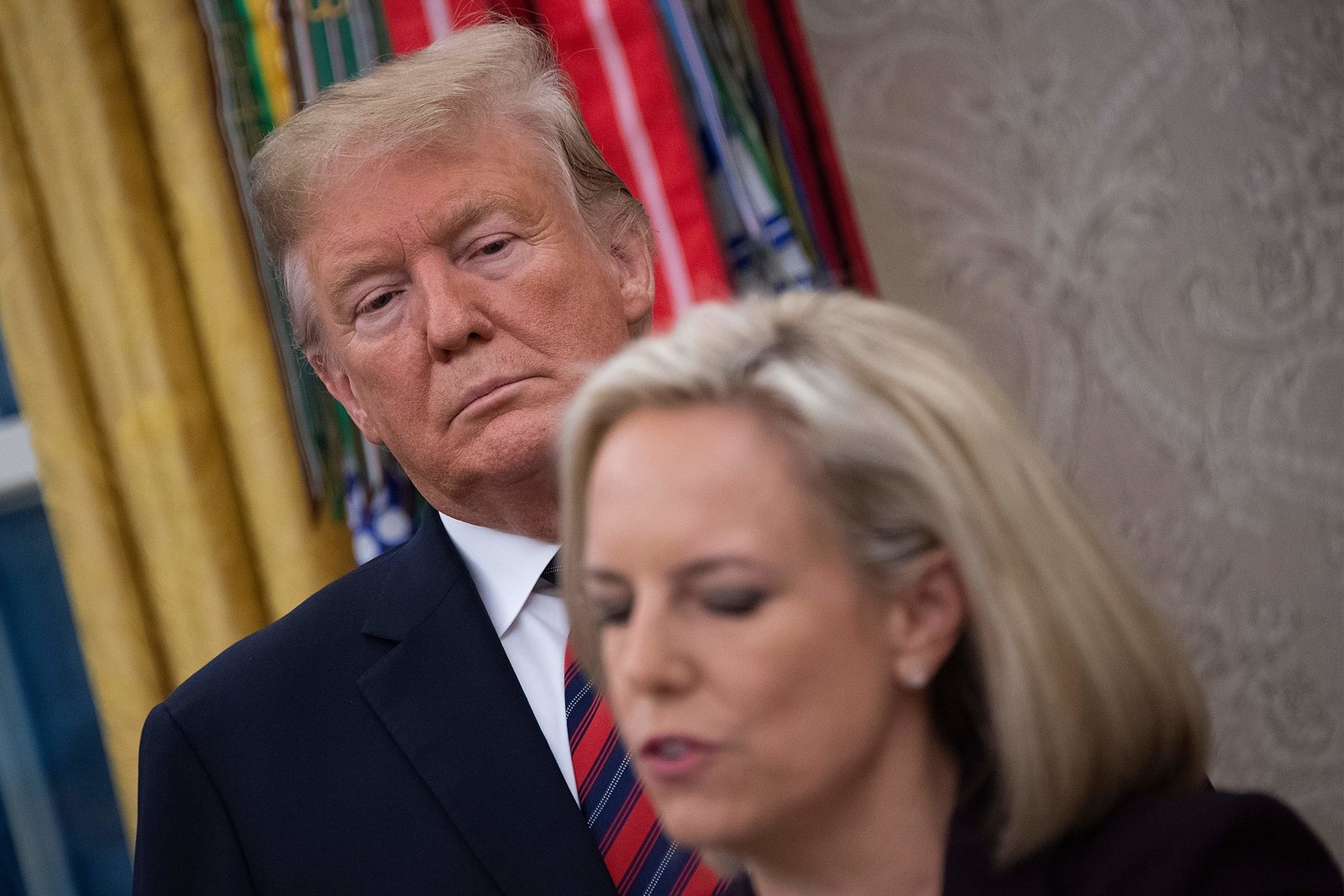 Nielsen was brought into Trump's orbit by then–White House chief of staff John Kelly, who reportedly protected her from being fired several times. Nielsen worked under Kelly as his chief of staff when he was DHS secretary, and then became his deputy at the White House before being named his replacement at DHS.
Trump himself had, at times, grown frustrated with Nielsen and blamed her for a rise in undocumented immigrants crossing the border, according to the New York Times, which also reported that she drafted a resignation letter in early May after being berated by the president during a cabinet meeting.
Trump reportedly urged his cabinet to do more to seal the border then, and Nielsen believed the criticism to be aimed at her.
Nielsen was already treated with skepticism by some immigration hardliners in Trump's base when the president nominated her to lead DHS. But she repeatedly defended Trump's calls for a wall at the southern border and enforced his immigration policies, including deploying the National Guard to the border in April 2018.
Trump's support of Nielsen over the summer may have waned as more unauthorized families crossed the border later in the year. At a meeting in early October, Kelly and Trump's national security adviser, John Bolton, got into a shouting match over what to do over the issues at the border, with Bolton wanting a tougher approach and criticizing Nielsen for not doing her job. Trump, according to the New York Times, shared Bolton's view in the argument.