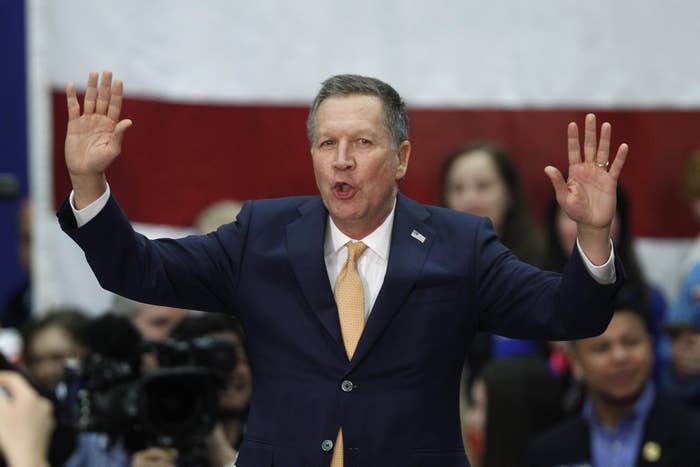 WESTERVILLE, Ohio — John Kasich hasn't mentioned Donald Trump on the campaign trail much, but on election day in Ohio, he told reporters he had only recently seen all the comments Trump had made and hinted he would be bringing those up more.
"Running a positive campaign has been really, really good," Kasich said after voting for himself here in his hometown. "I think my neighbors are proud of me. I know my daughters are and my wife. I will be however forced going forward to talk about the way this campaign has been run by some others — by one other in particular. But today is not the day to do that."
"I've been very concerned," he continued. "I just saw a commercial I guess it was last night of these comments that were made about women. I have two daughters. They see this stuff. What do you think they think? I'll have more to say about that. But that's going to be not designed to be negative as much as it is to point out things that I've seen that are deeply disturbing in this process. And I think I have the right to do that as a candidate, but in terms of rolling around in the mud that's not where I intend to ever really go even in the fall election."
When pushed on how Kasich was only recently becoming aware of Trump's controversial comments, he said he asked his press secretary to compile a list of Trump's quotes after the violence at the Trump rally in Chicago on Friday.
"I'm not really paying that much attention to that... Things move fast in a presidential campaign. I focus on what I'm going to be doing in my next event. I'm focused on who's winning the golf tournament that I'm interested in. And that's about it. I don't really focus on what somebody else is doing in somebody's campaign, so it was really the first time that my eyes were really opened, which meant that I was probably like a normal voter."
Kasich maintained that it's not too late for him to talk about Trump. "When I feel like I want to say something, then I'll say it. I don't operate on somebody else's timeline or schedule, including reacting to events. I react on my timeline, my schedule."