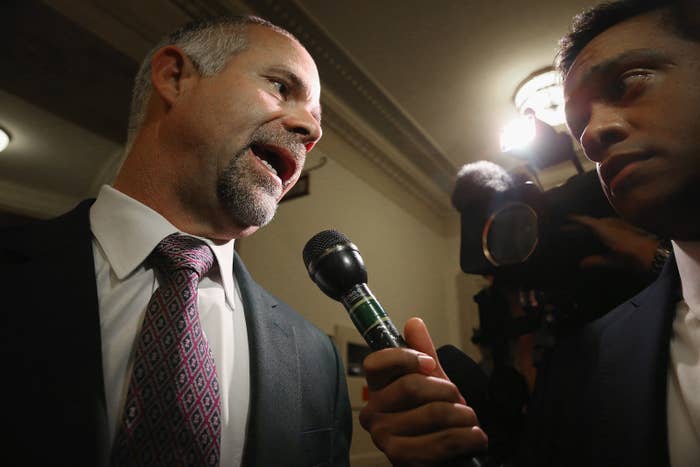 WASHINGTON — A Republican congressman with a reputation of being a trouble-maker for party leadership is caught in a tough primary race that's pitting all sorts of GOP allies against each other.
Kansas Rep. Tim Huelskamp — a member of the conservative wing of the House called the Freedom Caucus and one of the most vocal opponents of former Speaker John Boehner — is in a dead heat with physician Roger Marshall ahead of the primary next week that's drawn big-money groups and endorsements.
Conservative groups that often find themselves aligned behind the same candidate are instead split between Huelskamp and Marshall, who has cast himself as a conservative who can compromise to get things done in Congress.

On one side, Sen. Ted Cruz, conservative group Club for Growth and the political operation affiliated with billionaires Charles and David Koch are backing the congressman. On the other side, the US Chamber of Commerce, Ending Spending Action Fund — a super PAC run by Chicago Cubs owners, the Ricketts family, which has sided with the Koch network in the past — and some close to Cruz are supporting Marshall.
Outside groups alone have spent at least $1.5 million on the primary, according to disclosures. More has been shelled out by groups that don't disclose their spending.
After years of primary challenges for GOP incumbents from the right, this race isn't as much of an establishment versus tea party battle. It's more about testing whether constituents in a red district still prefer an uncompromising conservative over one willing to make some concessions.
In the final week before the Aug. 2 primary, Koch-backed Americans for Prosperity, which is spending six-figures on the race, is rolling out more digital ads — first shared with BuzzFeed News — on Facebook that detail how Huelskamp is "standing up to DC and protecting family budgets." The new issue ads come as Ending Spending tries to label Huelskamp as "Washing-Tim" with its spots, and the Chamber portrays him as ineffective after being stripped of his spot on the agriculture committee.
AFP's local chapter is also planning on making more than 50,000 calls in the final week.
"He's been willing to take political stances even when they're not in his best interest," said Mark Holden, chairman of the Kochs' political operation Freedom Partners, citing Huelskamp's votes against the farm bill as a representative of an agriculture-heavy district and reauthorization of the Export-Import Bank. (Kansas farm groups have endorsed Huelskamp's opponent).
Holden described Huelskamp as "great on the economic issues that are our bread and butter." "We need more people like him," he said, adding that "this isn't a popularity contest" when asked about the congressman's record of angering his colleagues.
Acknowledging that there's been some confusion about why a group with a name like Ending Spending would oppose Huelskamp, who has a reputation for being a staunch fiscal conservative, Brian Baker, spokesman for the group, said: "By all accounts, everyone looks at Huelskamp as a conservative.
"But that's looking at the tree and not the forest. Our position is simply that we appreciate the fact that he's conservative, but he doesn't get anything done. In the way he goes about it is so obstructionist. Anytime he says we need to strip more spending, and therefore refuses to let the Republican budget go through, he puts liberal Democrats in charge of the House."
Baker said his group, which has spent about $900,000 on the race, is often on the same side as others they are now opposing in the Kansas primary. "However, we just see things differently," he said. "Everybody's got to make their own decisions and answer to their own supporters."
He also said that labeling Huelskamp as "Washing-Tim" even though the congressman regularly picks fights with Washington insiders is more about illustrating that he's "a classic show horse and not a work horse."
Baker also clarified that although he has received some informal advice from those who work for Axiom Strategies — Ted Cruz's campaign manager's firm, his super PAC has never paid them and they have not really been involved since Cruz's endorsement of Huelskamp.
A Politico story on Wednesday detailed the involvement of some of Axiom's staff in the race.
Although the race has drawn interest from several different groups, Boehner — who clashed frequently with Huelskamp and took him off the agriculture committee — is still staying out. The former speaker isn't that politically involved anymore, but he has spoken out against Cruz since retiring, calling him "lucifer in the flesh."
"It's not something he's personally paying a lot of attention to," said David Schnittger, a spokesman for Boehner.
"He's focused on his bus tour in support of defending the team and the House majority that was earned under his leadership."