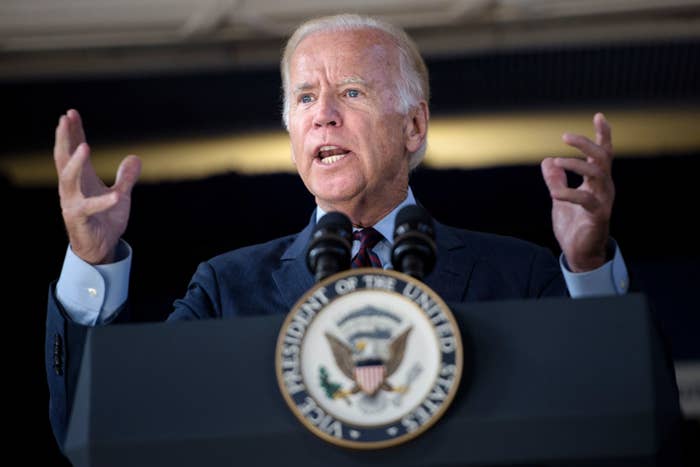 WASHINGTON — Democrats are putting renewed pressure on Republicans to act on certain priorities — Zika funding, gun control, and approving their Supreme Court nominee — dispatching Vice President Joe Biden to the Capitol to help make their case on Thursday.
With the election two months away, Democrats are pushing their "Do Your Job" campaign, arguing that Republicans, who have the majority in both chambers, are stalling on issues where there is a national consensus in the Democrats' favor. Several Democrats from both the House and the Senate lined up on the steps of the Capitol and sporadically chanted "Do your job" in 90-degree weather Thursday afternoon, as Biden spoke of the dysfunction in Congress.
"This is a national emergency. If you care about children — and that's the argument that a lot of our conservative friends are making dealing with Planned Parenthood — if you care about them, wake up, man," Biden said of Zika on the steps of the Capitol alongside Senate Minority Leader Harry Reid and House Minority Leader Nancy Pelosi.
"The health of the country at large is at stake. Act!"
A bill that would fund efforts to combat Zika has failed three times in the Senate, after Democrats filibustered due several riders they describe as "poison pills" inserted by Republicans.
Biden also spoke of his time as chairman of the Senate Judiciary Committee and urged GOP leadership to give President Obama's Supreme Court nominee Merrick Garland a vote.
"You don't have to support Merrick Garland...vote 'no,' but give him a vote," he said. "We're setting a dangerous precedent in this institution that I love."
Garland returned to Capitol Hill a few hours before Biden's visit for a photo-op and to meet with Sen. Patrick Leahy, the top Democrat on the judiciary committee. Garland was nominated in March.
The vice president also asked Republicans to allow a vote on a gun control measure that would make it harder for those on the no-fly list to buy firearms.
"If you're on the watch list, you shouldn't be able to go in an buy a weapon," he said. "We've already had three bites out of that apple here with lone wolves acting and devastating communities."
Biden closed by stressing his close relationship with Republicans on the Hill. The vice president spent nearly four decades in the Senate.
"I have a close personal relationship with the Republican leadership," he said. "[Senate Majority Leader] Mitch McConnell and I worked well together. I worked well with John McCain, who is always beating up on me. He's my friend...and with Paul -- the speaker of the House. So I never tell another man or woman what their responsibility is, what their duty is and how they should vote. But look guys...I can't tell you how many times the dysfunction in Washington has affected our ability to get things done."
"The single most significant thing we can do now is act on all of those things that are an absolute consensus and fulfill your constitutional responsibility."