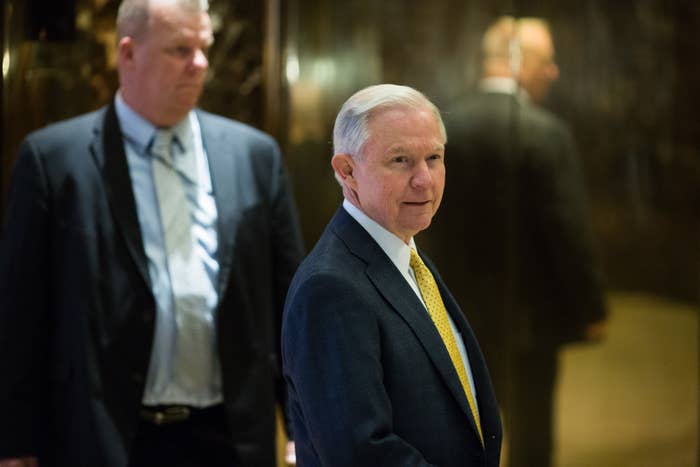 WASHINGTON — Senate Republicans are coalescing around their colleague Alabama Sen. Jeff Sessions' nomination to serve as attorney general — three decades after Session's past racist comments sunk his nomination to the federal bench under a GOP-controlled Senate.
Sessions' nomination was announced by President-elect Donald Trump's transition team Friday morning. He needs a simple majority of the Senate to be confirmed. With Republicans' narrow majority in the Senate, there's little room for defectors.
So far, even senators who strongly oppose Sessions' views on key issues, including immigration and the criminal justice system, plan to vote "yes" on the nomination. Sessions fought hard against the Senate's bipartisan comprehensive immigration reform bill in 2013 and has opposed bipartisan efforts to reduce mandatory minimum prison sentences.
Utah Sen. Mike Lee, an advocate of criminal justice reform, intends to vote for his confirmation.
"Sen. Lee has a well established working relationship with Sen. Sessions that goes far beyond their differences on criminal justice reform," Lee's spokesman Conn Carroll said in an email. "Unless something new comes up, Sen. Lee does plan to vote to confirm him as Attorney General."
Arizona Sen. Jeff Flake, who has pushed both immigration and criminal justice overhauls, also plans to confirm Sessions, a spokesman confirmed Friday.
South Carolina Sen. Lindsey Graham, another major advocate for immigration reform, told reporters earlier in the week he would see past his differences with the Alabama Republican and vote in favor for Sessions to serve in Trump's cabinet.
"I like Jeff," Graham said. "He was the early, only supporter for Donald Trump in the Senate. And I believe Jeff Sessions has earned the right to serve President Trump in the highest levels. I think he is a good, confident, capable man."
Sessions, a former prosecutor, was nominated to the federal bench by President Ronald Reagan in 1986, but wasn't confirmed. Sessions' former colleagues testified before the committee that he had called civil rights groups, including the NAACP, "un-American," referred to a black prosecutor as "boy," and joked about the Ku Klux Klan.
This time around the Senate Judiciary Committee, which again has jurisdiction over the attorney general position, is poised to move the nomination forward.
The top Republican on the committee, Sen. Chuck Grassley, released a statement Friday, saying he is "confident [Sessions] would be reported favorably out of the committee."
"Senator Sessions is a respected member and former Ranking Member of the Judiciary Committee who has worked across the aisle on major legislation," Grassley said in the statement. "He knows the Justice Department as a former U.S. attorney, which would serve him very well in this position."
Sen. John Cornyn, the number two Republican in the Senate and a member of the judiciary committee, also released a statement of support.
"I commend the choice of Senator Sessions to lead the Justice Department under the new Republican Administration. A principled and good man, he will restore honor to a Department that, under President Obama, perpetually pushed a political agenda while neglecting to enforce the law."
CORRECTION
It was three decades ago that Jeff Sessions was not confirmed to the federal bench by a GOP-led Congress. An earlier version of this post misstated the amount of time that had passed.