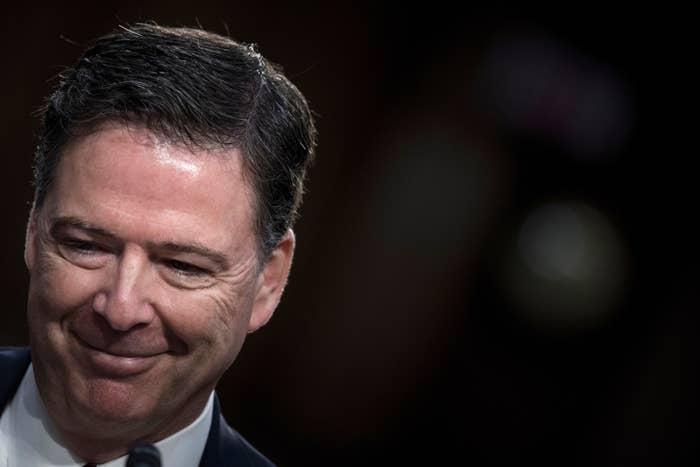 Former FBI Director James Comey's much anticipated testimony before the Senate Intelligence Committee Thursday cast President Trump as a bumbling and possibly nefarious liar who benefitted from a Russian intelligence operation — and still, Trump's allies spent Thursday afternoon insisting it was a win for the president.
In interviews after the hearing, they stressed that Comey made no explosive accusations of legal wrongdoing directed at President Trump. Comey, who spoke openly and without notes, repeatedly talked about feeling troubled and confused about his conversations with the president. However, he was careful to avoid explicitly accusing Trump or any other administration officials of breaking the law.
Asked several times if he thought that Trump engaged in obstruction of justice, Comey deferred to the ongoing investigation by special counsel Robert Mueller III, the former FBI director.
This is what passes for good news in Washington these days.
Rep. Peter King, a member of the House Intelligence Committee, said it was "much more positive than negative for the president." "If the president doesn't get baited into tweeting, I don't see how the story remains on the front pages... I think the intensity of the story will diminish after today," said the New York Republican.
"It's a 'he said, he said,' issue at this point but there is no evidence of obstruction by the president," said Roger Stone, a longtime Trump advisor and friend who has been at the center of allegations of collusion with Russian hackers, which he has forcefully denied.
Stone went on to say that Comey's testimony might actually help the president or muddy the water for Democrats rather than harm Trump moving forward.
"There is tantalizing evidence of obstruction by Loretta Lynch," Stone said of Comey's revelation that the former attorney general told him to refer to the Clinton email scandal not as an "investigation" but as a "matter." Comey reiterated during the hearing that the FBI has since closed its investigation into Clinton.
He also said there is evidence Flynn did things that are stupid but not illegal and don't constitute collusion with Russia, responding to Comey's Valentine's Day meeting with Trump where the president asked him to drop the investigation into former national security advisor Michael Flynn.
"I think the president thinks Flynn has been unfairly maligned," Stone said. "He took money from [Russia Today], which is not illegal, just bad judgment. But if this is what the Democrats were counting on to cause the impeachment of Donald Trump it's not going down that way.
As the hearing wrapped up, another source close to the administration texted: "Where's the beef?," adding the hearing had been all about process rather than any smoking gun that could cause trouble. "There's no there there or did I miss it?"
Sam Nunberg, a former Trump campaign adviser, said the hearing made clear that there was "no crime, no cover up, no collusion."
"If you're out to support James Comey, he did very well for himself," Nunberg said. "But at the end of the day, this is about obstruction, and nothing he said today shows that the president or the administration did anything to obstruct."
William Jeffress Jr., a veteran white collar defense lawyer in Washington who counts I. Lewis "Scooter" Libby, former vice president Dick Cheney's chief of staff, among his past clients, said in an email that although he didn't see anything legally actionable in Comey's testimony, it could be damaging to Trump.
"This has to have a major impact on the public's perception of Trump's honesty and competence," Jeffress said.
Another source close to administration pointed out that Comey's portrayal of Trump as a liar could be an issue. "I was honestly concerned that he might lie," Comey said during the hearing as his reasoning for keeping copious notes on his interactions with the president.
"It's concerning that he used the word 'lies,' 'I was afraid he would lie.' In two different instances he didn't dance around that word," the source said. "It's problematic, you don't want to hear that from the former head of the FBI in sworn testimony."
Asked about Comey saying Trump lied, Texas GOP Sen. John Cornyn, a member of the Senate Intelligence Committee, told reporters: "I heard what he said, but he said a lot of things and I thought the president had a pretty good day."
Inside the White House, deputy press secretary Sarah Huckabee Sanders insisted during a gaggle with reporters that despite all signs to the contrary, it was "a normal Thursday at the White House." She bristled at the question of whether Trump was a liar, which Comey twice suggested under oath, and said she was unaware if the president watched much of his testimony. Sanders referred further questions to his outside counsel, Marc Kasowitz, who read a typo-filled letter aloud accusing Comey of "unauthorized disclosures" of "privileged communications with the president."
Trump, who some had expected would live-tweet the hearing, did not send a single tweet about Comey on Thursday. He also did not mention the hearing or the former FBI director during his his speech at the Faith and Freedom Coalition. Instead, Trump's son, Donald Trump Jr., took on the role of live-tweeting during the hearing, pushing the narrative that the testimony had vindicated his father.
The White House also outsourced its rapid response operations to the Republican National Committee, where staffers described their role on Thursday as standard operating procedure on behalf of a Republican president. But the result was a political organization questioning the credibility of a former FBI director — "James 'I Don't Know' Comey" read the subject line of one RNC email — on many counts but also emphasizing parts of his testimony that better fit their message. "Big News From Comey Hearing — Obama AG Attempted To Influence Clinton Investigation," read the subject line of another email.
Scott Jennings, who served as a deputy White House political director under George W. Bush and has worked on campaigns for Senate Majority Leader Mitch McConnell, thought both sides came out with comforting talking points. But, he added, "Democrats wanted this to be the clear end of Trump," Jennings said. "The reality is they're well short of that, and that's got to be deflating for those who have been waiting for this guy to speak."
Asked if he heard anything from Comey that should alarm Republicans, Jennings replied: "Absolutely not. He actually said a couple of things that I thought enhanced the president's credibility" — specifically the affirmation that Trump wasn't under investigation and written testimony that Trump agreed it was important to learn if his associates did anything wrong.
Republican Hill aides and campaign operatives also described it as a hearing that had something to satisfy all sides.
"Everyone can kind of claim victory," said one GOP strategist.
In Georgia's 6th District special congressional election, for instance, where Democrats are hoping to harness anti-Trump sentiment into an upset victory in two weeks, strategists say it changes little.
"This race is competitive for one reason – and that's Donald Trump. And we didn't really need this hearing to know that," said Georgia Republican strategist Chip Lake.
But on Capitol Hill, in a town where bars opened early to packed crowds eager to watch the hearing, some Republicans worry Comey's remarks could prove more of a distraction.
"You ought to be able to compartmentalize, but traditionally these things kind of preoccupy the town," said former Virginia Rep. Tom Davis.
Still, those close to Trump weren't shy about advocating for his instinct to counterpunch in ways that would ensure Comey and Russia will remain in the headlines much longer.
Despite waving away much of the former FBI director's testimony, Stone suggested Trump hit back at Comey through his Wednesday pick for FBI director, Christopher Wray, regarding Comey admitting that he authorized a friend to share information from his memo about Flynn to a reporter after he was fired.
"The best thing he can do is hit back with everything he has," Stone said. "I would have the new FBI director on Comey like a cheap suit. On the question of his leaking, he leaked to the New York Times why wouldn't he leak on other matters?"
Zoe Tillman, Alexis Levinson, Lissandra Villa, Henry Gomez, and Emma Loop contributed reporting.