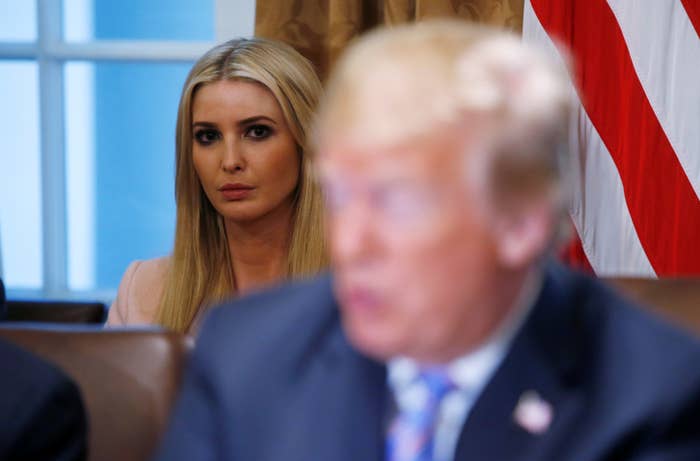 Ivanka Trump, known to be strategic about her public appearances and the policies she chooses to back, has been front and center this week as the White House deals with the fallout from the president's continued comments on Russia's interference in the 2016 election.
But she's managed to stay far away from anything related to Russia.
Trump, the president's daughter who also works as a senior adviser in the West Wing, spoke at length at Wednesday's cabinet meeting — before the president gave another muddled response on his views on Russian election meddling. She sat for an interview on CNBC Thursday morning from outside the White House, introduced her father later that day at a workforce training event, the president's only public event that day, and did another interview on Fox & Friends Friday morning.
Her extremely on-message appearances have offered a jarring contrast this week to her father's confusing responses to lingering questions about his Monday press conference with Russian President Vladimir Putin. On Thursday, as she continued to focus on workforce training, timed with a previously scheduled executive order signing on the issue, the White House was still trying to answer questions and clarify answers related to the Trump–Putin summit.
Although the president's daughter has been pushing the same policies — including paid family leave and workforce training — since her father took office, she has seen little legislative success after several trips to Capitol Hill and huddles with lawmakers. Using an executive order instead, she and her father announced a new council and advisory board for workforce training on Thursday.
"I wouldn't be surprised if she also wanted to give a proof of life so to speak to show people she's actually doing work in the White House," said one former White House official on the timing of Trump's increased public appearances.
Minutes after the president signed the order with his daughter and left the workforce training, however, his press secretary made a big Russia-related announcement on Twitter.
The same whiplash happened a day earlier. Trump stood in front of all cabinet members at a White House meeting and read from scripted remarks — filled with numbers and statistics — on notecards for about seven minutes, echoing what she published in a Wall Street Journal op-ed earlier in the week. Before she started speaking, the president asked if reporters and cameras wanted to stay in the room to hear her speak.

"As we know, a robust labor market is great for the American worker," she said.
"Wages are finally beginning to rise after almost a decade of stagnation, and people are coming off the sidelines and back into high-demand fields. However, current public investment in education and skills is de minimis after the age of 25, not reflecting an evolving economy in which workers must continually update their skills in response to the changing employer needs and an increasingly digital economy."
After Trump finished, the president profusely praised her remarks, calling them "unbelievable." "Wow," he said. "So if that were Ivanka Smith, the press would say, 'That was totally brilliant.' 'We've never seen anything like that.' As Ivanka Trump, they'll say, 'Eh, she was okay.'"
Ivanka Trump's remarks, however, were quickly lost in the news cycle as the president in the same meeting responded "no" when he was asked if Russia was still targeting the US, setting off another firestorm. The White House has since said that the "no" was not an answer in response to the question, but rather the president saying that he did not want to take any questions.
And Thursday morning, as the president continued to defend his meeting with Putin in tweets, Ivanka Trump sat alongside a student in an interview with CNBC to talk about vocational training, previewing the executive order her father was scheduled to sign later in the day and pledges from the business community to educate and train students.
The interview did not include questions on any other topic.
"Today's announcement will be amazing!" she said at one point, teasing the event like her father often does. But unlike the president, she carefully stuck to the topic at hand.