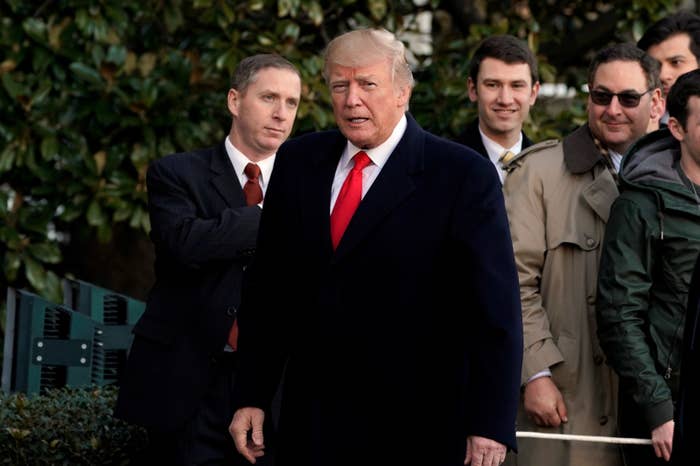 The report that the president of the United States cheated on his wife with an adult film star and paid her off to deny the affair has, so far, been a one-day story that left the Trump White House exhaling in relief at a dodged bullet.
"This is a nonstory. Plain and simple," Trump's personal lawyer, Michael Cohen, told BuzzFeed News. In statements released by Cohen after the original report, both actor Stephanie Clifford, who performs as Stormy Daniels, and Trump denied the affair and the payments, saying those were "rumors that that circulated time and again since 2011."
But the question hanging over Trump Thursday was whether one of the more salacious sex scandals in presidential history represents a mere blip in his wild presidency — or if we are merely in the quiet before the storm of the full story being strewn across Twitter in screenshot chunks.
In Touch Weekly will reportedly drop a 5,500-word, "unedited" interview conducted in 2011 with Clifford in the coming days, a kind of presidential revelation that threatens to make the Starr Report — much less Michael Wolff's Fire and Fury — look PG. And while details have leaked, the injection of that document into today's screenshot ecosystem could well compete with the government shutdown for attention.
"I actually don't even remember why I did it, but I do remember while we were having sex, I was like, 'Please don't try to pay me,'" Daniels said in a published excerpt from the interview. "And then I remember thinking, 'But I bet if he did, it would be a lot.'"
Trump's circle believes, however, that the Stormy storm may have already passed.
A former Trump adviser said he's not surprised by the lack of public outrage over this. "I don't think anybody thinks that Donald Trump is an angel," the former adviser said. "Also, he wasn't in any office at the time. This is not the same thing as Bill Clinton."
And some analysts agree.
"Trump shocks the nation every day," said Julian Zelizer, a presidential historian at Princeton University. "So it's very hard to get the public worked up anymore. A sex scandal seems minor at this point."
And Republicans, for now, are pursuing the time-honored tactic of pretending the story doesn't exist.
Asked about the alleged affair and hush money, Republican lawmakers said they knew close to nothing about the story. Utah Rep. Rob Bishop said: "I haven't heard of that one at all. I'm sorry."
"It didn't catch my attention, actually," said Iowa Rep. Steve King. "When I'm going through and reading the news, I need to read the things that I can change. So I filter things out and get down to, 'What can I have an effect on?'"