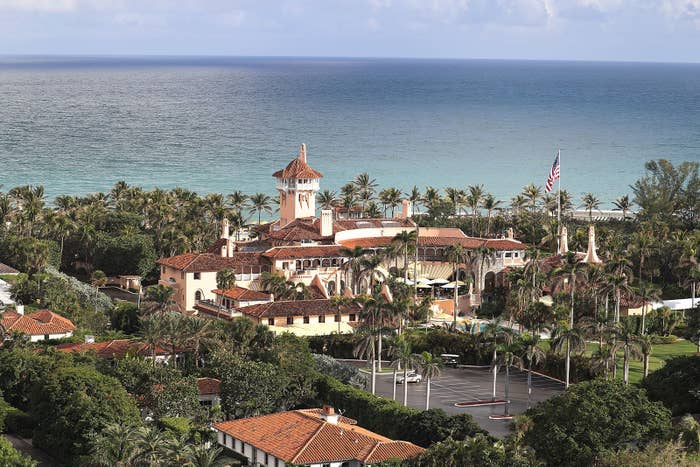 The clock was ticking for the Republican-controlled Congress to stave off a government shutdown Thursday night — just over 24 hours to go — but Washington's chaos seemed to be taking place on another planet for about 800 of President Donald Trump's most die-hard supporters, who held a lavish celebration at Mar-a-Lago to mark Trump's first year in office and rally for his re-election.
Decked out in red, white, and blue, Trump fans from all over the country danced throughout the evening at the president's exclusive club, toasted repeatedly to Trump's accomplishments, chanted his name — along with the occasional campaign favorite "lock her up" — and referred to Trump as a "damn genius," their "messiah" and "savior." The speakers and attendees also slammed the media and pushed back on renewed allegations of racism leveled at the president, after reports last week that he called African nations "shithole countries" in a private meeting with lawmakers.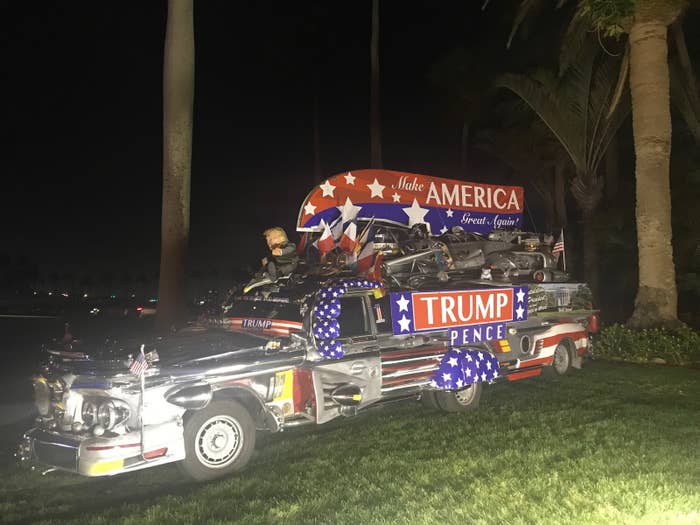 "Welcome to Mar-a-Lago, a magnificent place," said Fox News host and Trump backer Jeanine Pirro, kicking off her keynote address just before dinner on a stage with a shimmering gold backdrop.
"It sure ain't no shithole."
The night's "Red, White, and Blue Celebration" was organized by Toni Holt Kramer, leader of the Trumpettes, a group of wealthy socialites who got together in 2016 to help Trump get more support from female voters. The event was not a fundraiser, despite the constant pleas to gear up for 2020, and was billed as a "party for we the people." Guests paid $300 for a ticket that included a cocktail hour and dinner. (BuzzFeed News was invited to cover the event by Holt Kramer and paid for a ticket.)
Attendees had been so excited to hear Pirro speak that one of them climbed up on the stage to cut off Tova Leidesdorf, a local philanthropist who paid for Pirro's speaking fees and called Trump a "messiah" in her long remarks introducing the conservative celebrity. The disruptor had to be removed from the stage by organizers and security.
Moving past the brief kerfuffle, Pirro fired up the crowd by rattling off accomplishments that Obama couldn't manage, "but the so-called racist president could do it."
"I love Donald Trump," she said. "He's the least racist man I've ever met, but I must tell you, race has always been an issue for Donald. Donald is always in a race — in a race against time, in a race against competitors, in a race against corruption, in a race against crime, and a race against terrorism."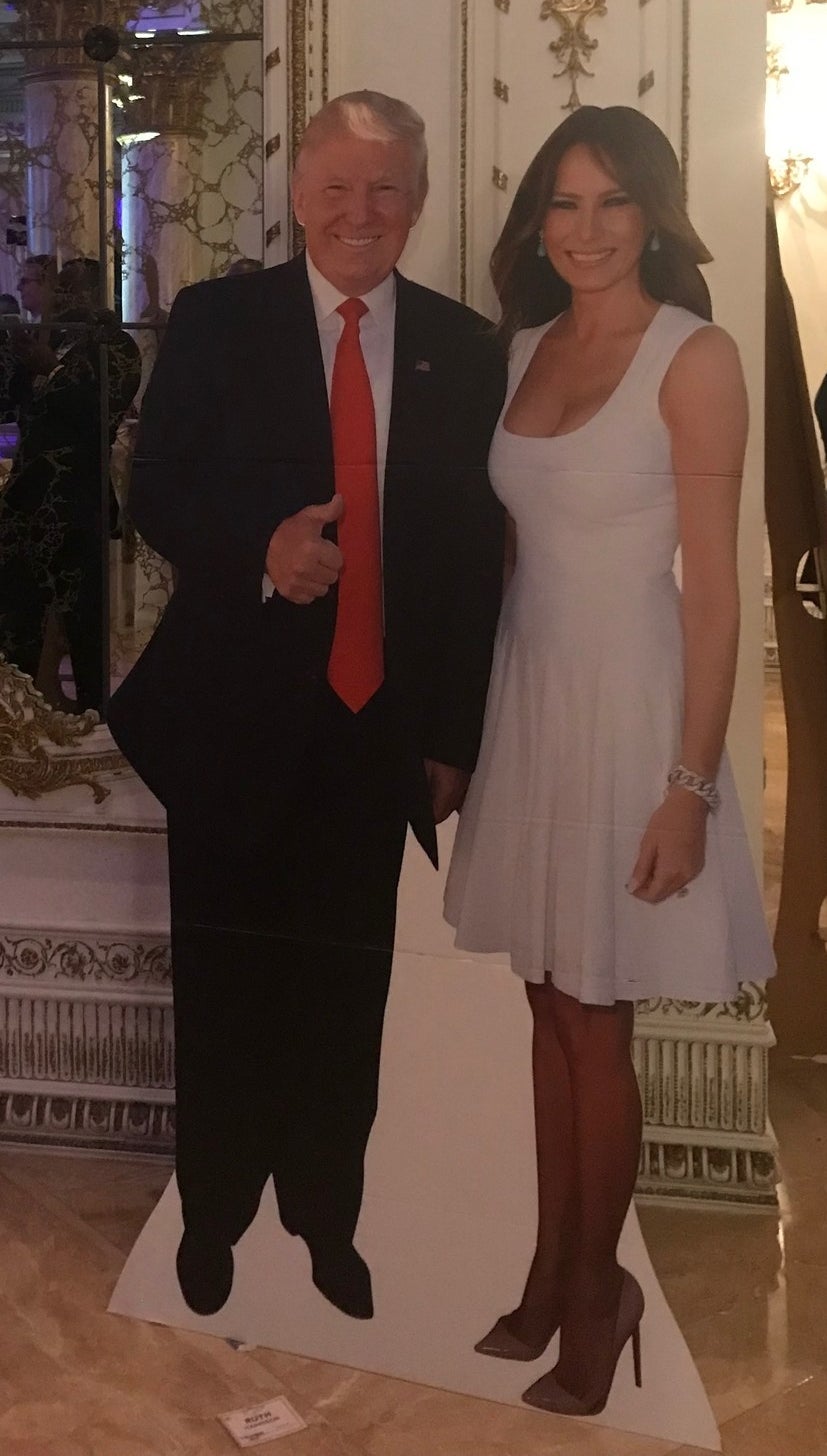 The president, who has frequently flown back to Mar-a-Lago for weekends, especially in colder months, is not expected to be at his club until Friday night, plans that could be complicated by a potential government shutdown. But large cutouts of him with his iconic thumbs-up — some with first lady Melania Trump and others with his "Make America Great Again" hat on — were scattered throughout the ballroom so he could join in the celebration. The attendees drank Trump wine and dined on sliced beef brisket, berry salad, and "American apple pie."
Throughout the night, attendees were eager to sound off on the most recent charges of racism against the president, which was fitting, given that the event was also first conceived as a result of the outrage over Trump's comments in the aftermath the white supremacist violence in Charlottesville last August, when he said "both sides" were responsible. Charities and businesses that had held annual events at Mar-a-Lago started fleeing the club after those comments because they did not want to be seen as at all sympathetic to white supremacy by associating themselves with the Trump brand.
At the time, Holt Kramer decided to counter any insinuation of the president being a racist in the most Trumpian way possible: by throwing an over-the-top celebration at his resort on the eve of the first year of his presidency.
"Everyone knows that if it weren't for him, there wouldn't even be a club in Palm Beach where Jews and Muslims and people of all faiths would be welcome," Holt Kramer told BuzzFeed News before the event. "I said this is disgusting. It was just so offensive to me. I thought about it and decided, 'Well, I think I'm about to do an event.'"
Tickets for the celebration, which was initially planned for about 400 people and ended up doubling, sold out within days last fall and it was expanded to include an "overflow ballroom."
"These are the people who fought. These are the people who lost friends because of their support."
In his welcome remarks, Eric Trump, the president's son, called the people who came to the celebration his family's "true friends."
"These are the people who care," he said. "These are the people who fought. These are the people who lost friends because of their support."
His wife, Lara Trump, who is already working on Trump's re-election campaign, told supporters that the president has to "fight an uphill battle every day" against the media and the Democrats. "The thing is they won't try to stop a loser," she said. "But they will try and stop a winner, and Donald Trump is winning for this country."
"They better buckle up, because we got him for seven more years, right?"
Trump will be having another first-anniversary celebration at Mar-a-Lago this weekend when he's due to be in town, according to Bloomberg News. A pair of tickets, which will benefit Trump's campaign and the Republican National Committee, starts at $100,000.
Although polls show some Republicans growing wary of Trump's controversial comments and tweets ahead of the 2018 elections, the hundreds who attended Thursday night seemed to have no major concerns about his presidency so far. Several also said that Trump might have called the countries "shitholes," but that's because of their corrupt politicians, not because of their people.
Becky Diefendorf of Port St. Lucie, who attended the event, didn't hold back on her anger at those calling Trump a racist. "That's such bullshit. You could call that a shithole." Diefendorf went on to suggest that Trump should get rid of all the national news outlets covering the White House — "all of those who have been sitting up there for 40 years" — and replace them with "local reporters and entrepreneurs."
Anka Palitz, a Palm Beach resident and Mar-a-Lago member, said she's been a Trump fan for 30 years and has continued to be impressed with his time in office. "This is not a man who thinks inside the box," she said. "He thinks outside the box."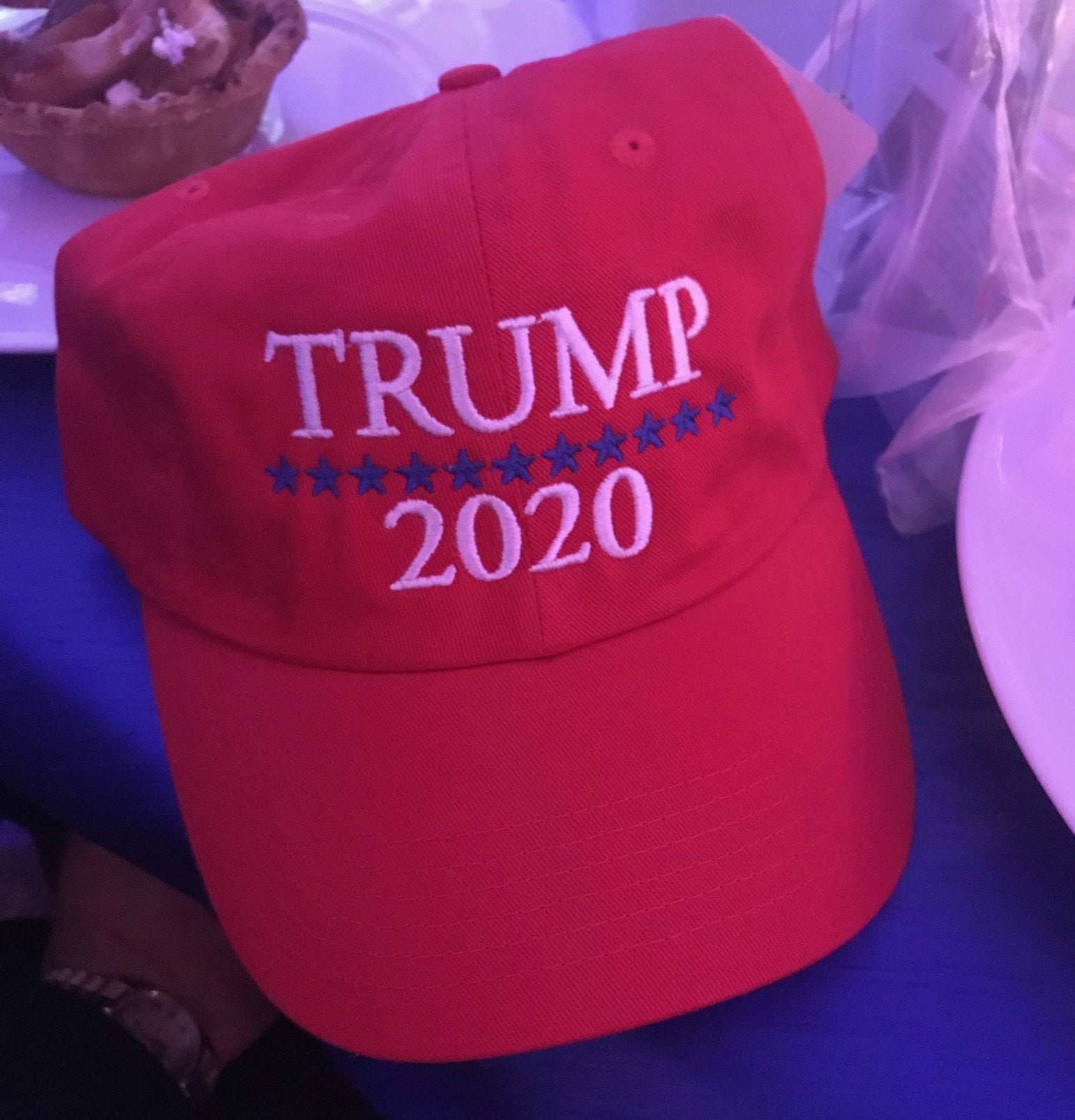 Palitz said the presidency hasn't changed Trump at all, and that he still acts the same way when he's at the club. She said she was disappointed in "liberals" who don't want to hear Trump's opinion and continue to paint him as a racist, adding with a smile that instead of being bothered by it, a certain curse word would be making a comeback.
"I tell you, shithole is going to be the new word."
On their way out, guests picked up red "Trump 2020" baseball hats that were lined up on tables — and bottles of Salute American Vodka.