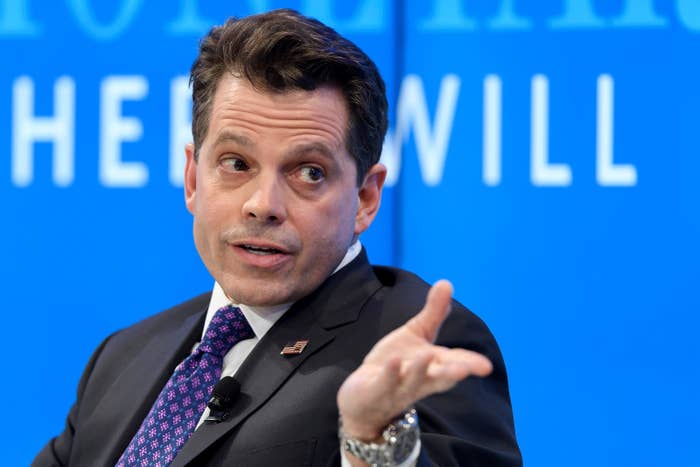 Incoming White House communications director Anthony Scaramucci — like his new boss President Trump — has contributed to Democratic campaigns and committees in recent years, giving roughly $115,000 on the federal level since the 2000 election.
His biggest Democratic donations went to the Democratic National Committee. Scaramucci, who founded a hedge fund, gave $57,000 to the committee in 2007 and 2008.
Scaramucci's Democratic contributions have otherwise focused on the campaigns of New York elected officials and top Democrats, including former Senate majority leader Harry Reid, Senate Minority Leader Chuck Schumer, and Hillary Clinton's Senate campaigns. He also donated to former president Barack Obama and Clinton's 2008 presidential campaigns.
Overall, Scaramucci and his hedge fund have given about $1 million to federal campaigns and committees that disclose their donors since the 2000 election, with the bulk going to Republicans and Republican-affiliated campaign accounts. He has also given an undisclosed amount to other political entities that do not disclose their donors, including contributions to the political network affiliated with billionaires Charles and David Koch. Scaramucci, however, has not attended a gathering of the network since 2015.

The White House has previously suggested that past donations to Democrats could be a sign of bias against the president, who has himself donated to Democrats. President Trump's legal team and aides have been looking into political donations to Democrats from investigators on special counsel Robert Mueller's team, the New York Times reported this week. That search is reportedly being undertaken to undermine the team's investigation into Russia's involvement in the presidential election, and any collusion between Russian officials and the Trump campaign.
Scaramucci announced his new role at the White House on Friday afternoon, and said he would officially start in the next few weeks.