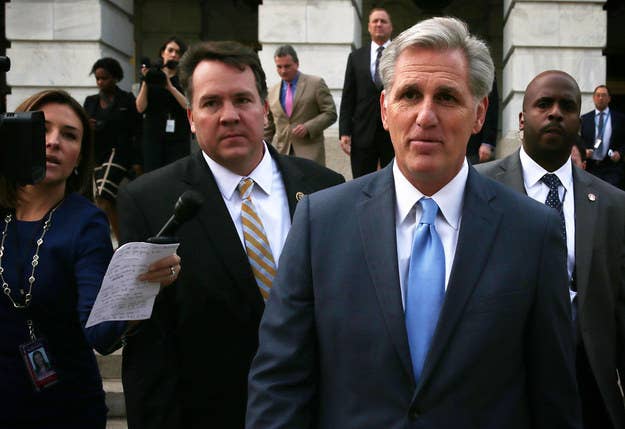 WASHINGTON — Majority Leader Kevin McCarthy's shocking decision to withdraw from the race for speaker threw an already chaotic Republican caucus into complete disarray Thursday afternoon, prompting calls for a "caretaker" to get the House in order.

Several Republicans in the immediate aftermath of McCarthy's announcement endorsed the idea — a veteran lawmaker with no intention of being speaker in the long term to run the House.
Even high-profile members like Rep. Greg Walden, chairman of the House GOP's campaign arm, said he was open to the concept and would even consider running for such a position. And Rep. Tom Price, who had been running for majority leader, fully endorsed the idea.
"People are now absorbing what happened and trying to decide: Do you need somebody in the short term?" Walden told reporters. "Do you need a speaker for the rest of this Congress to work on changing how this Congress operates in the interim period — or do you need somebody long term? The good news is we have a lot of talented members interested in doing this job."

"We're all trying to absorb what happened. I don't think anybody woke up this morning thinking Kevin was going to withdraw," he said.
In a prepared statement, Price said: "The best course would be for us to select a candidate for speaker who will serve in that capacity for the next 15 months. This would allow the House to complete the business in a responsible manner, providing ample time for everyone's voices to be heard, leading into full leadership elections in November of 2016."
The discussion of a caretaker speaker began after McCarthy — who was expected to win his party's nomination for speaker — stunned colleagues by telling them he wasn't the man for the job in closed-door meeting, where the conference was supposed to cast its secret ballots. Just a few hours earlier, he had made his last pitch to members in another private meeting.
One of the chief reasons McCarthy ultimately abandoned his bid were the rule changes demanded by a conservative group of members called the House Freedom Caucus, according to a source close to the majority leader. The changes would have significantly eroded the power of the speakership — making it much easier for members of groups like the Freedom Caucus to tie leadership and the chamber in knots, something McCarthy realized would make his life miserable and his job untenable.
"When he looked at it, it's pretty much not worth the heartache," this source said.
Speaker John Boehner has said he will remain as speaker until a replacement is elected. On Thursday afternoon, the Washington Post reported that Boehner is personally appealing to Rep. Paul Ryan, who has repeatedly said he is not interested, to run for speaker.
Members calling for an interim speaker said it would be easier for someone in a temporary position to unite the caucus and come to a compromise between the conservative and establishment wings of the party. They floated the names of Reps. John Kline, Hal Rogers, and Candice Miller, among others, for the role.
Rep. Jeff Fortenberry of Nebraska called it a "reasonable idea," given the current unrest, though he rejected the "caretaker" characterization.
"I don't think that's the right word. I don't think interim is either," he said. "For a temporary period of time... we need someone to shepherd the institution. Is there a word that captures that? Shepherd? Someone who can shepherd the institution momentarily."
House Republicans are, however, unsurprisingly, divided on the idea so far. House Intelligence Committee Chairman Rep. Devin Nunes said flat out, "I think it's a bad idea. The role of a speaker is an all consuming job — there are campaigns to run, elections to win, candidates to recruit. I don't know if an interim speaker can do all of that."
The problem with the place holder approach, some Republicans also said, is that most of the Freedom Caucus saw McCarthy as nothing more than a place holder himself. Even if McCarthy had given in to all of their demands for greater power and new restrictions on the power of the speaker, McCarthy was never going to be accepted by the most conservative members of the conference.
Additionally, even if McCarthy were to somehow keep conservatives in the fold initially, they would still end up rebelling. The Senate will still block conservative legislation and the president is still Barack Obama, and he still can veto anything that may get through the Senate. And for House Republicans, that means their frustrations with being unable to pass new deep spending cuts or abortion legislation or Obamacare repeal will remain, and all the changes in the world to House Rules wouldn't change that.
With all those hurdles, if a speaker is able to actually succeed in placating the conservatives, why would Republicans want to elect another one, said Rep. Lynn Westmoreland of Georgia, who is considering running for speaker.
"If you do get somebody to come in and bring this group together, why do you want them to leave?" he said. "I mean it's a pretty rowdy bunch. I think it would do more harm than good."
When asked if anybody could get the votes needed to become a long-term speaker at this point and unite the caucus, Westmoreland replied, "I think if anybody could get 218 today, they'd be a magician."
CORRECTION
Rep. John Kline is being floated for the position. An earlier version of this story misstated his first name.