In South Carolina, Bush Fans And Undecided Voters Worry About Jeb's Electability
George W. Bush has come to town, but Jeb Bush's pitch to voters remains mostly the same. And it may not be enough to convince undecided voters he can ultimately win the nomination. "I don't know if I want to support someone who is at the bottom of the pack."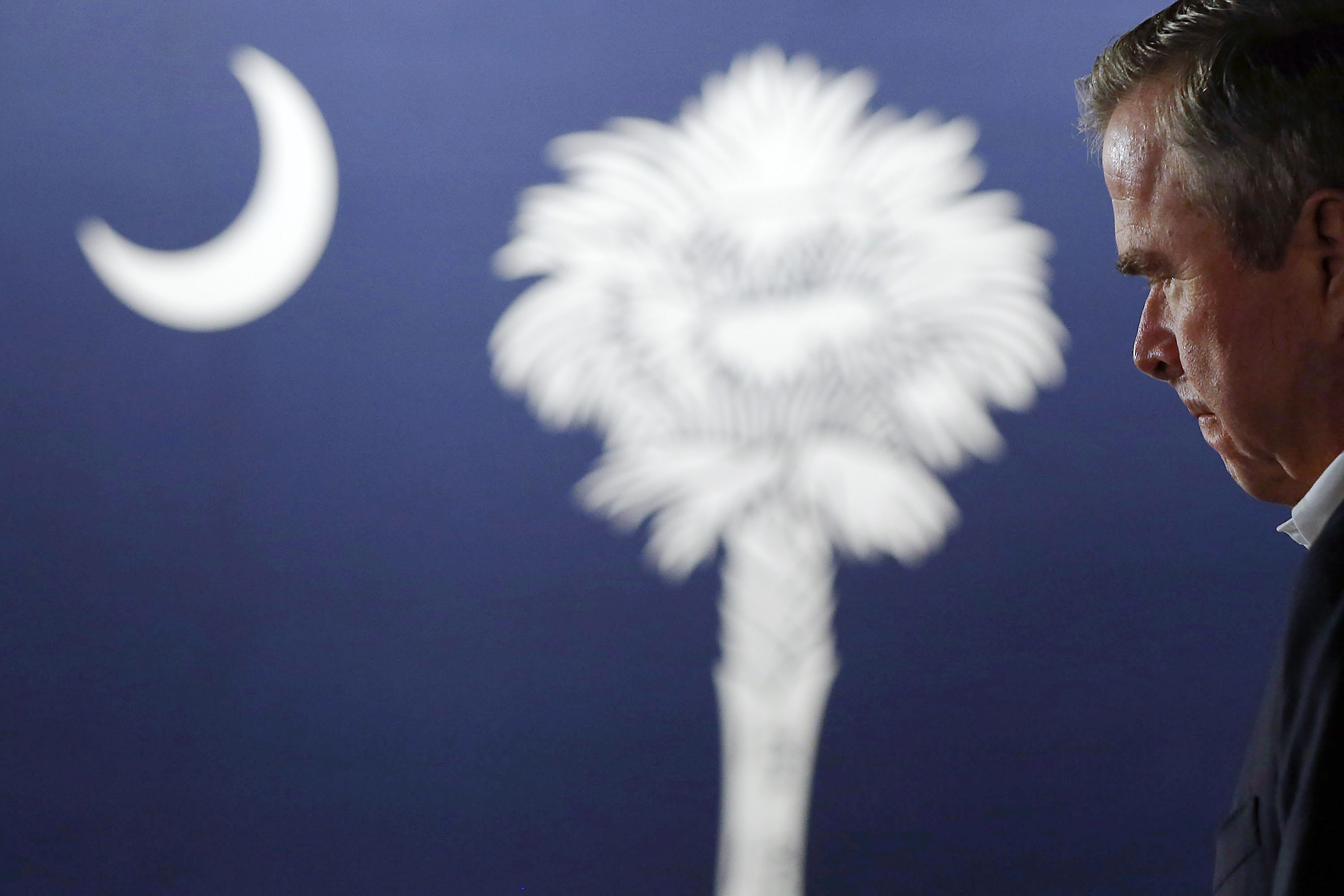 COLUMBIA, S.C. — Jeb Bush brought his brother to South Carolina and took off his glasses. He wants voters here to reset the race for the Republican nomination, and politely asks them to do so — along with their prayers — at every campaign event.
But Bush hasn't really reset his pitch to voters, and those voters — his supporters and undecideds considering him — have begun openly talking about a specific concern with Bush just days before the make-or-break primary: electability.
As the numbers pile up — a sixth-place finish in Iowa, fourth-place finish in New Hampshire, WSJ/NBC polling put him at 4% nationally, CNN has him polling at just 1% in Nevada — Bush's message remains the same. At a campaign stop on Wednesday, voters went as far as to give him advice on how he could change it up, but that only flustered the governor more.
Rejecting any talk that his campaign was running out of money ahead of the primary, Bush stayed on script at a town hall Thursday, as his campaign manager insisted to reporters they were in it for the long haul.
Addressing voters fewer than 48 hours before polls open, Bush, again, went back eight years to talk about his record as governor of Florida as he makes the case that in this chaotic GOP primary, he's a conservative leader with "servant's heart" and a "steady hand."
On the stump with his brother former President George W. Bush in North Charleston and in town halls at barbecue joints, a convention center here and under bright lights on a stage in Aiken, Bush repeatedly points to national security experts who have endorsed his campaign — including South Carolina's own Sen. Lindsey Graham, who has been introducing him at events ("I like the Bushes. Bush values are South Carolina values," Graham likes to point out).

Bush usually then goes on to call for a unified, "unhyphenated" America and explains how as governor, he improved the economy in Florida, dealt with several hurricanes in a 16-month period, and used the line-item veto to cut spending.
"I didn't just talk the talk. I walked the walk," he usually says of his conservative record.
"I'm a conservative that's done it. Everyone else on the stage has talked about it."
And then somewhere along the way, Bush hits two of his opponents in the primary: Donald Trump and Marco Rubio. The contrasts and attacks continue to hinge on Trump's "weakness" and rejection of conservative principles, and Rubio's inexperience — an argument that did not convince Gov. Nikki Haley, who endorsed the Florida senator on Wednesday evening. As Bush continues to struggle, his attacks on Trump and Rubio have become more aggressive.
Overall, it's a pitch that resonates with voters in the room — even supporters of other candidates say Bush has experience and a real record. But it fails to dispel the concerns about whether he can actually win now hanging over Bush's events, even among his own supporters, based on interviews with more than two dozen attendees.
At a forum in Aiken on Tuesday evening, an undecided voter, Katherine Wright, 58, said she took Bush off her list because of concerns about "if he can actually succeed in the election."
"He's just been too slow coming out the gate," she elaborated. "Too nice. He needs to be more aggressive. I know he's kind, but we need someone who is strong, as well."
Chris Page, a 39-year-old general contractor, who heard Bush at the same event said he has always been fond of the Bush family — but he is currently leaning toward Trump. "His record in Florida was good. He's a Bush. I love George W. Bush. But I don't think Jeb has the charisma like (his father and brother) do."
"He just doesn't come across as a leader in command of the situation," said John Montague, 73, another undecided voter at a Bush town hall in Columbia Thursday morning, who is still considering the governor. "I don't know if I want to support someone who is at the bottom of the pack."
Lowering her voice at the town hall at Shealy's BBQ, Sheryl March, a teacher from neighboring Augusta, Ga. said: "I'm afraid Jeb might not make it." Marsh wants to vote for Bush during her state's March 1 primary but is unsure her favorite candidate will make it past South Carolina.
While Bush's backers are still trying to stay optimistic about South Carolina, one Bush bundler said Wednesday that donors are waiting for the outcome in the state, where the campaign brought in "the big guns" and spent a lot of resources, before putting pressure on Bush to drop out.
"If he underperforms badly in South Carolina, a lot of people are going to talk to him and basically say, 'Look, you are serving guacamole when the people want salsa.'"
The bundler said Bush needs to either win the establishment lane or be within a few percentage points to ease donor concerns for a little bit longer. "There isn't a sense of anger at Jeb or the campaign," he said of donors. "But if the electorate is in the mood for something different, then there's nothing we can do about it."
John Massie, 72-year-old, retired, undecided voter also brought up electability after hearing Bush in Aiken. "I think Gov. Bush is a good candidate, but I don't think he's electable because of his last name. I think we need to choose someone who can win. I think he's unfortunately dug himself in a hole that he can't get out of. His only hope is a brokered convention, and all bets are off then anyway."
Another undecided voter, Kevin Reeley, explained he's considering Cruz and Rubio, but when asked about Bush, like most others at these events, he had nothing negative to say — just that he didn't think Bush had a shot at the nomination.
"I'm secretly hoping he's going to surge to tell you the truth," he said after a pause.
It's hard to describe the reasoning against Bush, said Michael Hertzberg, another retired Aiken resident who is undecided and heard Bush make his pitch Tuesday evening.
The best Hertzberg could come with to explain: "I just don't think he's got the stuff, you know, to be president."