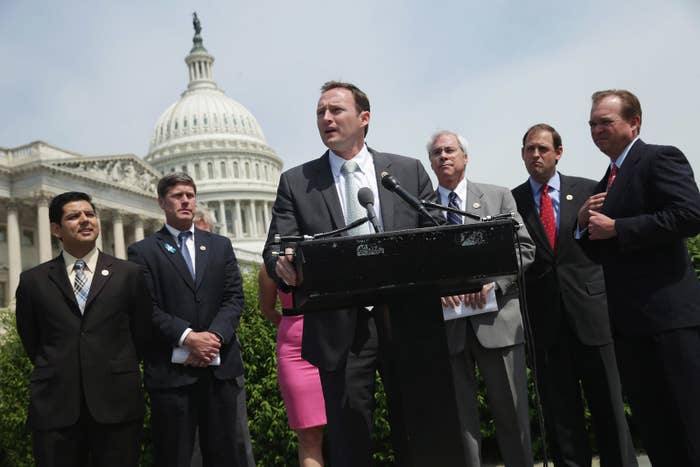 SARASOTA, Fla. — When Rep. Patrick Murphy introduced himself to about 150 supporters at a fundraiser here, he didn't mention his background as a CPA and small business owner — the two details that Republicans hope to use against him in what's expected to be one of the most expensive, hotly-contested Senate races this year.
Skipping that part of his resume — amid recent charges that his credentials are exaggerated — wasn't an intentional or a strategic decision, Murphy later told BuzzFeed News.
"What I always think when I do these events, when I meet new people is tell them something that they don't always know about; talk about the issues," said Murphy, the Democratic favorite to take on Sen. Marco Rubio, in an interview after the event, where attendees made a minimum $25 contribution. He added that those are well-known parts of his bio. "It's on Wikipedia. It's out there."
Instead on Thursday night, Murphy, who has the full support of the Democratic establishment, talked about his birth mother's problems with addiction and his father's rise from a union laborer to owner of a construction company. He went through the Democratic policy agenda: income inequality, raising the minimum wage, investing in infrastructure and education and protecting entitlements. He completely ignored his primary challenger, Rep. Alan Grayson, repeatedly cast Rubio for being an absentee senator who wanted Floridians to re-elect him as a "consolation prize" for losing the GOP presidential nomination, and only vaguely cautioned against the "negative attacks" and "nasty articles" about him in recent days.
After more than a week of intense scrutiny, Murphy is trying hard to move on, as the battle for Florida's Senate seat, which could decide which party controls the upper chamber, escalates.
The race has evolved dramatically in the aftermath of the tragic attack last month at a nightclub in Orlando, bringing gun control, terrorism, and LGBT rights to the top of the list of issues up for debate and also whittling down the crowded field of GOP candidates. Saying the shooting had given him "pause," Rubio reversed his decision to retire from the Senate — a job he openly said he disliked during his failed White House run. When Rubio announced, all but one of the Republicans seeking the party's nomination dropped out and threw their support behind the incumbent.
On that same day, CBS Miami published an investigation into Murphy's professional background. The report, which has been updated nine times since it was first posted, shows that Murphy — a 33-year old congressman who has often cited his CPA and small business ownership as credentials for office — was not actually a practicing CPA in Florida. He got his license in Colorado after failing to meet the requirements in Florida, the report found, and his small business was largely owned by his father's company.
When asked about the investigation, Murphy repeatedly pointed to a subsequent PolitiFact article that questioned the allegations in the CBS story.
"As I'm sure you've already seen, those articles have been debunked. Right?" Murphy said in the interview. "And I'm proud of being one of nine CPAs in the House. I'm proud of being a small business owner. And quite frankly, when I announced to run for Senate, I knew it was going to be a hard race. It's politics. I get that."
"So I guess I'm really not surprised that Sen. Rubio is trying to distract from his own record," he continued. "He's going to have to do some deflection here, so people don't realize the fact that he's missed the most votes. His friends are going to try to smear me. That's politics and that's fine. I'm going to continue to talk about issues — like I did in there — that I think everyday Floridians care about."
When pressed specifically on his father's involvement in his small business — an aspect of the investigation that fits into Murphy's opponents' narrative of pointing to his family wealth as the reason behind many of his achievements — Murphy maintained that he had never mischaracterized his business and told the story of his father living the American Dream with how he started his own company.
Murphy's resume has come under scrutiny from political opponents and the media since his first run for Congress in 2012, but this time, Republicans hope to make the attacks stick by pouring in millions to get that message out. Already, a pro-Rubio super PAC is using the CBS story in an ad and more Republican groups have been hinting they could soon jump in in order to force Democrats to start spending early on Murphy's behalf and put a dent in their resources for the fall.
"Everybody recognizes that Democrats are going to have to spend to get him across the finish line in the primary," said Ian Prior, spokesman for Senate Leadership Fund — the super PAC focused on maintaining the GOP majority in the Senate. "Ultimately, the broad problem Murphy has is nobody knows who he is. And now, not only do people not know who he is, but there is a voluminous amount of negative information out there on Patrick Murphy."
The most recent poll conducted of the race shows Murphy with a low name ID but tied with Rubio. Despite the feeling of general election brawl between "Privileged Pat" and "Missing Marco," both candidates still have to win their primaries in late August. That's giving each of their primary opponents plenty of time to echo the attacks from the opposing party.
Carlos Beruff, Rubio's only primary opponent still in the race, is self-funding ads with the same attack line as Murphy, criticizing Rubio for being an absentee senator.
And Democratic Rep. Alan Grayson's campaign, in a new strategy memo, said it would "deploy an aggressive strategy" in the home-stretch, hitting Murphy for "fabricating his personal biography."
When asked about his campaign and Republicans now sharing a line of attack against Murphy, Grayson told BuzzFeed News in a phone interview that "if Republicans are starting to say something similar now, that has nothing to do with me." He also declined to say if he would self-fund the last few weeks of his primary ("Stay tuned," he said) or if he would endorse Murphy if he won the primary ("I'm going to win the primary," he maintained, saying a general election race between him and Rubio would be a "matchup for the ages.")
Facing resume inflation attacks from both sides, Murphy's campaign and the Democratic establishment that's endorsed him insist voters care little about those claims if they focus on policy priorities and on painting Rubio as someone who put his personal political ambitions over the people of Florida.
"There's obviously a very sharp contrast that I just outlined between me and Sen. Rubio, who lost to Donald Trump by more than 20 points in his home state," Murphy said. "You compare that to John Kasich who won Ohio and Ted Cruz that won Texas — quite the contrast. Republicans have already rejected him. People bring up a poll. We already had that. It's called an election and he lost by 20.
"He has a lot of explaining to do and quite frankly if you can't answer a question about serving a full term, people know where his heart is at," he went on. "And it's not in serving the people of Florida. He's using it as a platform to run for president. And that's shameful because we do have serious issues that we need to address."
Rubio's campaign did not respond to repeated requests for comment.
A senior Democratic strategist involved in the race said if both sides attack the other for being dishonest, it ends up helping Murphy. "Even if Republicans manage to fight the honesty and credibility argument to a draw...the fundamentals of this race still favor Democrats," the strategist said. "One good oppo dump doesn't change the fact that we're talking about Florida in a presidential year with Donald Trump at the top of the ticket."
So far, with an influx of cash from GOP super PACs still pending, the attacks against Murphy aren't pushing his base of supporters to reconsider. At the event in Sarasota, BuzzFeed News spoke with several attendees who hadn't even heard of the resume-based attacks on Murphy.
And those who had, largely dismissed it as politics as usual. "That's why they call it politricks," said Barrington Shaw, who said he would back Murphy as long as they agreed on policy priorities. Shaw's friend, Allen Brown, a nutrition consultant, chimed in: "Plus, he's Barack's boy!"
President Obama and Vice President Biden — along with the rest of the Democratic establishment — have endorsed Murphy. The Democratic Senatorial Campaign Committee is also running a radio ad recorded by Obama on Murphy's behalf.
Another attendee, Stanford Ross, a retired Sarasota resident, was one of the handful of supporters there who had seen the stories about Murphy. But, he said, he decided not to put stock in those attacks. "The public is unequipped to evaluate whether it's true or not," he said, saying he was already tired of the back and forth on the issue. "That's not what's important. It's important what they believe and what their record is."