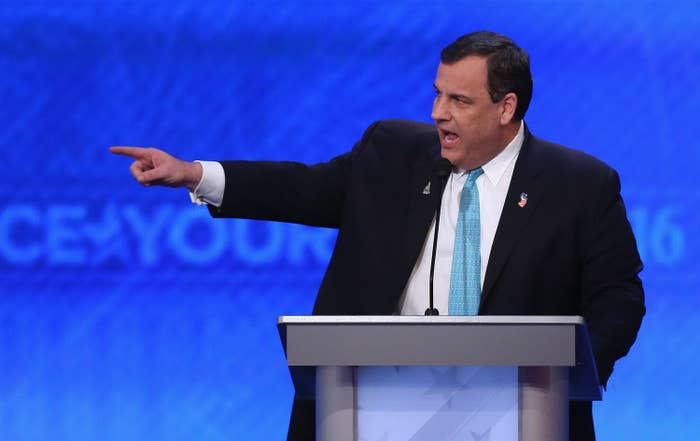 EXETER, New Hampshire — Chris Christie loves to ask people, "Who do you want on stage prosecuting the case against Hillary Clinton?"
On Sunday afternoon, as voters were gearing up to watch the Super Bowl at a local pub, the New Jersey governor pointed to his exchange with Marco Rubio as not only proof that the first-term senator isn't ready to be president, but also as an example of how he would handle Clinton as the party's nominee.
"The debate last night showed you something," Christie said. "Experience matters. Being tested matters, being ready matters. This is not a game everybody. This is not just something where a guy gives a nice speech and he looks good in a suit, so let's make him president of the United States."
"When the lights go on, they're very bright," he continued. "And they're very hot. And they get brighter and hotter the closer you get to the presidency. Last night, what we showed everybody is when those lights are at their hottest, we don't melt. We shine. And that's what we're going to do in November, when we beat Hillary Clinton if you give me the chance."
Christie got some laughs and loud cheers from the crowd when he talked about his brief encounter with Clinton on the sets of CNN's State of the Union show earlier on Sunday. "Who was appearing right before me? None other that Secretary Hillary Rodham Clinton. And so we went in, I listened to the end of the secretary's interview, went up, shook her hand," he said. "We had a nice chat. She congratulated me on a good debate last night. And she said, 'It was good to see you, governor.' I said, 'It was good to see you too, Madam Secretary.'

"I'll see you in the fall.'"
Christie, who has been struggling in the polls despite his focus on the Granite State, insisted he wasn't planning on dropping out based on Tuesday's results.
"I think that the anointment [of Rubio] is now over, so that changes the entire race… I am ready to roll right into South Carolina," he later told reporters. "I have my reservations made. We have staff down there. And we're ready to go to South Carolina. So I want the results here on Tuesday to be as good as they can possibly be. We're going to work hard to make sure they are as good as it possibly can be, and last night we took a big step towards it."
When pressed about whether he will be able to break through on Tuesday, he responded: "I know you guys are poll obsessed. I am not."
Christie's debate performance did bring some new supporters to the crowd on Sunday.
One of them was Katherine Lynch, 60, who made her decision between Rubio and Christie after the debate.
"I was really on the fence," she said. "I wanted to give Rubio a chance, but he blew it so badly."
Christie also won over another voter, Mark Haynes, who came out to see Christie on Sunday with his sister and friends.
"I was knocking on doors for Jeb yesterday," Haynes said. "But I went to a Christie townhall today to hear his closing argument. And I think he's the one."