Trump Is Preparing For Hurricane Florence With Hype, Conspiracy Theories, And Grievances
"What in the world?" asked a former White House official.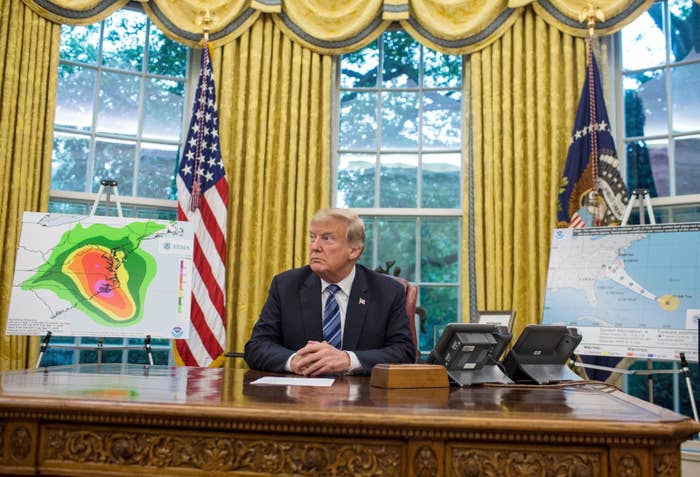 WASHINGTON — Ahead of a likely damaging hurricane making landfall, President Donald Trump has spent much of this week focused on looking out for himself and his reputation, engaging in conspiracy theories, using political enemies as scapegoats, and seemingly hyping up the storm with his trademark superlatives.
Trump has been in touch with the governors of states in the path of Hurricane Florence and getting briefings from officials over the course of the week, according to the White House, which also released bullet points on all the steps the administration has taken to prepare for the storm.
But in his public comments and tweets, the president used the approaching storm to repeatedly relitigate why he believed the federal response to last year's hurricanes in Puerto Rico was "underappreciated." He also branded the current storm as a "big one — maybe as big as they've seen" and one that was capable of doing "bad things."
In a time of potential crisis, Trump is fully embracing himself.
On Tuesday he called the federal response in the aftermath of Hurricane Maria in Puerto Rico "an incredible, unsung success," during a briefing in the Oval Office, and by Thursday, as Florence got closer to the Carolina coast, Trump took his defense several leaps farther. Trump accused Democrats of inflating the death toll in Puerto Rico to 3,000 "in order to make me look as bad as possible."
Puerto Rican authorities acknowledged last month that 2,975 people — revised up from 64 — were killed in the storm, following the release of an independent study. When the new numbers were released, White House press secretary Sarah Huckabee Sanders put out a supportive statement, saying the administration would help "ensure a full accountability and transparency" regarding the deaths. "The American people, including those grieving the loss of a loved one, deserve no less," Sanders said.

On Thursday, Sanders reportedly ignored questions about Trump's tweets, which promoted a conspiracy theory instead of "full accountability."
"His willingness to believe conspiracy theories is unbelievable given the fact he has the entire government at his disposal to get the real information," said a former White House official. "And this isn't a fun conspiracy theory like Tupac and Elvis faking their own deaths to live in sub-Saharan Africa; this involves a complete whitewashing of real people dying due to government inaction."
Trump, who popularized "birtherism" during the Obama administration, continued to engage in conspiracy theories on the campaign trail (saying, for instance, that his primary opponent Ted Cruz's father was involved in the plot to assassinate former President John F. Kennedy), and has shown no signs of stopping in the White House.
From the earliest days of his presidency, Trump has tried to discount Hillary Clinton winning the popular vote by insisting that millions voted illegally. He has since promoted several conspiracy theories, without any evidence, related to the Russia investigation and the "deep state," blaming career government officials for working against him and his agenda.
Many of the president's ardent supporters have promoted or believed in some of the theories — with those connected to a far-reaching "deep state" being the most popular. But another former White House official called the latest conspiracy theory on Puerto Rico "just bizarre."
"What in the world?" the former official asked. "There's clearly nobody competent enough to tell him to back down on this, or there's really nobody left that he respects in the building."
Some prominent Republicans outside the White House, who have been trying to keep the focus on the economy and tax cuts less than two months before the midterm elections, tried to distance themselves from Trump soon after his tweets.
In a press conference Thursday morning, House Speaker Paul Ryan shut down Trump's conspiracy theory, but also said the president should not be blamed for the federal response. "There is no reason to dispute these numbers, and it's a function of this was a devastating storm that hit an isolated island, and that's really no one's fault."
Florida GOP Gov. Rick Scott, who is running for Senate and has been a Trump ally, disagreed with the president in a tweet.
Hurricane Florence, which is expected to make landfall Friday, is supposed to linger for several days. The president's public schedule as of Thursday was completely clear for a four-day period, with the White House canceling two rallies Thursday and Friday as a result of the storm.

Trump had already tweeted six times in the course of three hours Thursday morning — only two of those tweets were about the approaching hurricane.