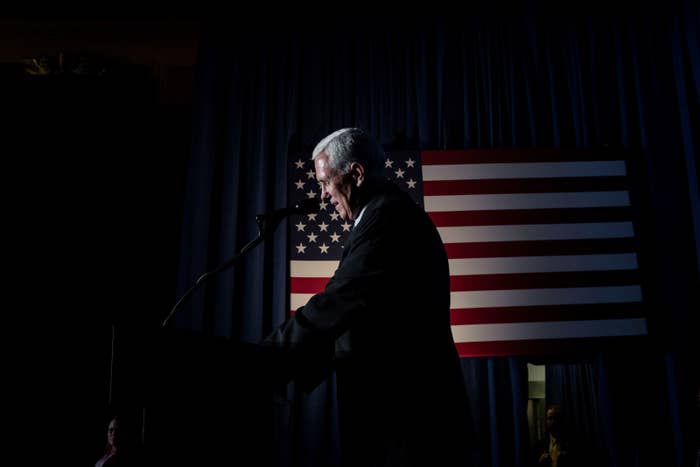 CAMBRIDGE, Ohio — In the middle of Mike Pence's stump speech attacking Hillary Clinton and highlighting party unity, a woman near the front of the crowd inside the local civic center repeatedly yelled, "The polls are rigged. Trump's going to win!"
Pence ignored her. He pressed forward with his speech, glancing frequently at his notecards behind the podium.
He also ignored the sporadic "lock her up" chants that began in a different corner of the room each time he mentioned Clinton.
He mentioned the "great governor" of Ohio, John Kasich — who has been targeted often in recent weeks by the Trump campaign — and got loud boos from the crowd.
He ignored those, too.
Donald Trump seems to thrive on these kind of interruptions — they often produce some sort of acknowledgement and riff — but they have no effect on Pence.
In every campaign event during a recent swing through Pennsylvania and Ohio, Pence did what Republicans have been begging Trump to do for months: stayed relentlessly on message and talked about a "united party." But with fewer than 90 days before the election, the GOP presidential ticket feels like two different worlds.
As Trump told the crowd at a rally in Wilmington, N.C., that "the Second Amendment people, maybe there is" something they could do to keep Clinton from appointing justices who could weaken gun rights, Pence in Pennsylvania re-told a romanticized story of getting "the call" from Trump and accepting the vice presidential slot "in a heartbeat."
As Trump proclaimed President Obama the founder of ISIS at an event in Florida, Pence stuck to the usual GOP foreign policy talking points attacking the administration, bringing up the $400 million in cash payment to Iran, Benghazi, and the party's approach to the Middle East.
"The failed policies of Barack Obama and Hillary Clinton weakened America's place in the world," he said, lowering his voice. "It's undeniable. You know history teaches us that weakness arouses evil… Hillary Clinton and Barack Obama's policies of leading from behind; moving red lines; feigning resets with Russia; the rise, rule, and reign of ISIS are a testament to what happens when a weak America stands."
Pence later tried to clean-up Trump comments — as Trump, of course, doubled down on them before walking them back — in an interview with an NBC affiliate, repeating his line on the billionaire's aversion to political correctness and adding, "Everybody in the country knows exactly what Donald Trump means."
A Pence aide maintained that both Trump and Pence are saying the same thing. "The language that they use is a reflection of their personality and their styles and how they choose to communicate," the aide said, adding that the two talk at least once a day if not more often and compare notes on their speeches and audience response.
When Trump makes controversial comments, he encourages Pence to do what he thinks works for him and not to be completely tied to Trump and his statements. "The media isn't used to having the ticketmates retaining their own styles," the aide said. "But it speaks to Mr. Trump's leadership style. He wants strong individuals out there and wants their voices to be heard."
But the difference between the two styles is jarring.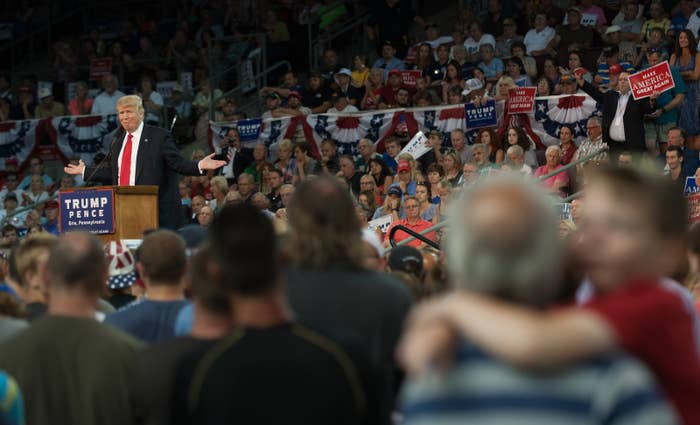 Pence's events feel familiar — they follow the norms and patterns of what people expect from a politician. Trump's rallies, meanwhile, are still Trump's rallies.
They still boast a festival atmosphere — in Fayetteville, N.C., on Tuesday, one attendee remarked how he'd been to the last one Trump had held there and it was "like a rock concert"; in Kissimmee, a large Confederate flag with Trump's name on it was hung by a fan on the side of the arena before security made him take it down.
At this point, his audiences are so familiar with the proceedings that some parts of the speech are call-and-response, like the much anticipated vow to force Mexico to pay for a border wall. In Kissimmee, Florida, Trump bellowed "Are you ready?" and then asked, "Who's going to pay for the wall?" "Mexico!" the crowd roared. Trump, unlike Pence, loves to feed off and interact with people in the crowd.
"It's totally unprecedented," said Ryan Williams, who served as spokesman for Mitt Romney's 2012 presidential campaign. "You usually try to keep the top of the ticket positive and delegate the attacks to the vice presidential candidate. Now, it's the opposite."
"It's not style or personality," he said. "Mike Pence is a sane, rational person who wants to win and is acting like a candidate who knows he has to expand his base, while Trump is just flailing around and not listening to anybody and destroying his own campaign."
At Pence events, the difference between the two isn't lost on voters. Several contended that the governor "balanced out Trump" and his sometimes "rash" statements. One of them, Pittsburgh attorney Tony Kovalchick, said Pence "brings a lot of experience… and gravitas to the ticket — like Dick Cheney did."
In Moraine, Ohio, another attendee, Lance Feldman, who said he was a former Obama volunteer, said, "Pence seems like a normal politician, reserved in his demeanor. And Trump is — I'll say it — a blowhard, but I can overlook that because he's got the best interest of the people at heart."
At Trump rallies, there's too much going on for voters to be thinking much about Pence at all.
Asked about the governor, Terry Gibbs, 61, of Melbourne, Fla., said he didn't have a strong opinion one way or the other.
"I didn't know him before he was picked as vice president," Gibbs said. "I vote for the president, I don't vote for the vice president."
After an initial pause, Donna Aiken, 65, of St. Cloud, Fla., said, "I like Mike." Aiken has been following Trump's career since the late 1980s.
"In the beginning I thought (Pence was) kind of well, a little bit I would say liberal would be the word. But I think he's really common sense," she said. "And that's what's lacking is just common sense."
Gray reporting from North Carolina and Florida; Parti reporting from Pennsylvania and Ohio.