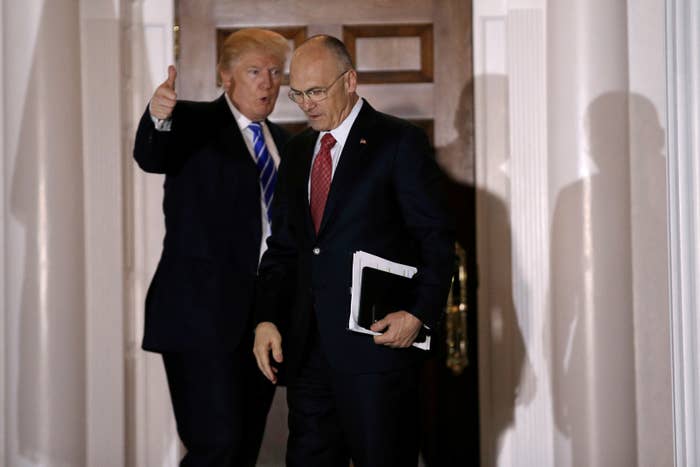 WASHINGTON — As President Donald Trump's labor secretary nominee steadily lost support among Republicans in the Senate in recent days, there was little effort — either from outside groups or from the administration — to save him.
Puzder withdrew his nomination Wednesday amid a particularly rough news cycle for the Trump White House that also saw the firing of National Security Adviser Michael Flynn. Sources close to Puzder say that a lack of an organized, well-funded campaign to help him overcome the opposition in the weeks leading up to his hearing was a big factor in ending his nomination.
Initial reports indicated that Trump was going to make a statement after he withdrew, but his press secretary, Sean Spicer, said one wouldn't be coming.
Although several influential groups including the US Chamber of Commerce backed Puzder's nomination, there were no flashy ad campaigns or coordinated lobbying efforts like those that had helped other controversial cabinet picks like Attorney General Jeff Sessions and Education Secretary Betsy DeVos get through.
"I really do believe it's a combination of the timing after DeVos, after [Health and Human Services Secretary Tom] Price, what happened with Flynn definitely put the White House in a much different position and with congressional recess coming up and all the (Obamacare) protests, there's only so much that senators want to take on," said a source close to Puzder, CEO of Carl's Jr./Hardee's fast-food chains. "The frustrating thing about any of this is that he never got to make his case."
Senate Republicans' opposition to Puzder is the first time congressional Republicans have broken from the Trump administration on a major issue so far.
"I don't think it's a political calculation. It's an independent body," said Brad Todd, a GOP strategist who has worked with several senators. "Sometimes you just don't have the votes... Republicans have pretty clear lines — they'll agree with (Trump) on some things and on other things they won't."
In the weeks leading up to Puzder's previously scheduled hearing, his embattled nomination had suffered from revelations that he employed an undocumented worker, claims of numerous wage and hour violations at his company's franchise locations, and allegations he physically abused his ex-wife. Senators from both parties also viewed an episode of the Oprah Winfrey Show in which his former wife appeared incognito discussing the allegations. Politico obtained and publicly released a copy of the episode Wednesday.
As a CEO of a private company, Puzder hadn't been subject before to public scrutiny, and reports that he was getting cold feet circulated in the weeks leading up to his hearing. An aggressive social media campaign against Puzder led the nominee to start blocking left-wing groups representing and advocating for workers on Twitter, including Service Employees International Union President Mary-Kay Henry.
Every Democrat was opposed to his nomination but there was something for everyone to find unpalatable about him. A number of Republicans were most concerned by reports about him hiring an undocumented worker. "The hiring of someone without documents," Arizona GOP Sen. Jeff Flake said. "For labor secretary, that's a toughie." Wednesday, the editors of the conservative National Review came out against Puzder for his immigration stance, calling him "one of the most high-profile advocates of precisely the approach to immigration policy that Donald Trump opposed during his campaign."
The same source close to Puzder also said the last-minute "war room" assembled days before Puzder's hearing, which was supposed to be held on Thursday, was an "organic effort" that could not overcome a host of issues with the nomination. That effort included top operatives from the following trade groups: the National Restaurant Association, the International Franchise Association, the National Retail Federation, and chain restaurant group NCCR.
"I think part of our frustration candidly is that there was no outside campaign to help defend the attacks from the labor unions," said the source said. "They trained all that firepower in an unprecedented way on a cabinet nominee. We always knew it was going to be a fight. Other industries came to help other cabinet nominees...but Puzder was left out to dry."
For other Republicans it was not necessarily one issue in particular that ruined him. Before Puzder withdrew, Sen. Johnny Isakson of Georgia said Wednesday morning he was looking forward to hearing more about the then-nominee's record at the hearing and withholding his support until then. Asked whether he was listening for an answer on the undocumented worker question, the allegations of spousal abuse, or another issue, Isakson responded, "Everything."
Two other GOP senators who had expressed skepticism about Puzder — Lisa Murkowski of Alaska and Susan Collins of Maine — were targeted by TV ads in their home state this week, urging them to vote against him. In a statement on Wednesday, South Carolina Sen. Tim Scott laid out his reasoning for withholding support for Puzder: "[A]s revelations regarding paying employees in cash, illegal immigration and comments regarding some of the American workforce came to life, I developed serious concerns regarding his nomination," Scott said.
Both Democrats and labor unions had been organizing opposition to Puzder from the day he was named the nominee. Since early January, fast-food workers organized by Fight for $15 had been protesting in the streets, financed largely by the SEIU, their efforts publicized by lefty communications powerhouse BerlinRosen. The National Employment Law Project, a legal advocacy group for low-wage workers, provided legal help for the coalition, supporting the filing a total of 39 wage theft, sexual harassment, and intimidation complaints at Puzder's restaurants.
"Andy Puzder was the poster child" for Trump's extremist cabinet nominees, said the SEIU's Henry. "If the next Labor nominee is not a champion for working people, we will continue to speak out just as forcefully and just as loudly."
Democrats were also pushing the image of Puzder as someone who encourages sexist depictions of women, bringing up Hardee's ads that often showed bikini-clad models eating burgers. In the age of social media, those images were defining his character without much pushback from the other side.
"Puzder's personal record was awful," said a senior Democratic aide, when asked why his nomination in particular sunk while others went through.
"His comments about his employees was awful. His views on labor issues was awful. But it may have been the fact that the Trump administration is in total chaos that gave Republicans the strength they needed to finally stand up to him. The worse the administration is doing overall, the more Republicans may feel free to break from him."