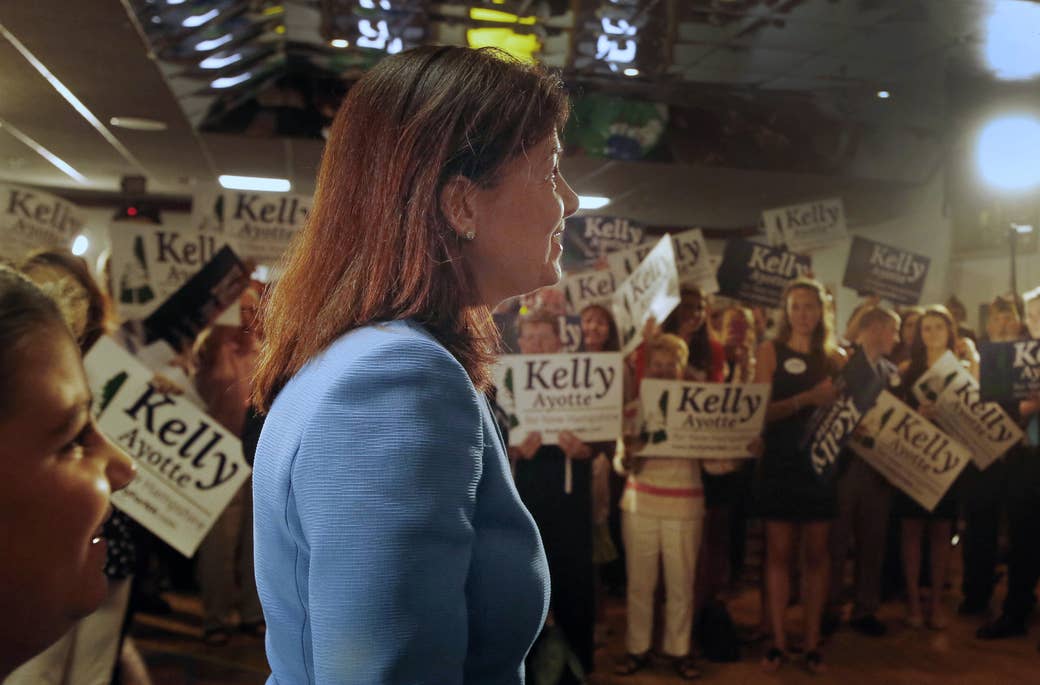 BELMONT, N.H. — About two months before Donald Trump officially announced he was running for president, he asked for a brief, private meeting with New Hampshire Republican Sen. Kelly Ayotte in his early attempt to court Granite State leaders and activists.

"I didn't even know he was going to get in the race then," Ayotte said of the April meeting in an interview with BuzzFeed News. "He wanted to meet me, and I mean I wanted to meet him out of curiosity, because at that point, honestly, I wasn't even sure he'd be a candidate in the race."
They didn't talk much, Ayotte says, but nearly a year later — and weeks ahead of the New Hampshire's GOP presidential primary — Trump is a clear frontrunner in the state and has complicated the senator's already tight re-election bid.
"I don't think anyone foresaw this," Ayotte said in the interview, which fell between a packed day of constituent events.
She had just presented a long-overdue bronze star to a teary, 94-year-old World War II veteran in a surprise ceremony. Earlier, she'd toured a naval shipyard with Sens. Jeanne Shaheen of New Hampshire and Susan Collins of Maine, and updated the Londonderry Rotary Club over breakfast on her work in the Senate last year.
At the breakfast early on Wednesday morning, Ayotte name-dropped her Democratic colleague, Shaheen, four times in 45 minutes and emphasized her work on local issues — from fighting back new school lunch regulations to repealing the tax on the medical device industry, which has a growing presence in the state.
In those same remarks and later in the day at a town hall, Ayotte also reminded voters of her past experience in working with law enforcement as the state's attorney general while addressing the drug epidemic in the state.
Locked in a dead heat with her Democratic opponent Gov. Maggie Hassan, Ayotte is trying to distance herself from the presidential race and its candidates by constantly stressing her bipartisan tenure and work on local issues in small meetings with constituents — a stark contrast to the campaign Trump is running in the state.
Known more for his loud, well-attended rallies than retail politicking, the real estate mogul drew an estimated 1,500 to a packed high school gym in Claremont on Tuesday night. (While the crowd waited in the cold to get into the event, Ayotte staffers walked up and down the long line collecting voter information for their own campaign).
During his wide-ranging remarks, Trump berated members of the House and Senate for the recent passage of the bipartisan spending bill — the same measure Ayotte breaks down for constituents in explaining her accomplishments for the state last year.
"There's anger in our country because the people are smart," Trump said at the rally. "The people representing them are either dishonest, not smart, incompetent, or they have some other agenda that we don't even know."
At the event, Trump once again trumpeted his controversial proposals of banning Muslims from entering the country and making Mexico pay for a wall along the Southern border. He even accused his opponent Sen. Ted Cruz — although not by name — for stealing his idea to build that wall.
Most of the crowd cheered and nodded in agreement.
"If Donald Trump is the nominee, Kelly Ayotte might as well resign because it's all over."
But Trump's comments and proposals have in recent weeks caused a lot of anxiety among party leaders concerned about the re-election prospects of Ayotte and other moderate Republicans running in swing states. Republicans are defending a narrow majority in the Senate and can't afford to lose independent voters in swing states, or risk low turnout for Republicans less charmed by Trump.
"If Donald Trump is the nominee, Kelly Ayotte might as well resign because it's all over," said Fergus Cullen, former chairman of the New Hampshire Republican Party, who tried to keep the businessman off the ballot in the state, arguing he wasn't a Republican. "He's hurting every Republican across the country by pushing away the exact constituencies we need to win."
She's in a bind: Ayotte can't entirely distance herself from Trump to win over moderates and independents (an important part of New Hampshire's electorate); right-wing activists in the state are still trying to recruit a primary challenger to run against her. But that causes problems, too: Democrats attack her for refusing to say that she won't back Trump if he's the nominee. The challenges won't end anytime soon, either, given the state's deadline to file paperwork to run in a primary against Ayotte isn't until June 10. (A last-minute bid against the incumbent — whose campaign has $6 million on hand — would be an uphill climb, but would likely exacerbate the delicate political situation for Ayotte.)
Ayotte has, however, condemned some of Trump's comments, and her supporters point out she has not hesitated to criticize members of her own party in the past, hinting she could make a political calculation to go after Trump harder depending on the outcome of the state's GOP presidential primary. In recent months, she's taken on Cruz and called for scandal-plagued New Hampshire Rep. Frank Guinta to resign.
When asked once again if she would support GOP nominee Trump, Ayotte continued to hedge. "We're a long way from a decision on who's going to get this nomination. Feb 9 is going to be an important day in New Hampshire. I'm going to see how that plays out," she said in the interview.
Pressed again, Ayotte responded: "I'm just watching this primary play out. And I'm going to listen to the voice of the people of New Hampshire."
But no matter how hard Ayotte tries to stick to the issues at events, she inevitably gets asked about the presidential race. When questioned about the presidential primary at the Rotary Club breakfast Wednesday, Ayotte joked, "Can we start with the easy questions?" before giving her standard response that includes some subtle digs at Trump.
"Right now, we're in the process where we have such a multi-candidate primary that I think our role is going to be very important this time around in how we narrow this field in a way that can give a nominee that can unify the country," she said.
"I haven't endorsed anyone, but what I'd like to see is someone who can unify the country, and I'd like to see someone who has the right type of experience to make it happen, but also with a very positive vision for the fiscal strength of the country and for how the country remains safe. I feel just as much in the air as anyone else right now."
But for all the concerns about Ayotte and other down-ballot Republicans' fates being tied to Trump, those supporting or considering backing the real estate mogul aren't buying what they call "all Washington talk."
Tom Harrington, a retired attendee at the Claremont rally, was one of Trump's supporters who dismissed the billionaire's effect on the party's brand. "I could care less. The Republican brand right now looks like this," he said, motioning a thumbs down sign.
Pointing to businessman Matt Bevin's win as governor of Kentucky in 2015, another Trump supporter at the event, Paul Melnikov, called establishment Republicans' concerns about losing seats in Congress "completely false." "Republicans will benefit from Trump," insisted Melnikov, an IT professional.
In fact, comments from presidential candidates like Jeb Bush and other members of the party about not understanding Trump's resilience in the polls exemplify why the GOP's brand needs to change, argued Don Wenz, the retired president of Lebanon College who also attended the event.
"I think he's going to change the brand. It needs to be changed… He's great for Republicans," Wenz said. "They need him because it can't be any worse in Washington."
"We need Republicans to understand this side of the party."