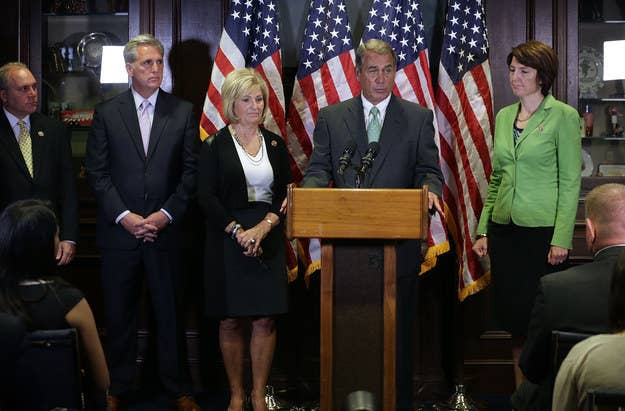 Some House conservatives aren't satisfied with the largely symbolic passage of a bill to defund Planned Parenthood on Friday — and the threat of a government shutdown doesn't seem to be enough to hinder their efforts.
The bill to defund Planned Parenthood for a year — unless the group stops performing abortions — passed 241-187. The House also approved another abortion-related measure that would strengthen laws protecting infants born alive after failed attempts at abortions, and the Senate is expected to take up a bill next week banning abortions after 20 weeks.
But pro-life conservatives — led by Sen. Ted Cruz, who has taken the issue to the presidential campaign trail — are determined not to settle for anything short of tying the defunding Planned Parenthood measure to government spending bill, which has to pass by the end of the month to avoid a government shutdown.
"It's not about appeasement," said Rep. Trent Franks, a Republican from Arizona. "It's about protection of babies. That's our goal."
Franks has said Republicans need the leverage of attaching the defunding measure to the spending bill to get a vote. When asked about the shutting the government down over Planned Parenthood, he told BuzzFeed News:
"Anytime we don't protect the most innocent among us in a republic like this under this Constitution, the government has already shut down."
Congress has only five more legislative days on the calendar left to pass a spending bill, and one without the defunding measure could jeopardize John Boehner's speakership.
Boehner celebrated the passage of standalone defunding bill, but he faces a tough road ahead in balancing calls for defunding Planned Parenthood and avoiding another shutdown on his watch.
"The legislation passed by the House today will ensure these horrific acts are not subsidized with Americans' tax dollars," he said in a statement, "and provide more resources to other community health centers while our investigation is ongoing... It's beyond shameful that the White House has threatened to veto these reasonable, humane measures. Those who would deny the weakest among us the right to life are on the wrong side of history."
The push to defund the group follows the release of a series of undercover videos accusing Planned Parenthood of selling aborted fetuses' organs and tissues. The group has denied the claims and Democrats have called the videos a smear campaign based on false, doctored videos.
During the debate on the bill, the bill's sponsor, Tennessee Rep. Diane Black, and other Republicans argued that the measure wasn't about party affiliation or being pro-life; it's about protecting taxpayer dollars.
"We should all have an interest that laws are followed and that the taxpayer dollars are spent responsibly... That's not a political statement," she said. "That's quite literally our job here in Congress."
A bill defunding Planned Parenthood failed in the Senate last month, and President Barack Obama has said he will veto any legislation that includes similar measures.