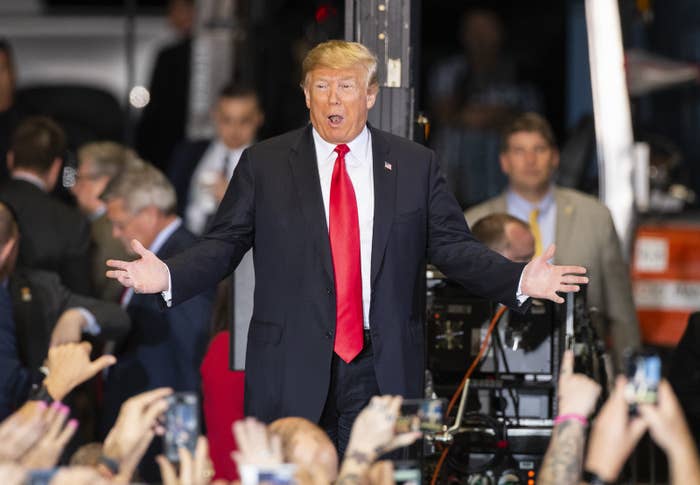 COLUMBIA, Missouri — President Donald Trump is back to doing what he loves: campaigning against Hillary Clinton.
Two years later, and days before the midterm elections, the 2016 election is still not over. Just in the last week alone, Clinton has come up at least 18 times during Trump rallies, interviews, and speeches.
As Trump travels the country — mostly to red states he won handily in 2016, and where Democrats are now defending Senate seats — the president and Republican candidates he is campaigning on behalf of are repeatedly tying their Democratic opponents to Clinton, reminding voters in Trump country that those vulnerable Democrats were With Her.
At a rally with Trump in Columbia, Missouri, Thursday night, Republican Josh Hawley, who is challenging Sen. Claire McCaskill in a state Trump won by 20 points, spurred a "Lock her up!" chant by drawing comparisons between McCaskill and Clinton.
"What I look at when I look at Sen. McCaskill's record, I have to say, Mr. President, it really reminds me of another career politician that you recently defeated," Hawley said. "It reminds me of the person that Claire thinks should be president: Hillary Clinton."
"Claire McCaskill has spent her lifetime in politics," he told the crowd gathered on a cold evening at a hangar next to Air Force One. "Just like Hillary, Claire McCaskill has made a boatload of money on federal taxpayers."
"Just like Hillary, you know Claire McCaskill, wanted us to call Hillary Clinton Madam President. Well, well, on November the 6th, because of the leadership of Donald Trump on November the 6th, we're going to call Claire McCaskill fired. Let's go get it done."
The following day, at a rally in Huntington, West Virginia, the president and Republican Senate candidate Patrick Morrisey repeatedly brought up Clinton's previous comments on the coal mining industry and portrayed Sen. Joe Manchin as a top Clinton ally.
In March of 2016, while talking about renewable energy at a town hall, Clinton said she was "going to put a lot of coal miners and coal companies out of business" — a comment she has since said was among her biggest regrets from the campaign trail. Trump ended up winning West Virginia by more than 40 points.
"Remember when my opponent in the last race went to another state about four weeks before she got to West Virginia and she was bragging how she was going to put the coal miners out of work, and I said, 'you know I don't think it's going to play,'" Trump told attendees at a Friday rally.
"Just finally, on Joe, I have to say that he was all for Hillary Clinton," Trump said. "He was for Hillary Clinton. She was against coal, she was against the miners, she got no support of the state and yet Joe was totally in her camp."
Morrisey also invoked Clinton at the rally, while telling supporters about his debate with Manchin the previous night. "I have to tell you, last night I did debate with Sen. Joe Manchin...He attacked me for supporting President Trump well," he said. "I will never apologize for defending President Trump. Nor will I kneel to the altar of Hillary Clinton, Chuck Schumer, or Nancy Pelosi."
During that debate, Morrisey repeatedly tied Manchin to Clinton. After several references to the former Democratic presidential nominee, Manchin reminded Morrisey: "Hillary Clinton is not on the ballot."
The references to Clinton as Trump travels all over the country in the final days before the election are in addition to the ads mentioning her, which many Republican candidates and the National Republican Senatorial Committee, the campaign arm for Senate Republicans, have been airing throughout the year as they attack Democratic incumbents.
Earlier this year, when Clinton said in an interview that Trump's 2016 campaign was about "looking backwards," the NRSC quickly launched digital ads in 10 states that Trump won and where now Democrats are defending seats. The Missouri version of that ad, for example, said: "She called you 'deplorable.' Now she's called you 'backwards' ... And if Claire McCaskill had her way, Hillary Clinton would be president."

Trump continued relitigating his presidential race at rallies on Saturday. Campaigning on behalf of Montana GOP Senate candidate Matt Rosendale in Belgrade, Trump started talking about possible debate scenarios during his reelection bid.
"Let's say we're debating the radical, liberal Democrat over here, and they go, 'Oh, they're going to help jobs.' I say, 'Well, we had the highest jobs, the best jobs, the best employment number ever, the best unemployment numbers ever.' What do they say? How do they counteract that?"
"They'll figure something. They'll figure something. They'll think of something, like Russia. Let's see, Russia. Let's blame Russia. We won't say that she was a lousy candidate," he added referring to Clinton, "and we won't say, certainly, that he was a very good candidate."
Later during the same rally, Trump again reminded voters — in case they had forgotten — that he defeated Clinton. "One thing I'll say: They stick together. They really do, the Democrats. They — it doesn't matter what, even a hoax like they tried to pull off with Judge [Brett] Kavanaugh, they stick together — or the Russian hoax with the election. They use that as an excuse, because Hillary Clinton lost."
Trump again brought up the possible 2020 debate scenario, while going down memory lane and invoking Clinton once again, at his next rally in Pensacola, Florida, Saturday night.
"It's going to be, hopefully very easy debates, but we always debate three people," he said. "It won't be one. It will be three, it's the person plus the media against me. So that makes it a little tougher."
"Remember the way they treated Hillary, oh Madam Secretary, 'oh, what did you have for breakfast? Madam Secretary, did you enjoy it?'"
CORRECTION
Patrick Morrisey's name was misspelled in an earlier version of this post.