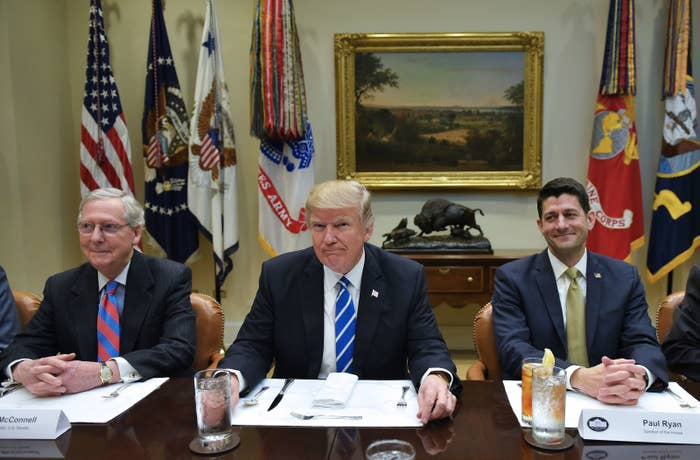 President Donald Trump's sudden dismissal of FBI Director James Comey in the midst of the bureau's investigation into his campaign's ties to Russia has renewed calls for an independent investigation. But one Republican with the power to stop that idea in its tracks — Senate Majority Leader Mitch McConnell — has made clear he won't let that happen.

An independent investigation — either through the creation of an independent commission outside of Congress or a special congressional committee — would require congressional approval, meaning McConnell, who controls which legislation comes to the Senate floor for a vote, would have to green-light the probe for it to even move forward. Some members are also calling for a special prosecutor to take up the case, but that would require approval from the Department of Justice or another complicated, and also unlikely, bill.
Hours after Comey's firing, McConnell said in his opening remarks on the Senate floor that he was going to continue to rely on the Senate Intelligence Committee to continue its investigation rather than look into starting an independent one.
"Today we will no doubt hear calls for a new investigation which could only serve to impede the current work being done to not only discover what the Russians may have done, but also to let this body and the national security community to develop the countermeasures and warfighting doctrine to see that it doesn't occur again," McConnell said.
"Partisan calls should not delay the considerable work of Chairman [Richard] Burr and Vice Chairman [Mark] Warner — too much is at stake," he said, naming the GOP and Democratic leaders of the Senate Intelligence Committee.
An independent commission, similar to the one created to investigate 9/11, would need Congress to approve funding for the investigation and to determine the details — including who would sit on the commission, the scope of the investigation, and a deadline to release its findings. Republicans have argued that such bodies can cost millions and take years to produce a report.
Any bill that establishes one would also require Trump's signature, an unlikely ask of a president who seems desperate to move on from the Russia investigation. Trump recently tweeted: "The Russia-Trump collusion story is a total hoax, when will this taxpayer funded charade end?"
So far, McConnell and Trump aren't facing the kind of political pressure they would need from within their own party to create an independent commission. Unlike the 9/11 commission, few Republicans have joined Democrats in calling for an independent body to investigate Russian interference.
"There was no discussion about this in our caucus meeting," Sen. Bob Corker said, coming out of a Wednesday lunch meeting with his Republican colleagues that lasted more than an hour.
"The best first step would be to nominate someone [to replace Comey whom] people believe is independent, full of integrity, and wouldn't in anyway be politicized," said Corker, who has expressed concerns about the timing of Comey's firing.
Arizona Sen. Jeff Flake, another Republican who has been critical of Comey's dismissal, didn't urgently push for an independent investigation either. "I have confidence, as do my colleagues in the Senate, in the intelligence committee," he said. "The Senate is moving ahead on a bipartisan basis...whether we require something additional moving ahead we'll see."
Other Senate Republicans are also suggesting a wait-and-see approach. Wisconsin Sen. Ron Johnson told BuzzFeed News he wants to "first see" the results of the House and Senate investigations. "One step at a time," he said.
In lieu of an independent commission, Democrats have suggested an outside prosecutor should take over the investigation instead. McConnell isn't backing calls for that either, but the final decision on that would lie more with the Department of Justice. Given that Attorney General Jeff Sessions has recused himself from the Russia investigation, Deputy Attorney General Rod Rosenstein, who wrote a memo laying out the reasoning for Comey's firing, would be responsible for naming that prosecutor. During his confirmation hearing in March, Rosenstein would not commit to appointing a special prosecutor in the case, but said that he would do so "whenever I feel it is appropriate."
Sen. Marco Rubio, a member of the Senate Intelligence Committee, said that when his committee's report comes out, the Senate can decide if "inquiry from a law enforcement perspective" is necessary. Rubio also said that a special prosecutor would "shut down our ability to do our work because a significant amount of information would now be denied on the basis of an ongoing investigation."
In theory, Congress could also pass legislation, as it has in the past, giving a three-judge panel the authority to appoint the prosecutor, but that would also require approval from GOP leadership in Congress and Trump's signature.
There is one way, however, that Congress could set up an independent investigation without approval from the Trump administration. Arizona GOP Sen. John McCain, one of the few Republicans still pushing for an independent investigation, is calling for a special congressional committee to investigate Russia's interference. Such a committee would be set up by GOP leaders and would not require Trump's approval.
"I have long called for a special congressional committee to investigate Russia's interference in the 2016 election," McCain said in a statement. "The president's decision to remove the FBI Director only confirms the need and the urgency of such a committee."
McCain, however, doesn't have much support from his caucus even though some have questioned Comey's firing. Asked about whether other Republicans would join with him, McCain told BuzzFeed News he hadn't spoken to McConnell about it.
"That's not how I operate," he said. "I advocate for certain things and let them rest on their own merits."
Lissandra Villa contributed reporting.