Hours Before Iowa Caucuses, Republican Donors Worry About Trump During California Retreat
"If he is the nominee, then who knows what will happen?" Inside the Koch donor summit, on whether something could have been done against Trump — and when, and if, candidates like Jeb Bush should drop out.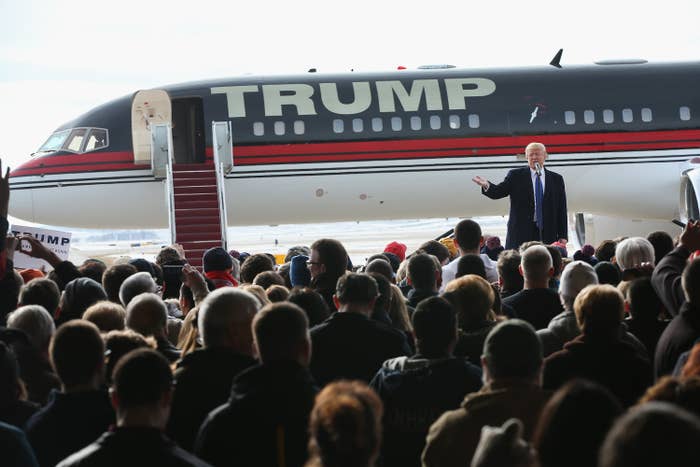 INDIAN WELLS, California — On the eve of the Iowa caucuses, hundreds of GOP donors gathered in the California desert were trying to make sense of the presidential primary, nervously awaiting Monday night's results and plotting their next move in case Donald Trump actually pulls off a win.
The donors attending the semiannual gathering of the political network affiliated with the Koch brothers — the largest one yet with about 500 attendees — were briefed behind closed doors on the 2016 landscape and on of each of the presidential candidates' policy positions early Sunday morning by two of the top officials from the Koch network. Although the seminar stuck to policy during the 2016 briefing, presidential politics and the future of the party were on the minds of a lot of the donors.
"Absolutely, we're worried about Trump," said Liz Wright, a Denver-based donor who is backing Sen. Marco Rubio, in an interview with BuzzFeed News. "If he is the nominee, then who knows what will happen?"
Her husband, Chris Wright, who is the CEO of an energy company, added, "He doesn't believe in freedom at all. He's not a Republican, and he's hurting our brand."
But should donors have taken Trump more seriously early on and launched a campaign against him? "What could we have done?" Liz Wright responded. "Everything Trump said the media ate it up. Everyone is shocked."
Despite Trump rankling donors for months, the Kochs' political network and its members were reluctant to do anything that might cause him to launch a third-party bid, sources said this weekend. Also, there was concern that attacks from the Koch brothers and their allies could have potentially added to Trump's momentum and his populist appeal with the GOP base.
But some donors, like the Wrights, said they're still hopeful that once the field narrows and it comes down to about three candidates, then an anti-Trump campaign could actually be effective.
"Our view is that Trump has a high floor and low ceiling," Chris Wright added. "But we'll be worried if there are lots of candidates for a long time."
The Koch network has already spent about $400 million of the $889 million it intends to spend on conservative causes and candidates in the run-up to the 2016 election. BuzzFeed News was one of six news organizations to accept an invitation to cover this weekend's gathering after agreeing to a set of ground rules, including not identifying attendees unless they agreed to be interviewed.
None of the presidential candidates attended this weekend's gathering, but donors got a refresher on their public statements on certain policies, including "fiscal responsibility, reducing barriers to opportunity, and keeping America safe," during the briefing, according to a schedule provided to donors.
No candidate aligns perfectly with the Koch network's principles, but five of them meet enough of the criteria: Ted Cruz, Marco Rubio, Rand Paul, Carly Fiorina, and Jeb Bush.
Unsurprisingly, Trump does not.
The billionaire has not only frustrated donors with his rise in polls at the expense of other candidates, but also with his quick change in policy positions based on his audience. In the candidate survey Trump's campaign filled out for Freedom Partners, the umbrella organization of allied Koch groups, he said he was against ethanol subsidies, according to a network official.
But while campaigning in Iowa, Trump quickly reversed his position.
"Where are the ethanol people?" he asked the crowd in Des Moines at an event in December. "With the ethanol, really, [Cruz has] gotta come a long way because he's right now for the oil."
Donors say they haven't questioned the network's strategy of sitting out the GOP presidential primary and not going after Trump, but in recent weeks many of them have raised questions about the pro-Bush super PAC spending millions against Rubio — a move that has angered many who believe the former Florida governor's allies are taking out the only establishment candidate who has a shot of winning the GOP nomination over Trump.
Harry McMahon, an investment banking executive and Bush backer, insisted it was too early to write off Bush, but he didn't fully endorse the super PAC's decision to attack Rubio.
"The tactics of these super PACs are difficult to understand," he said in an interview. "You can infer from what they are doing that there's a fight for third place. But it sure does seem like a lot of money."
When asked if Bush should drop out depending on the results in New Hampshire, McMahon said he thought that might still be too early in an unpredictable election year. "I believe his supporters are sensible enough that once it becomes clear, they will make the tough decision."
Greg Lucier, a biotech executive who has given to both Bush and Rubio, is still holding out hope that support in the polls will not translate to actual votes. "We have to see who actually ends up voting for Trump, and then we can figure out how to respond."
But if it does, Lucier said donors should look beyond the federal level. "I don't mean to minimize the federal election. But focus on the state level, where real change can actually happen."
Although the GOP primary was a big part of the chatter among donors, it was largely ignored during keynote speeches and forums that were open to reporters.
In an hour-long presentation Sunday afternoon, Charles Koch explained in broad strokes a "framework" he believes America desperately needs to get back on track. But Koch refrained from getting into presidential politics, mentioning only Sen. Bernie Sanders once, as he discussed how "cronyism" has caused socialism to become popular again.
"This is why socialism is so important and growing in this country, and why Bernie Sanders is so popular because a lot of what he says is true," he said. "The business people who are successful haven't become successful because they helped others improve their lives. It's because they helped rig the system. So if you're a young person and you see this and say, 'Well the government has made them all this money, then why do we need them as an intermediary? The government ought to just take it over."
He then quickly moved on to the role of education and academic freedom.
Hours away from the caucuses, Koch steered clear of Trump.