House Passes Bill Pausing Syrian Refugee Program Until Security Verified
Forty-seven Democrats voted with Republicans in a veto-proof majority to pass the Syrian refugee bill.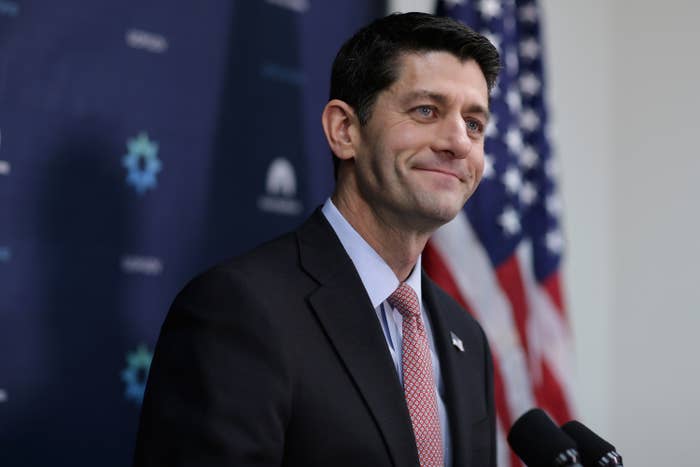 WASHINGTON — House Republicans, along with a sizable number of Democrats, passed a bill Thursday afternoon to halt the resettlement of Syrian and Iraqi refugees in the country until key federal agencies can certify that they have been properly vetted.
The measure passed, 289-137, with 47 Democrats voting in favor, even after the Obama administration, which has already threatened to veto the legislation, made an effort Thursday morning to convince Democrats to vote against the legislation. Based on the large number of Democrats who voted for the bill, the House should have the two-thirds majority it needs to override a presidential veto.
Department of Homeland Security Secretary Jeh Johnson and White House chief of staff Dennis McDonough made their case against the measure in a closed-door meeting hours before the vote, but members coming out said their pitch wasn't effective.
"I've seen better presentations in my time here," said Democratic Rep. Steve Israel of New York, who ended up voting in favor of the measure. "They may have strong arguments on their side, but they're not expressing those strong arguments sufficiently."
"There's no question that the Republicans have expertly politicized this," Israel, who runs House Democrats' messaging strategy, added.
A Bloomberg poll released Wednesday found the majority of those surveyed do not want the administration to continue with its plans to resettle 10,000 Syrian refugees in the aftermath of the Paris attacks.
During the meeting with administration officials, some Democrats expressed concern about a backlash from their constituents if they voted against the Republicans' bill. According to a Democratic aide in the room, Rep. Sean Patrick Maloney of New York said the party could lose seats if they voted against the bill.
And Democratic Rep. Gerry Connolly of Virginia, who voted in favor of the bill, told reporters it was "carefully crafted" and the administration should work with Republicans on the legislation instead of urging Democrats to vote against.
"(The bill) adds more of a burden in the screening, but it's not a devastating added burden and it does give assurance that those coming into the country are properly screened and not a threat to anybody."
A bipartisan vote on the bill makes it more likely for the Senate to take up similar legislation, which Senate Minority Leader Harry Reid is expected to block — potentially creating a messaging problem for Democrats with voters potentially concerned about the nation's security after the attacks in Paris which killed 129 and wounded hundreds. Republican Sen. Ron Johnson of Wisconsin has introduced a similar bill in the Senate.
Besides calling on the Department of Homeland Security, Federal Bureau of Investigation, and National Intelligence director to certify the refugees, the American Security Against Foreign Enemies Act would require the FBI to conduct a thorough background investigation and provide monthly reports to Congress on the program.
"Right now, the government can't certify these standards, so this plan pauses the program," said Speaker Paul Ryan just before the vote. "It's a security test—not a religious test. This reflects our values. This reflects our responsibilities. And this is urgent. We cannot and should not wait to act—not when our national security is at stake."

House GOP leadership, which created a task force the day after the Paris attacks to come up with legislation on the refugee program and related issues, has stressed the bill is "just the start."
When questioned how his bill would strengthen the vetting process which already takes 18 months to two years, North Carolina Rep. Richard Hudson, one of the sponsor's of the bill told reporters: "We've got to put some infrastructure in place before we can do a background check, and we've got to figure out how to do that. Maybe we deal with folks who have relatives in the country who we know something about, but I don't think Congress ought to tell the FBI how to do that. But there's got to be a process in place and today there isn't. Today we're bringing 10,000 people in without vetting them properly."
"What we do now to vet them — my understanding is — we look at all the databases of all the federal agencies in our country and if they aren't in there and if there's no information that they're a threat, we let them in," Hudson. "That's not good enough."
Currently, the U.S. refugee screening program takes, on average, 18 to 24 months for a potential refugee to clear. So far, fewer than 2,000 have been accepted. The process involves multiple security checks, a biometric screening, a medical screening, and an interview with the Department of Homeland Security. Some of the checks only remain current for a period of time (for example, most security checks expire after 15 months) — but to be accepted, a refugee must have all checks cleared concurrently.
Still, top administration officials have identified a "challenge" in screening Syrian refugees, because "if the person has never crossed our radar screen, there won't be anything to query against." The federal government is also using a secret security program to vet refugees called the Controlled Application Review and Resolution Program, or CARRP, as BuzzFeed News reported on Wednesday.
Fifteen House Republicans had pushed for defunding the resettlement program in the government funding bill Congress has to approve by Dec. 11. But those members, including Rep. Lou Barletta of Pennsylvania, have held off on calls for leveraging the threat of a shutdown in recent days.
However, that could change with the Senate Democrats expected to block the bill and President Barack Obama expected to veto.
"This should be bipartisan," Barletta said. "It shouldn't be Democratic or Republican on whether we want to roll the dice on the safety of the American people."
And Mark Meadows, a member of the House Freedom Caucus -- which has urged using must-pass legislation for leverage in the past, said the House bill was a "pragmatic, middle-of-the-road approach." And although there is "a real desire to keep the appropriations process as unencumbered as possible, the American people are going to demand that we do something."
"For most of us, we're very hopeful that the Senate will act...But it's too early to tell whether there would be a groundswell of support to attach it to the appropriations process," Meadows said.