George W. Bush Returns To The Campaign Trail And Blasts Trump Without Saying His Name
After months distancing himself from the others, Jeb Bush has draped himself in the Bush family name.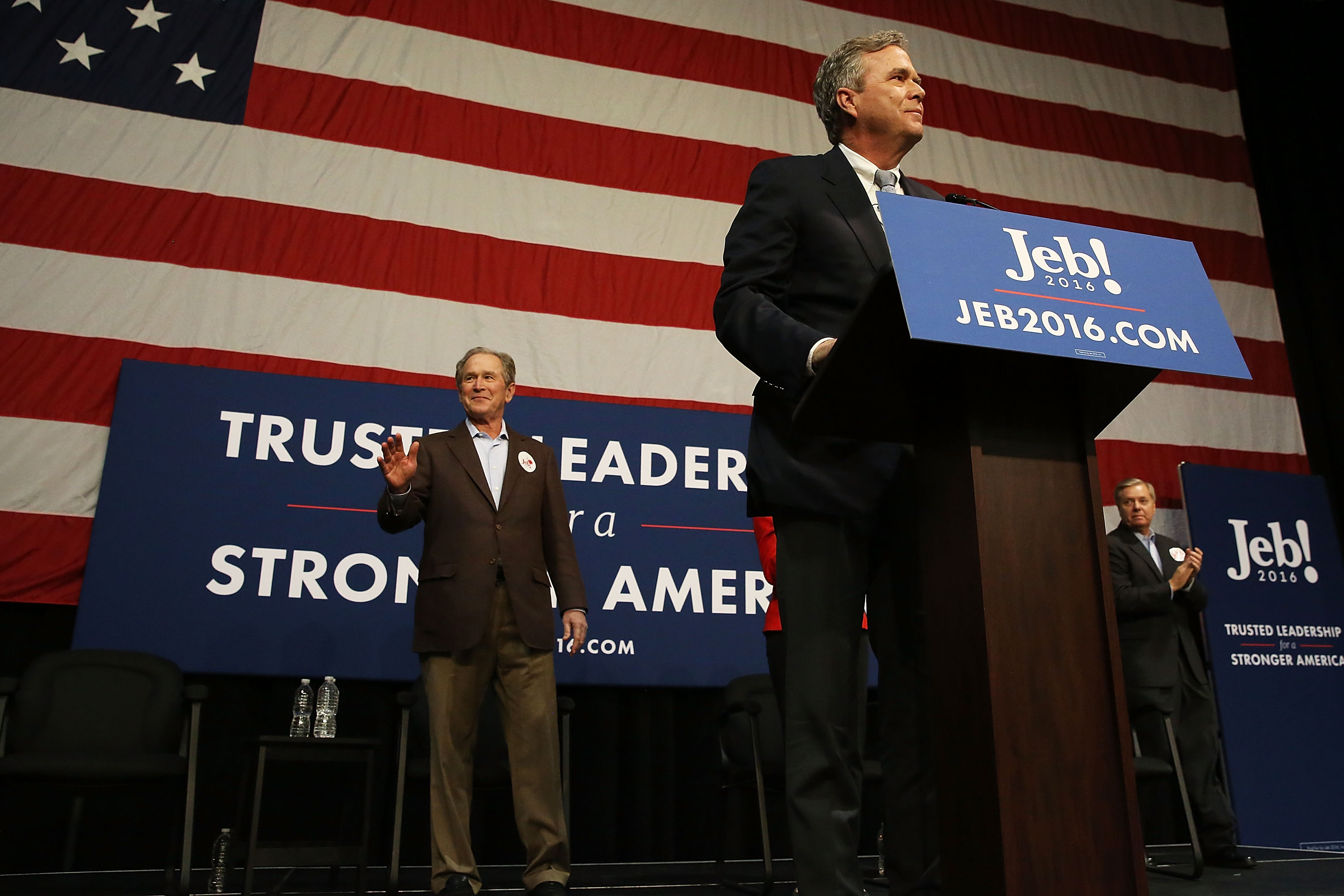 NORTH CHARLESTON, S.C. — Exactly a year ago this week, Jeb Bush gave his first major foreign policy speech as he geared up for a presidential run and insisted: "I'm my own man."
Bush repeated that line over and over again in the coming months. But a lot has changed for the former Florida governor since last February. One glimpse of the stage here at a rally on Monday evening, where Bush embraced his brother former President George W. Bush, encapsulates his fall from the presumed frontrunner for the GOP nomination to his current standing: fighting to stay relevant in the race by calling on his big brother for help.
With Bush still struggling in polls behind Donald Trump, Ted Cruz and even his once protege Marco Rubio, his family has increasingly become part of his campaign. At first, the involvement was limited to headlining fundraisers. But in the last few weeks, Bush family members — Barbara Bush and now George W. Bush — have cut ads and campaigned on his behalf.
In a 20-minute speech Monday evening, weaving in funny anecdotes from his time campaigning in South Carolina and growing up with his "big, little brother" Jeb, George W. Bush drew a strong contrast between Bush and the party's current frontrunner Trump — without ever mentioning the billionaire by name. Although he's been off the campaign trail for nearly a decade, he also effectively made the case for Bush as a leader with a "quiet conviction and a core of conscience that cannot be shaken."
"We need somebody who can take a positive message across the entire country, someone who's going to inspire and appeal to people from all walks of life, not just one party or just one class of people," he told the crowd. "Jeb listens to the voices of the disenfranchised. He will rise above the petty name-calling, and once elected he will not need a poll or focus group to tell him what to do. He will stand on principle. He not waiver in the wind, and he will always do what's right from American people."
"I understand that Americans are angry and frustrated, but we do need someone in Oval Office who mirrors and inflames our frustrations," he said. "We need someone who can fix the problems that cause our anger and frustrations, and that's Jeb Bush."
The shift in Bush's strategy of leaning on his last name more and more heavily underscores how important a strong showing in South Carolina is for his campaign. A fourth-place finish in New Hampshire was enough to calm some nerves, but that won't be enough this time.
Sixteen years ago, George W. Bush was able to revive his campaign with a Palmetto state victory. The South Carolina Republican Party still prominently features on its website a Feb. 20, 2000 clip from the front page of The State, proclaiming in big, bold letters "S.C. Saves Bush." It's definitely more of an uphill climb for Jeb, but Bush supporters are hoping the family name carries enough weight for a repeat headline.
"When you're in a fight for your political life, you'll pick up every weapon in the room and literally and figuratively run home to mama," said Bruce Haynes, a GOP strategist who has worked in South Carolina politics.
"There is great affinity and affection for the Bush family in South Carolina, so it's no shock that if he was ever going to embrace the brand and the family, this is the place to do it."
The dynamics of the race have completely changed since Bush made those comments last February, forcing the campaign to evolve, said Joel Sawyer, an unaffiliated strategist in the state. "The race was supposed to be Jeb vs. not Jeb and now it's become Donald Trump vs. not Donald Trump."
But change in race dynamics or not, Curt Anderson, who guided Bobby Jindal's presidential run last year, said the campaign strategy of distancing Bush from his family of two presidents was never going to work.
"Be who you are," he said. "Should've embraced it from day one. There was never any remote possibility to do otherwise."
Ahead of Monday's rally, Bush's embrace of his family didn't go unnoticed by Trump, who has been attacking George W. since the last debate on Saturday. "Funny that Jeb(!) didn't want help from his family in his failed campaign and didn't even want to use his last name.Then mommy, now brother!," he tweeted.
Trump has been targeting Bush over his brother's decision to invade Iraq. "Obviously, the war in Iraq was a big, fat mistake, all right?" he said during the debate. "Now, you can take it any way you want," he eventually said. "So George Bush made a mistake. We can make mistakes. But that one was a beauty. We shoulda never been in Iraq."
Bush offered a strong defense of his brother during the debate, saying he was "proud" of what George W. did as president to keep America safe.
And during the rally on Monday, Jeb Bush once again came to his brother's defense, adding that the debate was "wow, kind of weird." "I never thought that at a Republican debate, we would be talking about impeaching a Republican, two-term president who is extraordinarily popular and for good reason among Republicans."
That popularity drew several undecided voters out to see Jeb Bush on Monday evening. Among the voters that BuzzFeed News spoke to, there was a common thread — they're looking for an anti-Trump candidate and are still considering Bush, but his brother influenced their decision to come out to the event and keep Bush on the short list.
Roberto Guadalupe, a 42-year-old engineer, was one of them. "I was on active duty under the president. I did two tours in Iraq, so I wanted to come out and see Jeb," he said.
Guadalupe is still deciding between Bush, Rubio, and Cruz but said the former president's presence in the state could sway undecided voters. "A lot of people here really like President Bush. They think very highly of him."
Joy Standafer, a 61-year-old nurse, said having his brother by his side could help out in an aspect she thinks Jeb Bush is lacking. "Jeb needs to come off more confident," she said.
Several also said they weren't sure the campaign's now-emphasis of the Bush name in South Carolina was ultimately going to be enough, but they're not surprised by Bush now embracing his brother and his national security record.
"It's not a predictable year," said Joe Holcomb, 56, resident of Summerville. "You gotta do what you gotta do to get the votes."