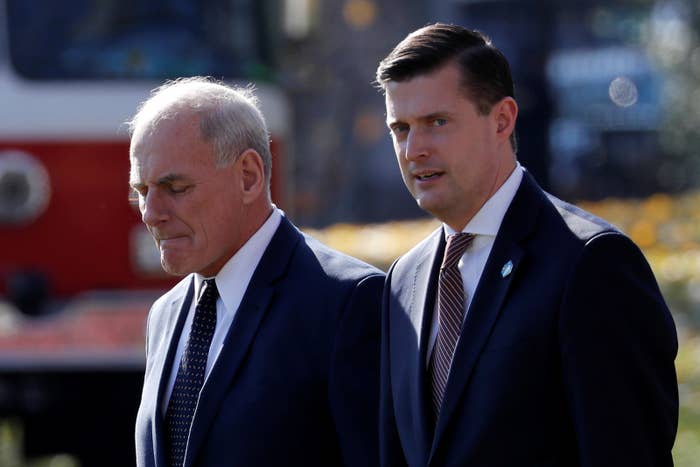 Since abuse allegations against former top aide Rob Porter first emerged, the White House has insisted they followed the same vetting and background check process as previous administrations.
Porter, who served as Trump's staff secretary and handled classified information that required a high-level security clearance, has been accused of abuse by two ex-wives — one of whom who had a protective order against him. He has denied the allegations, but he was reportedly one of more than 130 political appointees operating on an interim clearance as of last November.
While former staffers and lawyers who have worked for both Democratic and Republican White Houses say they're unsure of how that number compares to previous administrations, they are still puzzled by the administration's responses to questions about the Porter case that have snowballed into broad concerns about vetting and clearance procedures. Previous administrations, former staffers say, have typically been able to discover more minor and obscure problems and handle them within a few months of the election.
In briefings, White House press secretary Sarah Sanders has repeatedly said that senior administration officials only found out about the "full extent" of the allegations after they were reported in the Daily Mail and other outlets. Even though FBI Director Chris Wray testified earlier this week that his department, which was investigating the allegations as part of Porter's background check, closed the case in January, Sanders said the "White House Personnel Security Office run by career officials" had not closed its investigation and made a recommendation.
Scott Jennings, who served as deputy director of political affairs for President George W. Bush, said based on what he saw in the Bush administration, it was not uncommon for such security clearances to get held up for minor reasons, including a speeding ticket. But in this case, he acknowledged that there are still too many unanswered questions.
"It's certainly not abnormal for it to take several months," Jennings said, adding that issues arose in particular when aides were caught lying about things like marijuana use during the background check.
The allegations against Porter, however, are "unusual" and "an egregious infraction," and it's important to know more about what Porter told investigators and how the process moved from there because "he was clearly working to downplay it or mislead."
"If bad judgment was used, then just own it," Jennings said. "Had [the White House] done that on Day One, this would be over.
"This thing has unraveled significantly. ... No one is infallible. Sometimes when mistakes are made, it's better to own it. That's the only way you restore credibility."
Ned Price, a former CIA analyst who served as the spokesman for the National Security Council under the Obama administration, said it's hard to imagine a case with abuse allegations that officials in the West Wing wouldn't be aware of.
"In a case like that, I would have every reason to believe that the White House counsel and chief of staff would be kept apprised of that," Price said.
"I find it implausible that the office who handles that would not have flagged this," he said.
Besides the FBI's thorough investigation during the security clearance background check, Price also said the Porter allegations should have come up in a political vet that takes place before the new administration even takes over. Transition officials and lawyers usually pore over thousands of documents closely vetting and interviewing those expected to be in senior staff positions to avoid a situation like this.
A former White House counsel attorney who was involved in vetting for the Obama administration told BuzzFeed News that such allegations against a top aide would have to have been revealed months ago under the process that they typically used.
Between the vetting by a team of lawyers and the FBI investigation, the White House counsel's office would have received all the information packaged together, which would later have been disclosed to aides from the chief of staff's office and even communications office.
"The idea that Kelly didn't know about any of this seems inconceivable to me," the attorney said, adding that Sanders bringing up the career officials at the personnel office "seems to be a way of obfuscating what actually happened."
In the past, issues that have come up during the vetting that have been disqualifying have included serious tax problems, any violence, involvement with prostitutes, or recent drug use. (A senior official on the National Economic Council resigned Wednesday after being denied clearance over past marijuana use, Politico reported. Drug use is usually problematic if its recent or if it's reported after a person has already received clearance the first time.)
"All of this would have been uncovered, discovered, and disclosed," the attorney said. "I am shocked they're not able to keep their story straight. There should be a paper trail. We kept memos of all of this."
Brad Moss, who works on litigation regarding federal employment and security clearance law, said there's no indication that Trump transition officials ever did the type of "suitability vetting" other administrations have done to check for things like drug use or other issues. "This White House has been a little disingenuous when they say they're adhering to past practices," Moss said. "If proper vetting had been done, these issues would have been known."
And traditionally, there would be more opportunities for top aides to know about the allegations. "The FBI notified the White House that there were issues," Moss said. "If past practice had been adhered to, the White House counsel's office would have been extensively involved with personnel security."
In an interview with Fox News Radio on Wednesday, Andy Card, who served as chief of staff to President George W. Bush, defended Trump's chief of staff John Kelly, but he, too, acknowledged some loopholes in the White House's response to questions about security clearances.
"I primarily counted on the White House counsel's office to advise if there were clearance problems," Card said, adding that if there were any "red flags" raised throughout the process, the counsel's office would have typically been informed.
And on Sanders' claims that the career officials at the White House personnel office had not closed its investigation after the FBI had, Card said that office is usually a "paper-pushing office" and not one that conducts its own investigations.
"I'm a little surprised that there hasn't been more groundwork done now to find out exactly what happened to make sure that nobody is misrepresenting the truth," Card said.
"I don't think Sarah was misrepresenting the truth. She probably just doesn't know the full story."
The White House did not respond for comment.