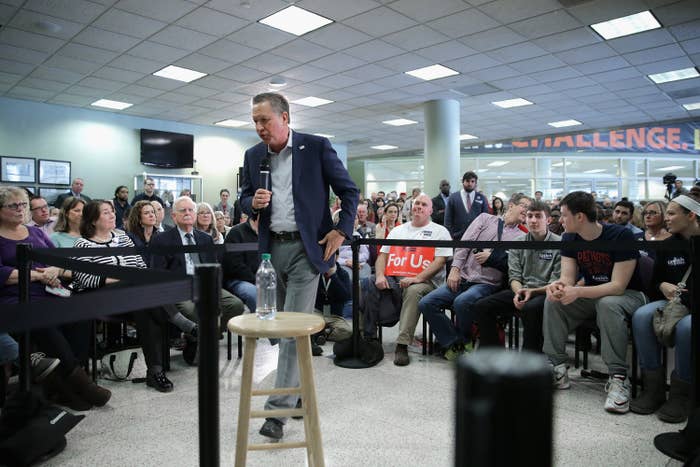 WASHINGTON — On Tuesday night as return after return came in and Marco Rubio failed to break through, many establishment Republicans grew angrier that John Kasich was still in the race.
One of them was Senate Majority Leader Mitch McConnell, who has become increasingly frustrated with Kasich behind closed doors, three sources told BuzzFeed News. In the coming days, McConnell will be urged to more aggressively try behind the scenes to push Kasich out, sources say. One of McConnell's closest allies, Sen. Rob Portman of Ohio, is still backing Kasich.
McConnell has become frustrated with establishment Republicans' inability to rally behind a single candidate as Donald Trump continues to march toward the Republican nomination. McConnell has indicated he will allow Senate candidates to run ads distancing themselves from Trump, according to the New York Times, which also first reported McConnell's frustrations with Kasich. With the Senate majority on the line, several vulnerable Republicans would face an even harder path to re-election if Trump is at the top of the ticket.
Kasich's presence in the race almost certainly damaged Rubio on Tuesday night. As of late Tuesday, Kasich took 9.4% of the vote in Virginia — a state where Rubio likely lost by five points or less. Kasich also took 18% of the vote in Massachusetts; the same as Rubio.
The Florida senator's backers are livid that the Kasich's showing in Virginia may have kept their candidate from winning and will continue to hurt them in upcoming primaries; Kasich has indicated he will not drop out until after Ohio, and may be aiming to stay in as long as it takes to be a Trump alternative.
A Senate GOP insider openly questioned in an interview with BuzzFeed News whether Kasich had some inside deal with Trump. "You have to believe Kasich has made a deal with the devil. Why else is he still in the race? Kasich needs to look GOP voters in the eye and tell us whether he has a deal — explicit or implicit — with Donald Trump for a spot on the ticket."
Other Republicans echoed similar sentiments.
"I like John Kasich, but no one is doing more to elect Donald Trump than Kasich is right now," said Curt Anderson, who previously ran Bobby Jindal's campaign. Jindal has since endorsed Rubio.
"He will be in single digits in most states tonight, and there is no route to victory for him, regardless of what fiction [Kasich chief strategist] John Weaver tries to spin," Anderson said. "If he stays in this race, Donald Trump will forever be in his debt."
Republican insiders say prominent figures within the party are going to be putting more pressure on Kasich — and his supporters — in the coming days, with some even making public calls for him to drop out. Mitt Romney has already reportedly tried to push Kasich out of the race, to little avail.
"I'm sure Gov. Kasich is going to get some private calls, and if he doesn't get out, those private calls will turn into public calls," said Ryan Williams, a former Bush backer who worked for Romney in 2012.
Williams, who has worked for years in New Hampshire politics — a state where Kasich had his best showing — called the Ohio governor's efforts a "vanity campaign at this point."
"People should realize that a vote for Kasich at this point is a vote for Trump. It's time for John Kasich to take a hint and read the handwriting on the wall."
In his remarks Tuesday night, Kasich didn't show any signs he was considering exiting the race. "We have absolutely exceeded expectations," he said at his election night event in Jackson, Mississippi.
Former Ohio Rep. Steve Latourette, who has endorsed Kasich, denied that party leaders' calls for the governor to drop out will be getting louder after Super Tuesday. "The pundits have anointed Rubio as the establishment guy, but Kasich is the only one who has proven he can govern," he said. "As we approach the winner take all states, I expect people will be asking your question to Rubio."
And in a memo Tuesday night, Kasich's campaign made the case that the Ohio governor had a better shot at the nomination than Rubio.
"Sen. Rubio has been more hyped than Crystal Pepsi, but he has flopped even worse," the memo stated.