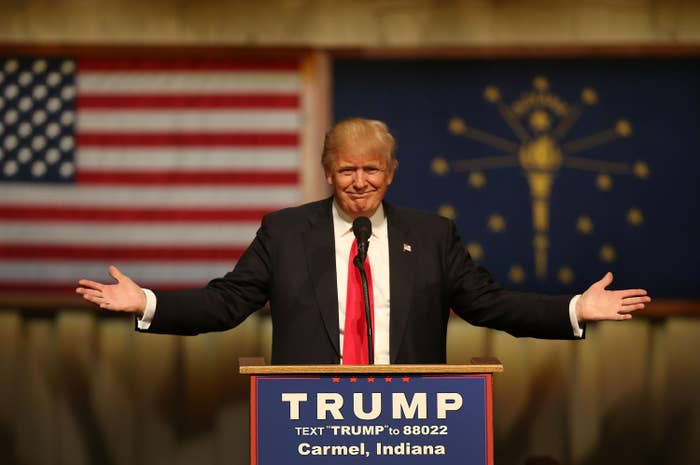 WASHINGTON — Donald Trump's win in Indiana Tuesday night made him the presumptive GOP nominee, revving up talk of a third-party candidacy as the only shot the anti-Trump wing of the Republican Party would have at the White House.
But a third-party candidate would have to amass hundreds of millions in a matter of days to compete even in a few swing states, and the party's biggest donors and fundraisers aren't willing to pony up for what they see view as a lost cause.
"It's too late," said Stan Hubbard, a major GOP donor and Minnesota-based media mogul. "You don't just file last minute."
Each state has its own complex rules and deadlines for third-party candidates to qualify for the general election ballot -- an extremely complicated process that requires thousands of signatures, time, organization and money.
Hubbard, who has given to several candidates this cycle and an anti-Trump super PAC, is still holding out hope that Trump won't be able to clinch the nomination, but is ready to back him if he gets the nomination. "Until he gets that number, he doesn't have that number."
Our Principles PAC, a super PAC backed by wealthy GOP donors, also said in a statement it would continue its efforts to stop Trump. But when asked if those efforts would include backing a third-party candidate, spokesman Tim Miller said that was not the group's mission.
A third-party candidate would continue to divide the party and have a long-term negative impact by infuriating Trump supporters and alienating them from the party, said Fred Malek, a veteran GOP fundraiser.
"There is absolutely no talk or consideration of a third party candidate from any serious Republican," he said. "Although a lot of us prefer a candidate other than Trump, the strong sense is that we must have a unified party post convention to have any chance of reversing the leftward lurch of the last seven years."
The influential political network affiliated with the billionaire Koch brothers has elected to sit out the Republican primary and a last-minute entry by a third-party candidate is unlikely to change that based on the criteria the group has laid out.
"If during the general election cycle, a candidate were able to garner support from the public with a positive message in support of the issues we care about, and did not engage in personal attacks and mudslinging, we would consider potentially getting involved," said Mark Holden, chairman of Freedom Partners, the umbrella group for the network.
"That hasn't happened yet and there is no indication that this will happen given the current tone and tenor of the various campaigns."
David Herro, a Chicago-based donor and former Marco Rubio supporter, said in an email he would "Absolutely!!!!!!!!!.." support a third-party candidate. But Herro had a caveat similar to other donors: "As long as they can get on 50 ballots. Is this possible?"
Another Republican strategist involved in big-money circles said although donors have been discussing the idea since Sen. Marco Rubio dropped out in March, at this point it's largely being dismissed as nothing more than "consultants pitching money-making schemes."
"Unless someone like Michael Bloomberg wanted to do it and put $1 billion into it, it's enormously difficult to do."