It worked for Donald Trump in 2016, but for scandal-plagued Alabama Republican Roy Moore, the Trump playbook wasn't enough to win even in a ruby-red state.
Democrat Doug Jones — who had little chance of winning Jeff Sessions' former Senate seat until last month, when Moore was pounded by allegations from eight women that ranged from pursuing a sexual relationship with a minor when he was in his thirties to assault — handed a much-needed victory Tuesday night to his party, which is still reeling from Hillary Clinton's unexpected loss in 2016. But his win could have even bigger implications for the Republican Party.
Moore's loss could foreshadow a disastrous 2018 for Republicans — the nightmare scenario of losing the House and winnable Senate seats that top strategists and lawmakers have been worried about, as Trump's legislative agenda grinds to a halt and the party increasingly fractures.
Tuesday night's outcome also underscores a larger problem for the Republican Party: Trump remains his own brand, and his strategy for overcoming extreme political obstacles can't necessarily be replicated downballot with other candidates — no matter how similar their controversies and trajectories might be.
Trump and Moore both beat establishment figures in primaries, despite strong criticism for comments that were seen as racist or inappropriate. And Trump's presidential campaign, like Moore's for the Senate, was nearly engulfed just weeks before election day by a story in the Washington Post. In Trump's case, the story revealed comments Trump made while filming Access Hollywood in 2005, saying among other things that, as a celebrity, he's able to "do anything" to women, including grabbing them "by the pussy." Just as the allegations against Moore drove Washington Republicans to spurn his campaign, those comments by Trump brought some in the GOP establishment to the verge of disowning their presidential nominee.
But Trump, of course, prevailed, going on the offense and declaring the news media fake and the women who came forward against him to be liars, all part of establishment plots to take him down. Moore in the last month tried to do the same, but failed.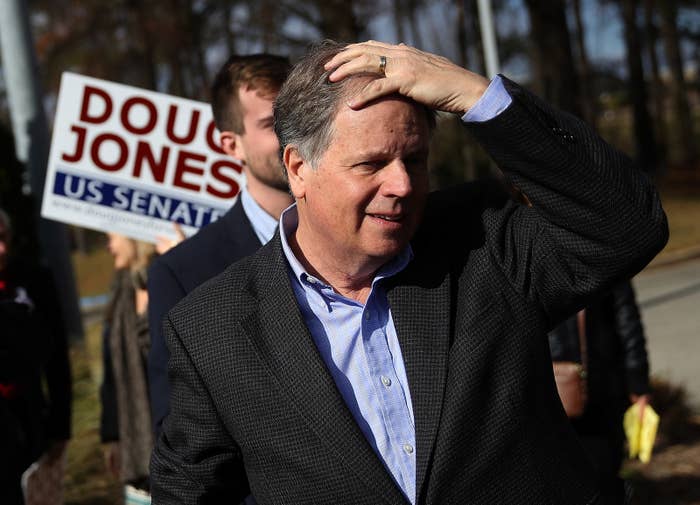 "I think it's important to keep in mind that this all has to be viewed through the prism of the state it's happening in," said Nick Everhart, a national Republican media consultant. "Alabama is a state a Republican statewide candidate should win in a rout, not in a nail-biter. The president backed a person of highly questionable, if not terrible, moral character to give himself a political W. In a politically craven moment unlike anything we've seen out of a sitting president, he completely disregarded Senate leadership, just so he could get his own win."
Trump and Moore's crisis strategy shared another prominent feature: Steve Bannon. Last year, Bannon stood by Trump as his top campaign strategist and urged him to fight through the post-Access Hollywood allegations, and this year Bannon became one of Moore's brashest defenders both on the campaign trail and through Breitbart, the website he controls.
"A Jones win makes it hard for Bannon to have any success this cycle," said GOP strategist Matt Mackowiak, who noted that Moore was radioactive with Republican donors by the end and wasn't raising any money from them.
Andy Surabian, a Bannon ally and senior adviser to the pro-Trump group Great America Alliance, called the notion that Moore's loss would hurt Bannon's momentum "really stupid and ridiculous."
"Obviously, a win is better than a loss," Surabian said. "But you have to look at this not through the lens of what people in Washington say, but what actual voters think, say, and do."
Surabian said grassroots GOP voters will blame Moore's loss on establishment Republicans, and Senate Majority Leader Mitch McConnell in particular, for being anti-Moore. Moore, he said, was using the "Donald J. Trump playbook," which other insurgent candidates in 2018 will continue to use, despite the results on Tuesday night.
"It's the same playbook that anti-establishment candidates have used for a while," he said. "But after Trump won, it opened up the floodgates. This is a rejection of the elite — the political elite and the media elite. It's not a new thing. It's a continuation of the same thing."
McConnell and his allies backed Sen. Luther Strange, who had been appointed to the seat vacated by Sessions, in Alabama's Republican primary this fall. Trump backed Strange too — surprising many. But he rallied to Moore's side, and has been one of the few high-profile Republicans to vociferously promote his candidacy since the allegations against him were first published.
Facing his first major defeat, Bannon, who has vowed to wage war against McConnell in various Senate races, has cultivated an image of a puppet master and will move quickly to frame Alabama as an anomaly that was decided based on allegations rather than ideology, according to those close to him.
"Bannonites will have the same confirmation bias they had after the presidential election," Mackowiak said, noting that Moore, who had won statewide elections before, had a base that will support him no matter what. "No candidates will be as controversial as Moore, so the weaknesses won't be as weak, but the strengths won't be as strong."
A McConnell ally, Kentucky-based GOP strategist Scott Jennings, argued that even a Moore win by a few points would have been a loss for the party and for Bannon. "There's no victory in these scenarios," Jennings said. "There will be a rush of people who will be going and claiming vindication and victory...but there is no victory moral or otherwise in a place like Alabama where we ought to be winning by 20 to 30 points."
"Moore's been hiding under his bed for 11 days. Trump didn't hide for a half an hour in the past two years."
Republicans did note one major Moore departure from Trump's playbook: While Trump charged into the storm after the Access Hollywood tape became public, Moore undertook a disappearing act in the final two weeks of his campaign, away from the allegations, media interviews, and even his usual church service two days before election day.
"Moore's been hiding under his bed for 11 days," Mackowiak said. "Trump didn't hide for a half an hour in the past two years."
With Moore effectively limiting his role running Trump's playbook in the final days, it left Trump and the strategy's originators to run the plays. Moore's two public events in his campaign's final week were headlined by Bannon, and their election eve rally Monday night in Midland City borrowed Trump's "drain the swamp" theme. Many of the other Trump classics were played: "Fake news!" "Lock her up!" "Build the wall!"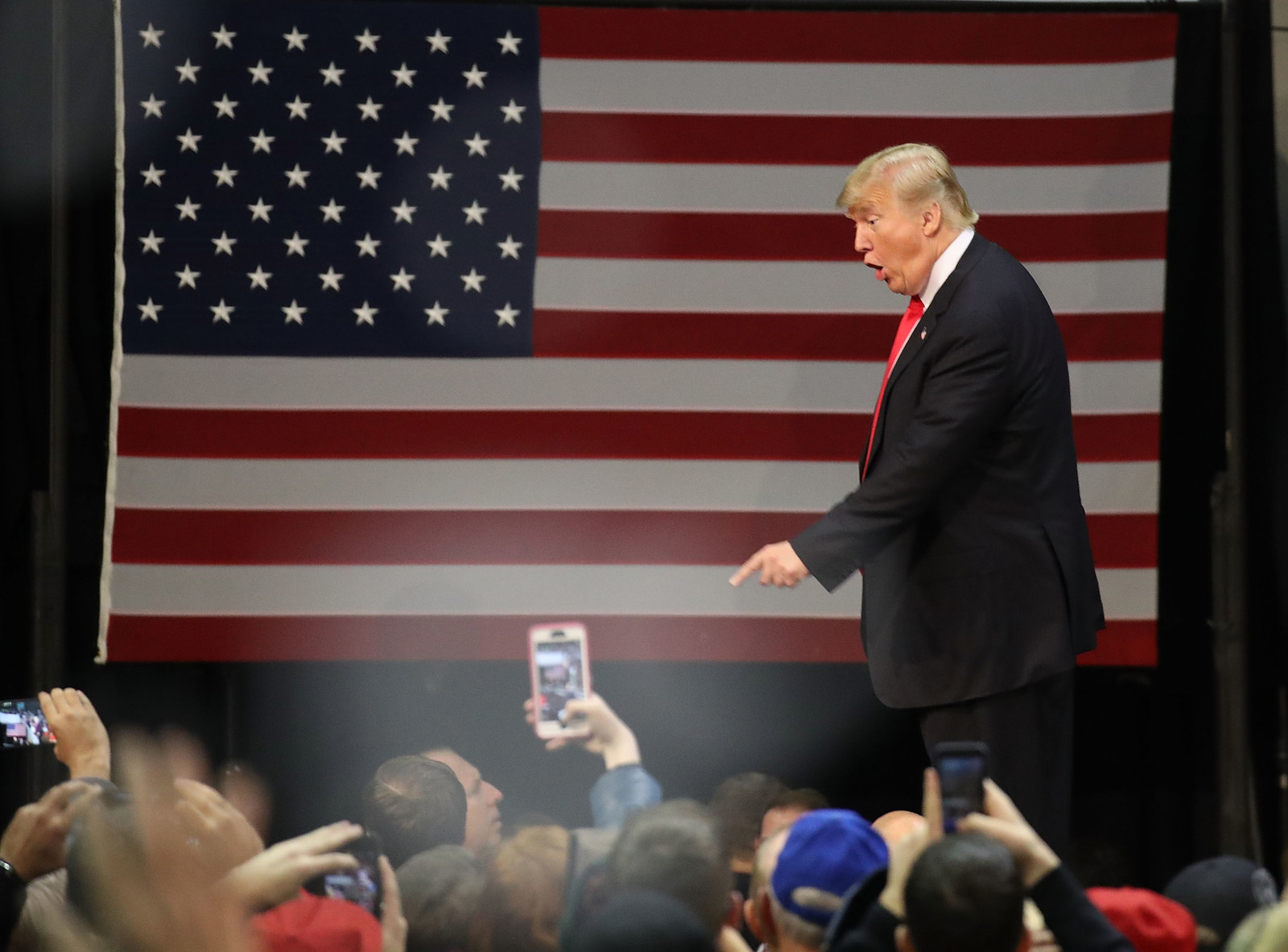 Bannon cast the race as bigger than Moore vs. Jones: "This is a national election," he said. "It's the Trump miracle vs. the nullification project" — Bannon's term for the president's opponents, who he believes are constantly trying to delegitimize Trump's election.
He lumped establishment Republicans into this group. At one point Monday, Bannon suggested that some GOP lawmakers will abandon Trump once they get his signature on a tax cut. "There's a special place in hell for Republicans who should know better," Bannon said.
Bannon punctuated the "special place in hell" line with a pause, calling attention to the same phrasing Ivanka Trump used last month to denounce "people who prey on children" when she was asked about the accusations against Moore. The takeaway: Not even the president's daughter is above a public scolding if she's not on the same page. Whether or not those in the audience followed the allusion, they responded with wild whoops and applause.
In between Bannon visits, Moore sat back and let Trump do the talking. The president plugged Moore's candidacy Friday while in Pensacola, Florida, where the TV market reaches Alabama voters. Trump also taped a robocall aimed at helping to get out the vote for Moore. "If Alabama elects liberal Democrat Doug Jones," he warned on the call, "all of our progress will be stopped cold."
The Florida appearance in particular illustrated the ways in which Trump and Moore are political kindred spirits. The New York Times reported late last month that Trump, despite initially acknowledging that it was his voice on the Access Hollywood recording, has raised doubts with confidants about the tape's authenticity. Friday evening at the Pensacola Bay Center, Trump began his big pitch for Moore by casting doubt on one of Moore's accusers.
"So did you see what happened today? You know, the yearbook? Did you see that? There was a little mistake made," said Trump, referring to news earlier in the day that Beverly Young Nelson, who has accused Moore of sexually assaulting her when she was 16, acknowledged that she had added a note beneath what she says is his signature in her 1977 yearbook.
"She started writing things in the yearbook," Trump continued, in a gleeful tone, before also taking a shot at Nelson's high-profile attorney, Gloria Allred. "Ah, what are we going to do? Gloria Allred, anytime you see her, you know something's going wrong." Allred, as it happens, is also currently representing Summer Zervos, a former contestant on The Apprentice who alleges Trump forcibly kissed her in 2007 and is now suing the president for defamation.
"Steve Bannon has achieved more for the Democratic Party in one month than half of the Democrats in the US Senate in a lifetime."
Bannon took immediate blame for Moore's loss Tuesday once the race was called. "This is a brutal reminder that candidate quality matters regardless of where you are running," said Steven Law of the McConnell-allied super PAC Senate Leadership Fund. "Not only did Steve Bannon cost us a critical Senate seat in one of the most Republican states in the country, but he also dragged the president of the United States into his fiasco."

Mackowiak went further. "Steve Bannon has achieved more for the Democratic Party in one month than half of the Democrats in the US Senate in a lifetime," he said.
"Experience is a hard teacher, it gives the test first and the lesson later," Rick Tyler, a Republican strategist, texted after Moore's defeat. "The GOP's lesson is that it has to stand for something besides 'winning' otherwise it will continue to lose. All of the party's current problems can be traced to a lack of leadership starting with the White House."
Democrats, meanwhile, are jubilant. Reached by phone, Priorities USA strategist Symone Sanders started talking before BuzzFeed News even asked a question. "Trust black women, trust a real investment of resources, and trust excellent organizing," she said, before moving on to the prospects for the White House agenda. "Trump's agenda was already in peril, but now it's in shambles. Instead of having to pick off three Republican senators, the margin has been narrowed and Republicans have been put on notice that the Senate and now the House is absolutely in play."
Jones' victory also means the Republican National Committee will have to figure out whether the Trump playbook, which is updated based on the president's unpredictable whims, is what they want their candidates to run with long-term.
The RNC had suspended its financial support and field operation for Moore after the allegations surfaced last month, but when Trump came out last week with an unequivocal endorsement, the RNC quickly and quietly resumed its financial agreement with Moore's campaign. That wasn't enough to help the party hang on to a crucial Senate seat, but it will still drive questions and consternation from committee members in the months ahead.
Joyce Simmons, the RNC committeewoman from Nebraska, resigned in protest of the decision. "I strongly disagree with the recent RNC financial support directed to the Alabama Republican Party for use in the Roy Moore race," Simmons wrote in a Monday email to colleagues.
Everhart predicted drama at the RNC's quarterly gathering next month in Washington. "The next meeting has the potential to devolve into a fireworks show," he said. "Is this going to be a party that stands against unacceptable candidates from time to time when the moment is bigger than an individual race or seat, or is this a party that just does whatever the president asks?"
Bill Palatucci, an RNC member from New Jersey, told BuzzFeed News he's just glad not to have to deal with a reality where Roy Moore is a senator.
"Thank goodness that Roy Moore lost," he said. "At least now the Republican Party won't have that albatross hanging around its neck for the midterm elections in 2018."
Adrian Carrasquillo and Tarini Parti reported from Washington, DC. Henry J. Gomez reported from Montgomery, Alabama.