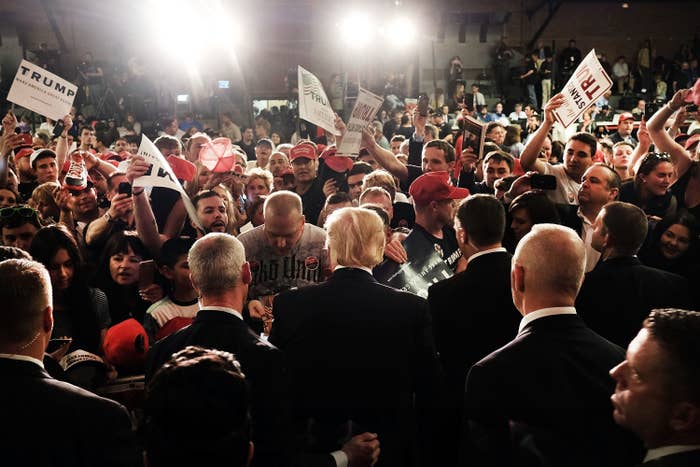 WASHINGTON — A day before disclosing $300,000 in debt and only $65,000 in the bank, a pro-Trump super PAC had an announcement: a "partial list" of its "rapidly expanding list of top-level supporters."

But at least some of those supporters have yet to give to Great America PAC or have given very little, BuzzFeed News has learned. Two California-based donors, Dale Dykema and Mark Chapin Johnson, said they have yet to contribute to the group. And North Carolina-based Dale Cline said he had given only $2,500. Several others did not respond immediately for comment.
Currently, there are two main outside groups backing Trump: Great America PAC and the Committee for American Sovereignty, which was recently created by former aides to Ben Carson. But many donors have been reluctant to give to either.
And the early stumbles seem to be fueling a larger, more confusing universe of outside groups trying to raise money on behalf of Trump, who until recently did not have any campaign or outside fundraising operation. As many as three new outside groups could soon be created by those close to Trump, BuzzFeed News has learned.
"Both of the Trump super PACs have significant issues," said a GOP operative who regularly talks to major donors deciding which outside groups to give to. "One has had top operatives convicted of felonies and is currently led by a 1980s-era figure with little to show for the last two decades. The other is led by a leader of the poorly run Ben Carson campaign and has a title that sounds weirdly nationalistic."
Great America has tried to position itself as the principal outside group supporting Trump, but has faced a variety of issues. Two top operatives left the PAC soon after it was formed. One of them, Jesse Benton, was recently convicted on federal charges of public corruption and another, Amy Kremer, left, saying she wasn't being looped in on the group's activities. An upcoming event — a scheduled fundraiser hosted by billionaire oil magnate T. Boone Pickens — had been giving the group some legitimacy in the eyes of major donors. But that has reportedly been canceled.
The group is now run by former Reagan adviser Ed Rollins and former Rand Paul finance chairman Eric Beach. In an interview, Beach argued that the group has been focused on bringing in more small-dollar donors — not just major donors — and that the list Great America released included "people supporting in many different ways."
"What we set out to do was not to get all the big donors [Trump] would rail against, we started what was known as a hybrid PAC that goes after those small and large contributions," Beach said, noting that the most recent fundraising reports are from before the group added finance director Amy Pass and other strategists.
Asked whether he expects to receive financial backing from casino magnate Sheldon Adelson, who has pledged to support Trump, Beach noted he had worked on Newt Gingrich's 2012 campaign and said, "I think Mr. Adelson is a great patriot and we'd love to have his support."
"That was our signal to the donors," Beach said of the hires. "By the end of May we will have raised 2 million additional dollars."
Great America didn't exactly court some of the donors on its list either like most major super PACs do. For example, the pro-Clinton super PAC Priorities USA Action has been wooing donors for more than a year and has more than $47 million in the bank.
Cline, a CPA from Hickory, N.C., who was one of the donors touted by Great America, said in an interview he had no idea the group had used his name in a release after his $2,500 contribution. (He is supportive of the group and fine with them using his name, he clarified.)
But Cline's check didn't come after any meeting or conversations with the group's leaders. "I just saw Ed Rollins on TV," he said of one the group's operatives as his reasoning for giving. "I just want to see Trump elected."
Another donor listed, Dykema, said in an email he has been traveling and has not had a chance to contribute to the group, but plans to soon and will encourage others to give as well. "My involvement has been minimal so far — one conference call before I left on my trip," he said.
Johnson, another donor mentioned by Great America, said he knows one of the group's leaders, Beach, and has been communicating with him but has not given to the group. "I think it's a very robust, significant PAC," Johnson said, adding that he views his involvement as more policy focused.
"I don't know how deep my involvement will go," said Johnson, who is a foreign policy expert. "I'm not going to be a major bundler or fundraiser. I've become more of policy person."
As Great America continues to find its footing, other groups are expected to be in the works. California billionaire Tom Barrack, who is slated to host a fundraiser for Trump's campaign this week, is taking steps to create another super PAC, sources confirmed to BuzzFeed News.
Roger Stone, a major Trump ally, said in an interview he is also working on putting together a 527 group that like a super PAC, can raise and spend unlimited sums. Those groups report to the Internal Revenue Service instead of the Federal Election Commission.
And Wayne Allyn Root, a former Libertarian vice presidential nominee who knows Trump, said he too is considering starting a super PAC that would target small-business owners to contribute to the pro-Trump effort.
"I would reach a different demographic," Root responded, when asked if too many efforts would confuse donors and the overall message.
Root, who is set to appear on the Bill Maher show as a Trump defender on May 27, said he will make a decision on the super PAC in the next two weeks.
There's also a growing appetite among major Republican donors, who are still somewhat skeptical of Trump, to at least fund anti-Clinton efforts. Sources say the Karl Rove-founded Crossroads outfits are emerging as top contenders for those contributions.
Crossroads is still finalizing its 2016 plans, but a spokesman acknowledged that anti-Clinton efforts would help its main goal: ensuring Republicans keep the Senate.
"We know that Hillary Clinton's high unfavorability will make it extremely difficult for Democratic Senate candidates to take advantage of any top of the ticket headwinds," said Ian Prior, spokesman for Crossroads. "Keeping her numbers at those historic lows will certainly help Republicans across the board, including with Democrat voters that may hold their noses and vote for Hillary but will nonetheless split their tickets to provide a check on her power."
"Our first priority has always been holding the Senate, which requires winning races in states that will also be key swing states in the presidential."