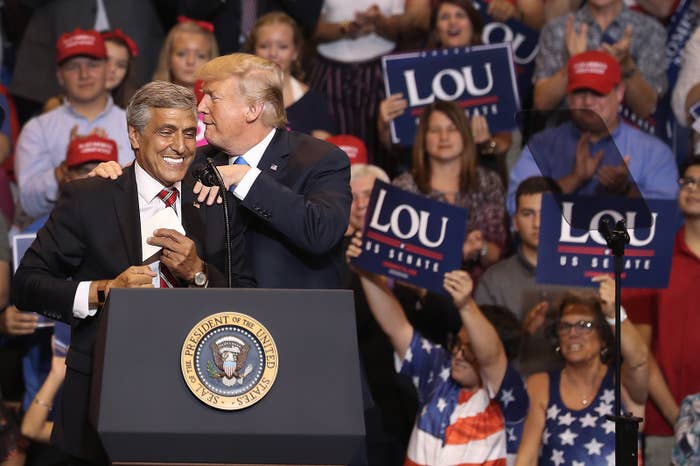 President Donald Trump is spending time and energy campaigning for Republicans in two states he won in 2016. So far, it doesn't seem to be working.
As much the president loves Pennsylvania Rep. Lou Barletta and Ohio Rep. Jim Renacci, their best efforts to present themselves as Trump-like candidates aren't lifting them up high enough to win two Democratic Senate seats. Their races, and others like them in Midwest states Trump won, are testing the power of the Trump coalition ahead of 2020, especially on behalf of candidates not named Trump.
Barletta and Renacci, both loyal Trump allies and, like him, wealthy businessmen turned politicians, are down by double digits against Democratic incumbents. In other Midwest states that Trump narrowly won, including Michigan and Wisconsin, Republican candidates running statewide are struggling as well.
Polls reflect that the same Rust Belt, blue-collar voters that propelled Trump over Hillary Clinton are not showing the same kind of enthusiasm for those candidates, even after Trump's repeated visits and encouragement. Trump held rallies in both Ohio and Pennsylvania just last week.
Although plenty of Republican candidates in red states across the country continue to tightly embrace Trump, Barletta and Renacci's races offer a test of Trumpism in those battleground states ahead of 2020.
Both are running on his agenda and have grown close to the president, with Trump personally requesting that both Barletta and Renacci run for Senate. But neither candidate has put together the kind of campaign that could bring the 2016 Trump energy down-ballot, raising some concerns about whether that energy will last for Trump through to 2020.
His reelection team will be keeping a close eye on results in those two races. Win or lose, their performance will likely offer Trump's campaign data crucial to figuring out how to maintain and galvanize its 2016 coalition of voters, according to two sources in Trump's orbit.
The president's job approval in both states has been underwater, with 53% of those surveyed disapproving in Pennsylvania and 54% in Ohio, based on the most recent polls available. In Republican-held districts in both states, Trump also campaigned for GOP candidates in special elections earlier this year, with the party narrowly winning in Ohio and losing in Pennsylvania.
But those close to Trump are quick to caution against reading too much into those closer-than-expected special elections and not-close-enough Senate races, noting Barletta and Renacci's sluggish fundraising and lackluster campaigning. Running as a member of the House seeking a promotion to the Senate has also made it hard for them to gain support among the anti-Washington Republican base, one source said.
"It's not a wholesale rejection of Trump or Trumpism or Republicans in those states; it's a rejection of Washington politicians," the source said, adding that Rep. Kevin Cramer, running for Senate in North Dakota, has not had to deal with the same problem because North Dakota is much more favorable to Republicans.
"Combine that with the fact that they both have run underwhelming campaigns," the source said.
Another factor hurting Barletta and Renacci: National Republicans have plenty of red states to look to for pickup opportunities in the Senate, leading them to largely abandon Ohio and Pennsylvania even as the president and his adult children continue to travel to those states.
Still, Republicans have been surprised by the inability of the two candidates to make it a closer fight. Barletta in particular built his political brand on the same issue Trump did: immigration. As mayor of Hazelton, Pennsylvania, Barletta pushed for legislation that cracked down on undocumented immigrants and made national headlines. He also endorsed Trump's presidency in March 2016, when only a handful of members of Congress had done so publicly.
In his visit last week to Erie, Pennsylvania, Trump reminded voters of his relationship with Barletta, offering him his support in a county that was once reliably Democratic. "He's a special man," Trump said. "He's a total winner." The crowd greeted Barletta as "Louuuuu!"
Barack Obama won that part of the state by double digits in 2012, but Trump turned the county red in 2016. Barletta will need those voters to turn out for him if he's to defy the polls in the final weeks to defeat Sen. Bob Casey, the son of a popular former Pennsylvania governor who has won statewide himself five times and holds major advantages in fundraising and name recognition. (A spokesman for Barletta's campaign described the Caseys as the "Kennedys of Pennsylvania" in explaining the challenges Barletta is facing but maintained that they view the race as tightening, with the base energized after the confirmation fight over Supreme Court Justice Brett Kavanaugh).
At the Erie rally, Barletta did his best to channel Trump, offering a joke about Colin Kaepernick, the former NFL quarterback who has not found work in the league after kneeling during the national anthem to protest racial injustice. Trump has made the protests and Kaepernick, now the star of a Nike ad campaign, a focal point in the 2018 culture wars.
"I'll tell you how good the economy is," Barletta said. "This economy is so good that even Colin Kaepernick found a job."
But outside the Erie Insurance Arena, many of the Trump supporters who spoke with BuzzFeed News were, at best, ambivalent about Barletta. Vince Friscarella, a Pittsburgh-area voter who was wearing a Trump 2020 sticker, acknowledged he began following Barletta "just recently," because of Trump. "I'm a really big fan of his — of Trump," Friscarella said.
For Samuel Reed of Erie, Barletta's political affiliation is enough to earn his vote. "He's a Republican, ain't he? That's what I'm saying," Reed said. "That's why I'm here."
Two other voters waiting to enter the rally replied "Who?" when asked for their thoughts on Barletta. "Barletta?" asked Scott Hall of neighboring Crawford County.
Darius Teslovich of Franklin also was stumped when asked about Barletta. "I'm not educated enough to answer that," he replied.
Notably, voters instead offered complaints about a variety of local issues, such as taxes and infrastructure — a fact Pennsylvania GOP strategist Charlie Gerow said is typical for a midterm election.
"They say that the midterms are a referendum on the president, but they actually boil down to local issues," Gerow said.
Seemingly acknowledging the uphill battle Renacci was facing at a rally in Lebanon, Ohio, last week, Trump told the crowd: "Nothing is easy about politics, but I tell you what, he's in there fighting."
Renacci, who has frustrated Republicans with a Senate campaign that has relied heavily on Trump's coattails, read from a piece of paper at the raucous rally and tried to project confidence. "We need not only a 'red wave' ... Ohio is going to deliver a red tsunami," he said.
Renacci had been running for governor when the party's presumptive Senate nominee unexpectedly dropped out, and he only agreed to switch races after encouragement from the president. Trump has since stumped for Renacci several times. But cleveland.com reported this month that Renacci's scant television advertising since winning the primary has been a sore spot with party leaders. Notably, a spokesperson for the Ohio Republican Party declined to comment — or defend Renacci — for that story. Renacci's campaign did not respond to a request for comment.
One Republican strategist in Ohio confirmed widespread disappointment in Renacci's effort. Complicating matters is a strong incumbent in Sherrod Brown, whose political talents are respected across party lines.
"It's prime time, and I could tell you that I thought from the beginning that [Renacci] wasn't ready for prime time," the strategist said. "It's a US Senate race, plus you're running against fucking Sherrod Brown. The guy's an icon. … You could reanimate Jim Rhodes" — the late Ohio governor elected to four terms — "and it'd still be pretty hard to beat Sherrod Brown."
So why does the president keep campaigning for Barletta and Renacci? Loyalty — and 2020, Trump allies say.
"It doesn't hurt Trump," one of them said, "to be campaigning in Pennsylvania and Ohio over and over again."
Tarini Parti reported from Washington, DC. Henry J. Gomez reported from Erie, Pennsylvania.