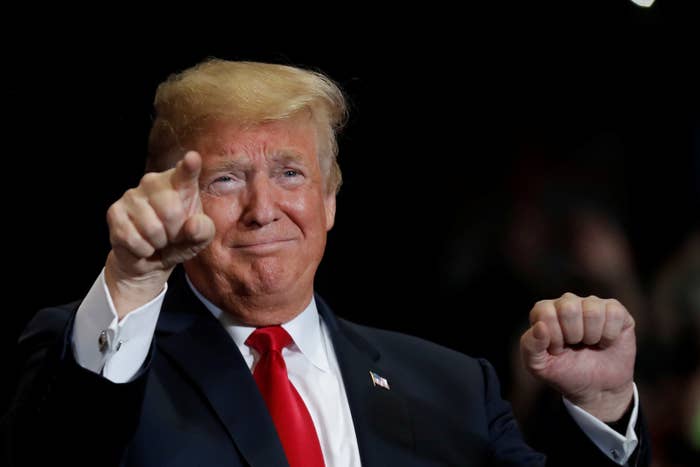 A midterm election that became a referendum on President Donald Trump's divisive first two years in office cost his Republican Party the House and key governorships Tuesday, but gave enough wins to Republicans for Trump to attempt a victory lap.
Trump, who loves the big stage and bright lights and was aware that the midterm results would reflect on him no matter what he did, kept an aggressive, 2016-like campaign schedule, and in the closing weeks, uncorked the same dark and racial rhetoric that defined his first presidential bid in an effort to push his supporters to the polls.
The president's strategy proved helpful to Republican candidates in red states, allowing the party to hold its majority in the Senate. It also helped fend off some credible Democratic challenges in more conservative districts, holding the Democrats to a majority that is expected to be about average for a midterm election when the opposing party is in the White House.
Late Tuesday, Trump dubbed the night a victory.
But by choosing to be front and center, and by single-handedly refocusing the party's closing argument around immigration and race at a time when top Republicans believed that robust economic numbers could have been more persuasive, Trump will own the biggest loss for Republicans whether he wants to or not: crushing defeats in suburbs across the country.

"The biggest lie in politics right now is that Trump is some sort of political genius," said a former White House official. "He's not, and this election will shatter that myth."
"I don't think he's prepared for the onslaught of pain this will bring now that Democrats have subpoena power."
Trump will now need to rethink some of his messaging to win back the deep Republican losses in moderate districts ahead of 2020, said GOP strategist Scott Jennings, who added that the president's success so far in Senate races he campaigned for can't be ignored.
"Trump's a bit of a ghost in this election," Jennings said. "He's there, but he's not there."
"I think any serious political professional would look at [suburban losses] and say you have to adjust your sales," Jennings said. "But if you acknowledge that, you also have to acknowledge that [Democrats] are not in wave territory, and you have to give the president some credit for muting the wave."
When Democrats lost 63 seats and the House majority in the 2010 tea party wave, Barack Obama took responsibility for what he described as a "shellacking." Trump, however, is not expected to make any concessions for losing the House.
"'Trump beats Obama' is a headline that everyone in his orbit would love," one national Republican strategist told BuzzFeed News.
Minutes before polls closed on the East Coast, White House press secretary Sarah Sanders released a statement preemptively distancing the president from any blame for the losses. Sanders touted how Trump had "energized a staggering number of Americans" and "raised more than a quarter billion dollars" that fueled an "extraordinary ground game." As results rolled in, Sanders told reporters that Republicans had managed to block a Democratic wave, calling it a "ripple" instead.
Republicans had some major wins, retaining governorships in Florida and Ohio in addition to keeping the majority in the Senate. But across the country, there were dark spots for the party, with Democrats upsetting longtime Republican incumbents in states like Texas and Oklahoma. Even in a red state like Kansas, which Trump won by 20 points in 2016, one of Trump's closest allies, Kris Kobach, lost the governorship and the party lost two House seats.
"Everyone will have something to crow over," said Rick Tyler, another Republican strategist. "It's not a blue wave, but on balance, Democrats won the night…"
The losses throw into flux Trump's ability to govern for the next two years: House Democrats, now with a majority, almost certainly will flirt with impeachment proceedings and at the very least disruptive investigations. They also cast doubt on the long-term political endurance of Trump and Trumpism, both of which took the country by surprise in 2016, especially heading into a reelection campaign.
Trump's involvement in the midterms began months ago, right from the primaries, when typically presidents don't endorse candidates. Many Republicans on the ballot Tuesday owed that spot, at least in part, to Trump, who opted to regularly put his thumb on the scale in Republican primaries throughout the country. He endorsed Ron DeSantis, who embraced Trump as tightly as any candidate, and who won the race Tuesday to be the next governor of Florida. Other endorsements were less successful — in Kansas, Kobach lost to Democrat Laura Kelly.
And in the last two weeks before the election, Trump had been looking to repeat 2016 in style and substance as his closing argument. Instead of keeping the focus on economy and tax cuts, as many Republicans had hoped the president would do, Trump himself admitted at a recent rally in West Virginia that it wasn't "exciting" to talk about that, moving on quickly to talking about the largely Honduran migrants moving toward the US border "trying to flood into our country on your dollar, overwhelming your schools, depleting your resources, and endangering your community."
The president was banking on immigration — and his underlying message that Americans should be fearful of migrants — to draw his supporters to the polls in the same way it did in 2016. But his push in red states with competitive Senate seats continued to alienate voters in swing House districts.
Trump also gave mixed messages on whether he wanted his supporters to vote as though he was on the ballot. On the eve of the election, he told his supporters in a conference call: "Even though I'm not on the ballot, in a certain way I am on the ballot. Because tomorrow, whether we consider it or not, the press is very much considering it a referendum on me and us as a movement. This is the greatest movement in the history of our country."
On the same call, Trump's campaign manager Brad Parscale highlighted how much the president was tied to the midterm elections. "By announcing his [reelection] campaign early, by spending over $20 million in rallies and TV commercials, and doing things, this president is all-in," he said.
But many in Trump's orbit, as well as the president himself, were also laying the groundwork to distance him from any losses in the days leading up to the election.
In an interview on Fox News, White House counselor Kellyanne Conway pointed to a record number of Republican retirements in the House as part of the reason for Republicans' losses. A source close to the White House reiterated the same point, adding that the losses in the House fall in line with the average number of seats lost by a president's party in the midterms, making the outcome not entirely a response to Trump.
"A win is a win and a loss is a loss," the source said of the expected loss in the House. "But at the same time, I would caution against overanalyzing the Trump effect."
Tarini Parti reported from Washington, DC; Henry J. Gomez reported from Pewaukee, Wisconsin; Alexis Levinson reported from New York City.